Chopsticks from China seized over banned chemical
Customs officials have seized a shipment of chopsticks from China for containing residues of a banned coloring agent, the Food and Drug Administration (FDA) said on Tuesday.
The 25kg shipment imported by Loewe Taiwan Ltd was confiscated after samples taken for testing were on Dec. 23 last year found to contain 4-Aminoazobenzene dye.
Chen Ching-yu (陳慶裕), head of the FDA's Northern Center for Regional Administration, said 4-Aminoazobenzene is banned in Taiwan as a colorant in utensils and containers.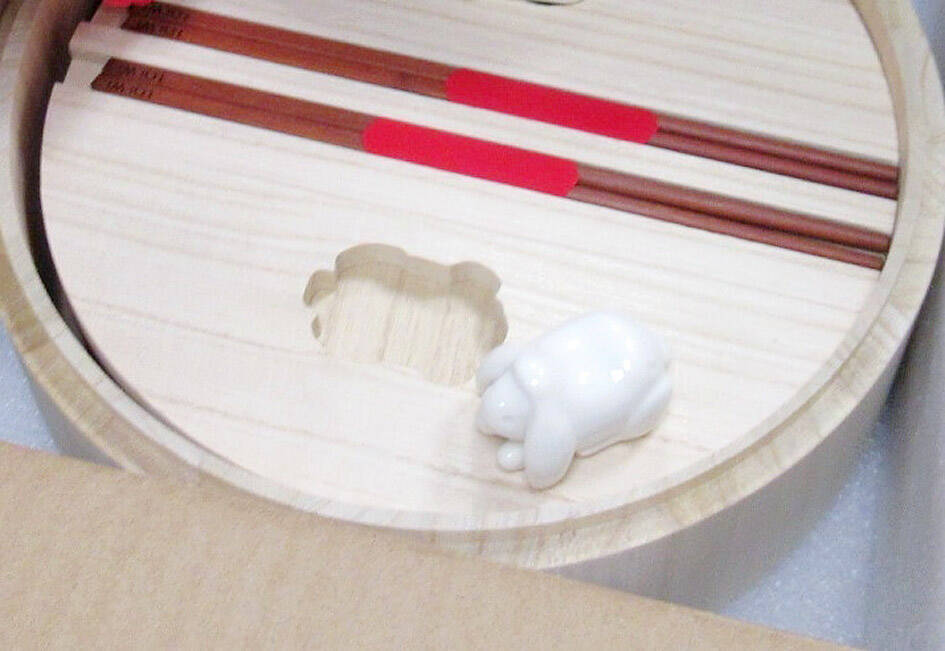 A set of imported chopsticks that contain residues of a banned coloring agent are pictured on Tuesday.
Photo: Wu Liang-yi, Taipei Times
The 202 sets of wooden chopsticks would either be returned to the country of origin or destroyed, Chen said.
The FDA also published a list of 19 other imported items that recently failed safety inspections, including shipments of fresh cherries from Chile, instant noodles from Indonesia and dried cayenne powder from Thailand.
The cherries, which arrived in seven different shipments, have been found to contain residues of cyantraniliprole, a type of insecticide, Chen said.
Taiwan allows a certain level of cyantraniliprole in melons, cruciferous vegetables, tea leaves, apples and pears, but not cherries, he said.
Since Jan. 11, all cherries imported from the South American country have been subject to border testing after it was found that shipments were failing safety checks at a greater frequency.
Comments will be moderated. Keep comments relevant to the article. Remarks containing abusive and obscene language, personal attacks of any kind or promotion will be removed and the user banned. Final decision will be at the discretion of the Taipei Times.