Taipei fines illegal rental operators NT$23.4 million
RECORD LEVEL: The city last year fined people offering illegal accommodation 60% more than in 2021 after it launched a probe into such practices as travel rebounded
Illegal short-term accommodation rentals in Taipei were fined a combined NT$23.4 million (US$776,480) last year, setting a new annual record, the Taipei Department of Information and Tourism said yesterday.
Demand for short-term rentals has gradually picked up since a travel slump amid the COVID-19 pandemic began to ease, it said.
Suspecting that this might cause an uptick in illegal rentals being offered, it launched an investigation to crack down on those who operate them, the department said.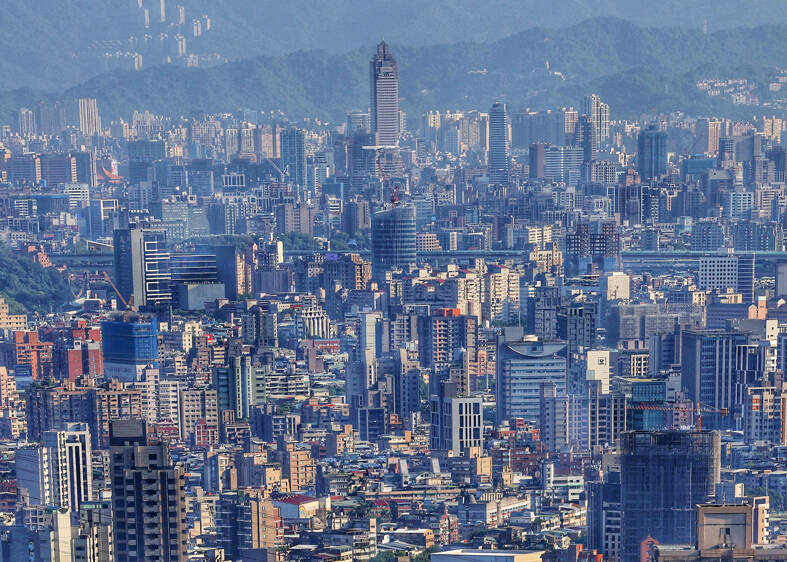 Commercial and residential buildings in Taipei are pictured on July 22 last year.
Photo: CNA
The previous record in combined fines on apartments that were illegally offered for daily rental was set in 2021, but the total increased 60 percent last year, the department said.
The department said it has since 2012 helped more than 100 operators of previously illegal rentals transform them into registered facilities.
Taipei last year won a High Distinction Award for the performance of hotels in the city, it added.
Most operators of illegal rentals had offered them on online platforms, such as Airbnb, it said, adding that many of them began using those platforms when traveling abroad, but later started offering their own premises on them.
However, offering rentals on the platforms requires a hotel enterprise registration, the department said, adding that people who contravene the requirement face fines of up to NT$100,000.
People who are planning to list rooms or apartments for short-term stays should first register with the city, it added.
The department said it is also taking measures against people who have previously been fined, but continue to offer their premises on those platforms without registration, adding that it would order Taiwan Power Co to cut their electricity.
People who are planning to book accommodation in Taipei should check whether the facility is registered via the Tourism Bureau-run Web site taiwanstay.net.tw, the department said, urging people not to book illegal accommodation, as most of them offer inferior service.
Most fines on illegal rentals were imposed after the premises were reported by members of the public, including neighbors who saw people frequently moving in or out with light luggage, the department said, urging people to report any suspected illegal rentals.
Those who report an illegal rental might receive 15 percent of the fine imposed on it, the department said.
Comments will be moderated. Keep comments relevant to the article. Remarks containing abusive and obscene language, personal attacks of any kind or promotion will be removed and the user banned. Final decision will be at the discretion of the Taipei Times.