Researchers defend use of genetic data in project
CONSENT: The institute's access to more than 600,000 patients' genome information must be done in accordance with the law, a legislator said
An Academia Sinica-led medical research project that involves the transfer of patients' genetic information held by the Ministry of Health and Welfare could contravene their legal rights, a lawmaker said yesterday.
The Taiwan Precision Medicine Initiative led by the Institute of Biomedical Sciences at Academia Sinica gives the institute access to the genetic information of more than 600,000 people, independent Legislator Huang Kuo-shu (黃國書) said.
The initiative, launched in 2020, involves precision analysis of patients' genome data with the aim of matching them with the most effective medical treatments and drugs, while using minimal medical resources.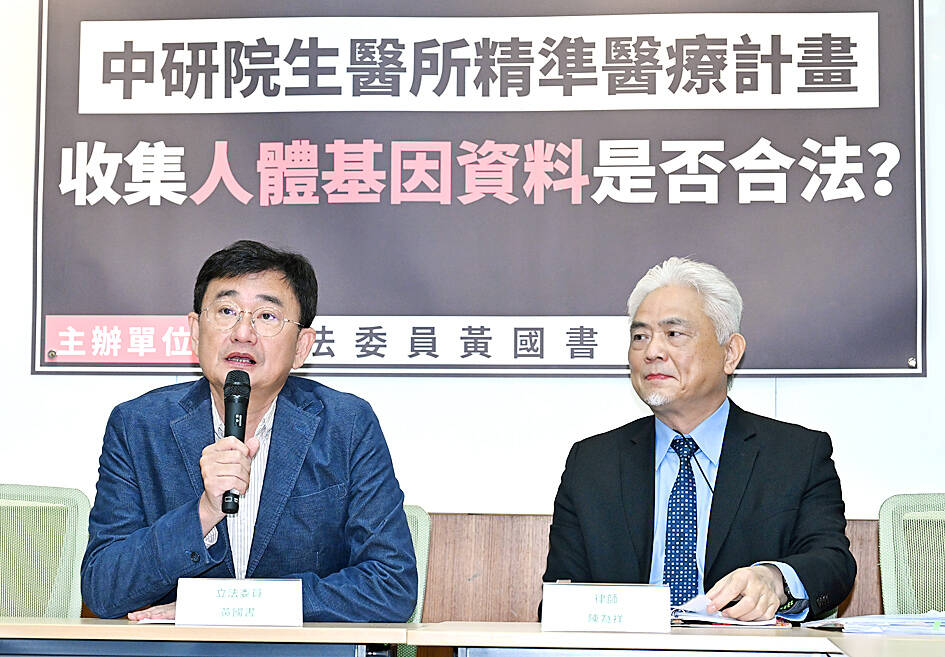 Independent Legislator Huang Kuo-shu, left, and Taiwan Jury Association director Chen Wei-shyang hold a news conference at the legislature in Taipei yesterday.
Photo: Liao Chen-hui, Taipei Times
"In light of advances in medical research, genetic data has huge commercial value, but access to it also comes with significant national security implications," Huang said.
Any collection of human samples, derivatives or related data for medical research purposes must be done with the consent of the individual it is collected from, in accordance with the Human Biobank Management Act (人體生物資料庫管理條例), he said.
To protect people's rights, the institute should ensure that individuals have consented to their data being used, and that they have the right to withdraw their data at any time, he said.
It should also ensure that patients' genetic and clinical data are being stored in accordance with regulations governing digital storage of personal information, and that no unauthorized backups of that data have been made, he said.
Authorities should investigate whether the project makes use of any foreign funding, and whether there is any risk of data being leaked to foreign entities, he added.
Although genetic data are important for the competitiveness of Taiwan's medical industry, personal information must be protected to prevent risks to national security and individual rights, Taiwan Jury Association director Chen Wei-shyang (陳為祥) said.
Academia Sinica yesterday said it had obtained consent from all individuals whose data are used in the project, in accordance with the Human Subjects Research Act (人體研究法).
"Participant information is deidentified, and the key code that links the data to the individual is held by the partner hospital, not by us," it said. "Researchers at the institute cannot link data to the participants, nor can they see any personal information."
Management of data storage is done by institute director Kwok Pui-yan (郭沛恩), and is in accordance with the law, it said.
Responding to concerns that participants could download the results of research using their data, Academia Sinica said the results are made available by the partner hospitals, and that participants are informed the results are for reference only and not to be used for clinical diagnosis.
"The research follows the guidelines and ethical norms of international medical organizations," it said. "The project is purely for academic research. There is no commercial cooperation, and there is no risk of data leakage to foreign countries."
Additional reporting by Yang Yuan-ting
Comments will be moderated. Keep comments relevant to the article. Remarks containing abusive and obscene language, personal attacks of any kind or promotion will be removed and the user banned. Final decision will be at the discretion of the Taipei Times.