Turtle project funding at center of controversy
National Taiwan Ocean University is to discontinue an emergency care program for sea turtles this year, its Maritime Ecology and Conservation Lab said yesterday, citing a shortage of personnel and funds, as well as a general lack of respect from the Ocean Conservation Administration (OCA).
OCA Deputy Director Wu Long-ching (吳龍靜) said the agency respected the lab's decision.
Local government departments would resume oversight of turtle care projects, Wu added.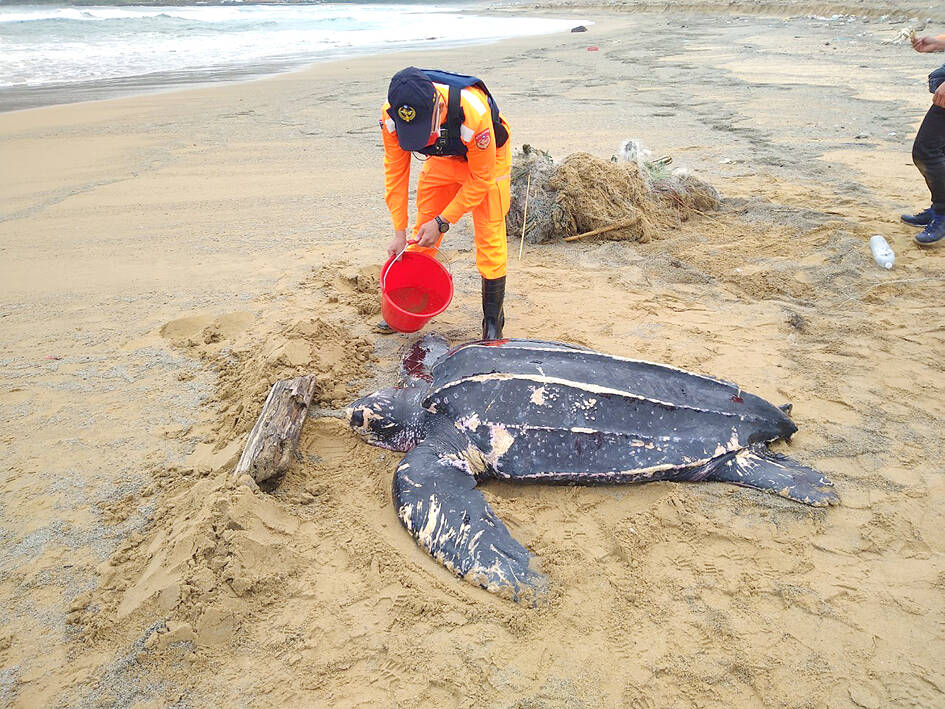 A coast guard official pours water onto a sea turtle on a beach in New Taipei City on Feb. 1 last year, after the turtle was freed from a fishing net.
Photo: CNA
The agency previously funded the university's project directly, but the method proved "inappropriate," Wu said, adding that it instead sought to implement a bidding mechanism for turtle care funding.
Wu encouraged local government departments to apply for funding, saying that it would ensure that the turtle care efforts continue.
Lab director Cheng I-jiunn (程一駿) said the primary reason for the discontinuation was funding issues.
Cheng, a professor at the Keelung-based university, previously said the lab would apply for continued funding of NT$1.6 million to NT$1.8 million (US$53,872 to US$60,606).
However, Cheng said the funding mechanism had been changed into a government project that accepts bids from external institutions.
Due to funding issues, the lab only employs one assistant, Cheng said, adding that it still owes NT$50,000 in wages to previous lab assistants.
Its debt totaled about NT$1 million, he said.
Cheng said the OCA did not respect the lab's expertise.
"This lab was established to provide correct information, not imagined information that the OCA wishes it to provide," Cheng said.
Cheng cited an incident during the Lunar New Year holiday last year in which a leatherback sea turtle was found entangled in a fishing net.
Although the turtle was still alive, "I knew it was beyond our help," Cheng said, adding that he at the time decided that it should die in peace.
However, after the turtle died in a pool operated by the lab's project, a volunteer from one of the animal protection groups that had helped it transport the turtle accused the lab of causing the turtle's death, Cheng said.
University secretary-general Lin Cheng-ping (林正平) yesterday said the school would look into the funding issue and, if necessary, provide financial assistance.
The OCA said it has set aside funding for emergency sea turtle care and rescue programs, which were previously provided by the lab in northern Taiwan and the National Museum of Marine Science and Technology in southern Taiwan.
The OCA said it this year sought assistance from other groups after the lab stopped providing its services.
So far, the groups had carried out 13 missions that involved sea turtles being stranded, it said.
Comments will be moderated. Keep comments relevant to the article. Remarks containing abusive and obscene language, personal attacks of any kind or promotion will be removed and the user banned. Final decision will be at the discretion of the Taipei Times.