New Taipei City brightens Pingsi venues for visitors
Three areas in New Taipei City's Pingsi District (平溪) have been brightened by colorful light installations in an effort by the city's Tourism and Travel Department to draw visitors.
Installations at Jingtong Sky Lantern Pavilion, the entrance to Shihfen Scenic Area and at Pingsi Railway Station are worth visiting day or night, the tourism department said on Friday.
"The areas have views to delight visitors at all times of day, and it's a great place to unwind and get close to nature," it said.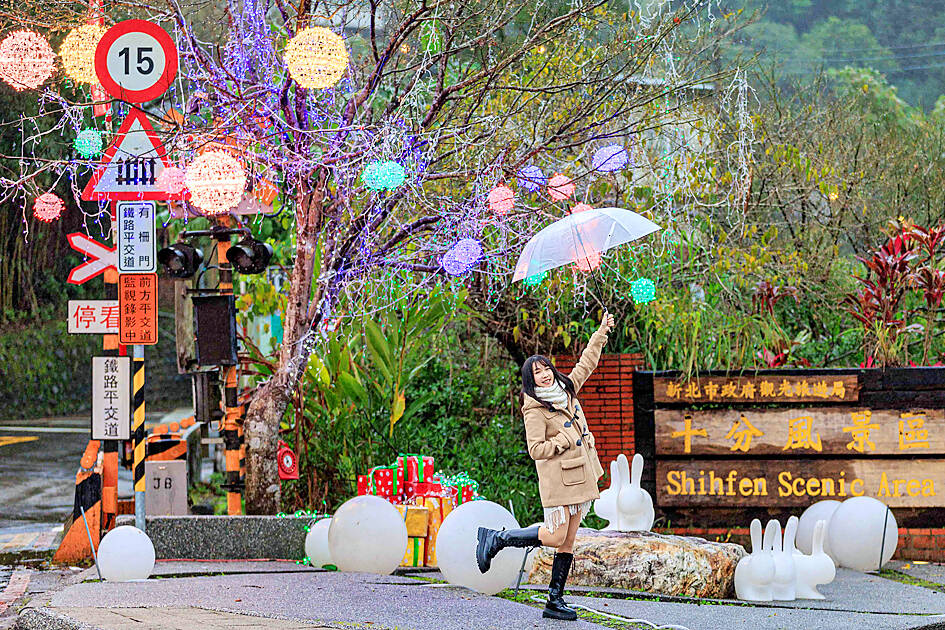 A woman stands under a light display at the Shihfen Scenic Area in New Taipei City in an undared photograph. Photo courtesy of the New Taipei City Department of Tourism and Travel
Photo courtesy of the New Taipei City Department of Tourism and Travel
It is best to visit the district by train, stopping at Dahua (大華), Shihfen (十分), Wanggu (望古), Lingjiao (嶺腳), Pingsi or Jingtong (菁桐) stations, "each of which is built in a different style," the tourism office said.
Visitors can also travel to the district on route 795 of the Taiwan Tourist Bus Travel Service (台灣好行), it added.
Visitors can view the rock landscape along the Keelung River valley, formed by thousands of years of erosion caused by water runoff along the uneven surface of the valley, it said.
In Shihfen, visitors can explore the remnants of structures built when the area was originally settled as a coal mining town.
"The shops and streets in Shihfen are a source of nostalgia for an earlier time. Many period films and dramas have been shot there," the tourism office said.
The area's architecture is unique, with houses built on sloping hillsides on both sides of the railway tracks, and a railway bridge passing above the old street.
The sounds of trains passing arouses a sense of nostalgia, the department said.
There are also old trails, temples and an air raid shelter among the remnants of the past, it said.
Because the old street is close to the railway tracks, the bureau said that visitors should be cautious, following traffic warning signs and look carefully before crossing the tracks.
People wanting to get closer to nature can visit Shihfen Waterfall, which is also accessible to those using wheelchairs and strollers following improvements to the trail, it said.
The Light of Hope installation at Shifen Scenic Area is illuminated daily from 5pm to 10pm, the department said.
Comments will be moderated. Keep comments relevant to the article. Remarks containing abusive and obscene language, personal attacks of any kind or promotion will be removed and the user banned. Final decision will be at the discretion of the Taipei Times.