China arrival COVID-19 testing extended to Feb. 6
POSITIVE RATES PLUMMET: The center continues to watch for new variants from China, as Taiwan might end reporting requirements for mild cases, officials said
Temporary COVID-19 on-arrival testing requirements for arrivals from China have been extended until Feb. 6, the Central Epidemic Command Center (CECC) said in a statement on Friday.
The policy applies to all passengers from China, whether arriving by air or sea.
Looser measures applying to arrivals from Hong Kong and Macau are also being extended until the same date. Those passengers must obtain a negative polymerase chain reaction (PCR) test result within 48 hours before departure, or a negative rapid antigen test result within 24 hours prior to boarding.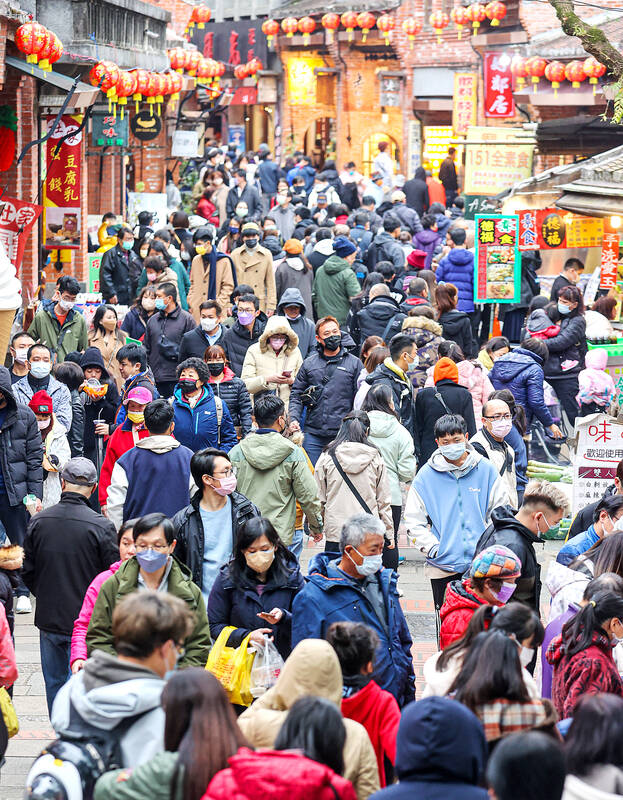 People yesterday visit Shenkeng Old Street in New Taipei City before the end of the Lunar New Year holiday.
Photo: CNA
The CECC said the on-arrival testing positivity rates from China have dropped from about 25 percent, when the program began on Jan. 1, to only about 2 to 4 percent in the past few days.
The center is continuing the program to monitor for new variants given that the spread of the virus in China remains significant, the CECC said.
Meanwhile, the CECC yesterday reported 27,159 newly confirmed local cases, a 30.7 percent rise over the same day last week.
It also reported 285 imported cases and 20 deaths from the disease.
Of the newly confirmed deaths, a younger case is a man in his 40s who had diabetes and hypertension, and experienced a fever and sore throat. He tested positive for COVID-19 on Dec. 29.
He was taken to a hospital on Dec. 31 due to difficulty breathing. He was diagnosed with pneumonia, respiratory distress, diabetic ketoacidosis and acute kidney failure, and was immediately admitted to an intensive care unit and put on a ventilator, the CECC said.
The man died of lung and liver abscesses on Sunday last week.
Separately, Japanese Prime Minister Fumio Kishida on Friday said that his government plans to downgrade COVID-19 to the equivalent category as common infectious diseases, such as seasonal influenza, and ease restrictions. The relaxed measures are to take effect on May 8.
Asked if Taiwan would follow Japan's lead, Centers for Disease Control Deputy Director-General Chuang Jen-hsiang (莊人祥) said that among plans to be discussed after the Lunar New Year holiday is to only require physicians to report moderate and severe cases, with home isolation no longer being compulsory for mild, unreported cases.
However, Taiwan is not considering downgrading COVID-19 from being a category 5 notifiable communicable disease, he added.
Isolation regulations and treatment subsidies for reportable cases are among issues that would be discussed after the holidays, Chuang said.
Comments will be moderated. Keep comments relevant to the article. Remarks containing abusive and obscene language, personal attacks of any kind or promotion will be removed and the user banned. Final decision will be at the discretion of the Taipei Times.