Couple credits dog barking for NT$1 million lotto win
A couple in New Taipei's Ruifang District has credited the timely barking of a lottery shop owner's dog for a NT$1 million (US$33,132) scratch lotto win.
In Mandarin Chinese, the sound of a dog barking "woof"(汪in chinese) is a near homophone for the word wang (旺), meaning flourishing or prosperous.
According to Taiwan Lottery Co., the couple in New Taipei city walked past a local lottery shop nearby on Wednesday and heard the barking of the owner's pet shiba inu. The couple in that moment decided to buy lottery tickets in the store.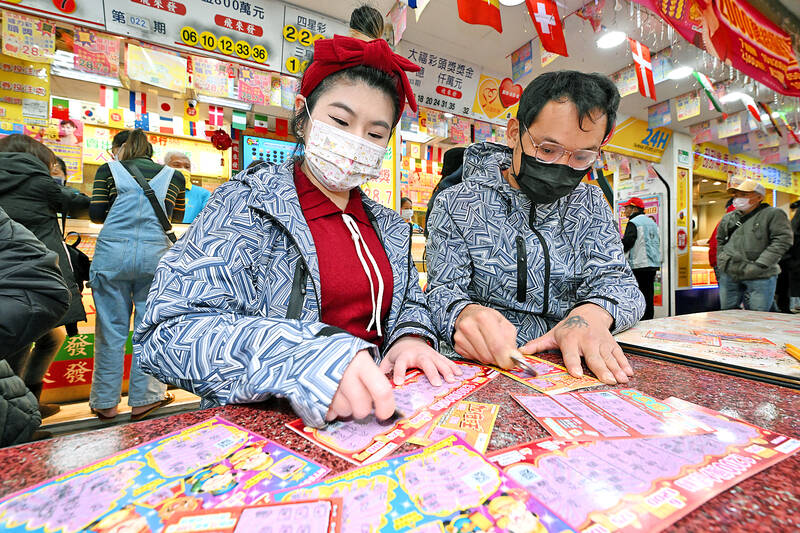 People scratch lottery tickets at a vendor in Taipei's Shilin District yesterday.
Photo: Tien Su-hua, Taipei Times
The couple scratched off a "NT$20 million Super Red Envelope" lottery ticket and found out that they won a NT$1 million prize, Taiwan Lottery said, citing an account from the lottery shop owner .
To celebrate the Jan. 20-29 Lunar New Year holiday, Taiwan Lottery has unveiled several limited-time scratch lottery cards, including the "NT$20 million Super Red Envelope," which cost NT$2,000 each.
The scratch lottery card offers seven top prizes of NT$20 million each, 10 second prizes of NT$2 million plus a Mercedes Benz sports utility vehicle, and 850 third prizes valued at NT$1 million each.
As of Wednesday, lotto players have claimed one of the first prizes, two of the second prizes, and 173 of the third prizes, according to Taiwan Lottery.
Among other recent winners was a young woman who visited a lottery shop in New Taipei's Xinzhuang District with six of her colleagues on Wednesday after attending their company's Lunar New Year party.
Using the NT$1,000 she had won in a company raffle, the woman pooled money with her coworkers to buy a "NT $20 million Super Red Envelope" ticket and ended up winning a NT$1 million prize, Taiwan Lottery said.
The lottery company said the winners had split the prize money, which they will either save or use to travel with family or friends.
Comments will be moderated. Keep comments relevant to the article. Remarks containing abusive and obscene language, personal attacks of any kind or promotion will be removed and the user banned. Final decision will be at the discretion of the Taipei Times.