Penguins prove popular among Taipei day-trippers
The Taipei Zoo has been a hot spot for tourism over the Lunar New Year holiday, with its penguin exhibit becoming one of the most visited pavilions as tourists flocked to it to see the zoo's resident African penguins.
The African penguin is the only species of penguin that lives in Africa. Since 2013, it has been considered an endangered species by the International Union for Conservation of Nature, as its population in the wild has been rapidly decreasing as a result of destruction of its habitats, marine pollution and overfishing.
The penguins can attain an average swimming speed of 7kph, reach top speeds of 20kph, and can remain under water for up to two minutes, the zoo said.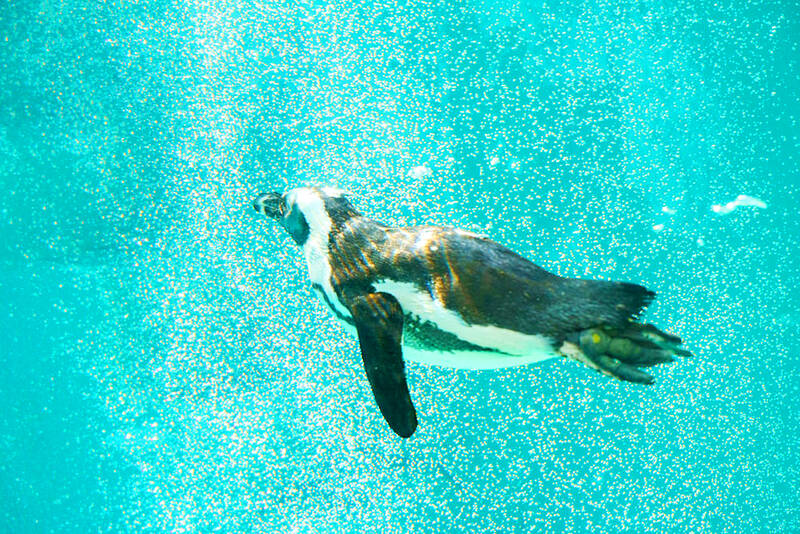 An African penguin swims at Taipei Zoo in an undated photograph.
Photo courtesy of Taipei Zoo
Swimming is essential for penguins, and prolonged periods of staying on shore could cause the animals to suffer from bumble foot or similar diseases, the zoo said.
Zoo officials said they arrange for all of its resident penguin populations to take a "morning swim," adding that the sight of many penguins gathered in the pool is not dissimilar to people lounging in hot springs.
The zoo also said it had installed new nano-bubble machines in the penguins' pool to increase oxygen and purify the water.
Some of the penguins enjoy the novelty of the new machines and constantly swim through the bubbles, it said.
Visitors can visit the penguins and see them swim every day from 9:30am to 10:30am.
Comments will be moderated. Keep comments relevant to the article. Remarks containing abusive and obscene language, personal attacks of any kind or promotion will be removed and the user banned. Final decision will be at the discretion of the Taipei Times.