Taipei receives MRT bomb threat; police patrols rise
The Taipei Police Department yesterday stepped up patrols throughout the Taipei Mass Rapid Transit (MRT) system after a bomb threat was sent in an e-mail to Taipei MRT Corp at 7:24am, it said.
A message claiming that a bomb had been placed in the MRT was received by customer service and immediately reported to the police, the company said in a statement, adding that MRT personnel and police were working to ensure passenger safety.
Passengers should be aware of their surroundings and report suspicious activities, people or objects to station personnel by using passenger service desks or the emergency intercom units in the cars, it said.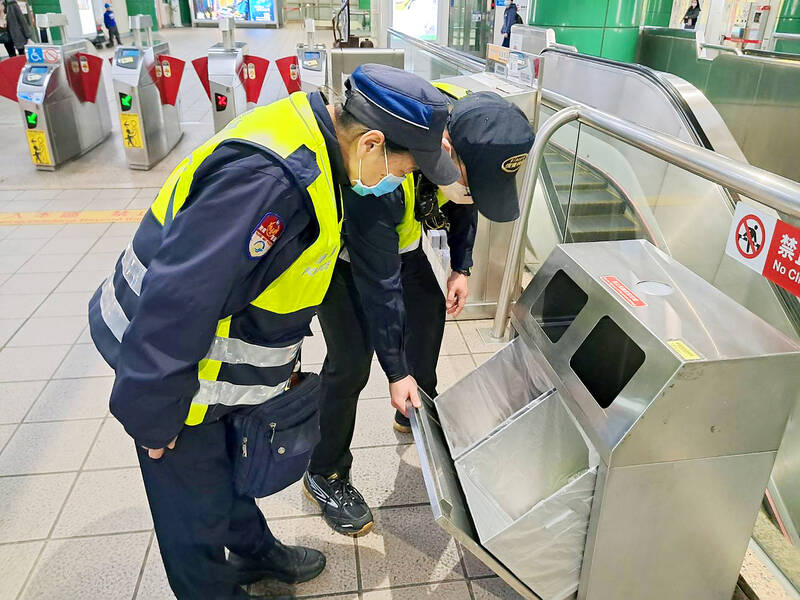 Security staff sweep a Taipei MRT station yesterday after the system received an anonymous bomb threat.
Photo courtesy of the Taipei MRT Corp
Police launched a grid-by-grid search of the MRT system with security officers and increased patrols at platforms, washrooms, firefighting installations and other vulnerable areas, the Rapid Transit Division of the Taipei Police Department said.
A joint task force of the Criminal Investigation Bureau's forensic science unit and prosecutors was established to investigate the matter, it said.
Police are working to increase the number of patrols and increase law enforcement presence to protect the Taipei MRT — which millions of people use every day — from those who want to spread terror or achieve infamy, it said.
MRT stations are equipped with riot shields, blast curtains and other protective equipment to handle threats to public safety, it added.
Comments will be moderated. Keep comments relevant to the article. Remarks containing abusive and obscene language, personal attacks of any kind or promotion will be removed and the user banned. Final decision will be at the discretion of the Taipei Times.