Air ambulances rescue four hikers
Emergency response units around Taiwan airlifted four hikers to safety yesterday in unrelated incidents, as cold weather made altitude sickness a greater risk in the mountains.
The Hualien County-based National Airborne Service Corps (NASC) squadron mounted a helicopter rescue yesterday morning, airlifting a man from the mountains after he experienced altitude sickness and became incapacitated.
The Hualien Fire Department said it received a telephone call from a man surnamed Wan (萬), who said that he was having trouble breathing, was constantly coughing and had other physical ailments.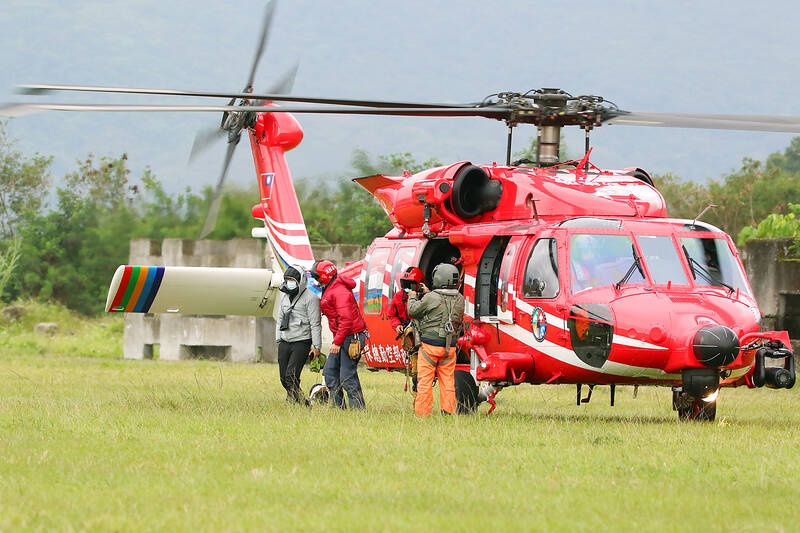 Members of the National Airborne Service Corps land a UH-60M Black Hawk helicopter at the Hualien County Sports Stadium yesterday after a successful airlift operation.
Photo courtesy of a member of the public
He asked for assistance and gave his location on the south slope of Masishan (馬西山), it said.
When the call came in at about 6am, it was sunny with good visibility at Hualien Airport, where the NASC unit for east coast counties is based, so an emergency response team was deployed in a Black Hawk helicopter, Hualien Fire Department deputy commander Teng Lo Chun-ming (鄧羅春明) said.
"We decided to do an airlift because of how weather conditions rapidly change in the mountains. There have been low temperatures at night, so a swift rescue operation was needed as the person's life could have been in danger," he said.
"The man was quite lucky... Soon after he was rescued via airlift into the helicopter, the weather turned bad in the mountains, and it also began to rain in Hualien," he added.
The man had been part of a mountaineering group undertaking the Mabolasi Crossing Trail (馬博橫斷路線), a popular cross-Central Mountain Range trek that traverses Mount Mabolasi (馬博拉斯山), Mount Siouguluan (秀姑巒山) and other peaks above 3,500m, starting at Nantou County's Dongpu Village (東埔) and ending near Hualien County's Yuli Township (玉里).
After starting to hike, he said he had breathing problems and other symptoms of altitude sickness.
After the group went on at a faster pace, he hiked alone, but later was unable to continue, he said.
Separately, emergency response teams rescued an injured hiker in the mountains of Taichung's Heping District (和平) yesterday, after the 68-year-old man fell down a ravine while trekking with 11 people.
The Taichung Fire Bureau dispatched two vehicles with four emergency rescue team members from its Guguan (谷關) station.
The teams rescued the man from the ravine, but he had sustained serious head and chest injuries, the bureau said.
Due to the man's injuries, the emergency response team called the Taichung NASC unit to airlift him to a riverside park in Dongshih Township (東勢), where he was then taken to a local hospital.
Elsewhere, a fire department worker in Taitung County yesterday said a hiker was airlifted from a trail near the South Taiwan Cross-Mountain Highway.
The hiker, who is in his 20s, called for help after experiencing altitude sickness and was unable to continue walking.
The Taitung NASC unit dispatched a helicopter and rescue team to airlift the man, taking him to Taitung Christian Hospital for treatment.
Comments will be moderated. Keep comments relevant to the article. Remarks containing abusive and obscene language, personal attacks of any kind or promotion will be removed and the user banned. Final decision will be at the discretion of the Taipei Times.