China eyes national security legislation for Macau: MAC
China is making a bid to complete national security legislation and cement "governance by patriots" in Macau, the Mainland Affairs Council (MAC) said in an annual report on the Chinese territory.
The council has compiled the reports since the former Portuguese territory's handover to China in 1999.
The Macau government over the past year pushed for the passage of amendments to its national security law without significant opposition from the territory's civil society, although voices of dissent were heard, the report said.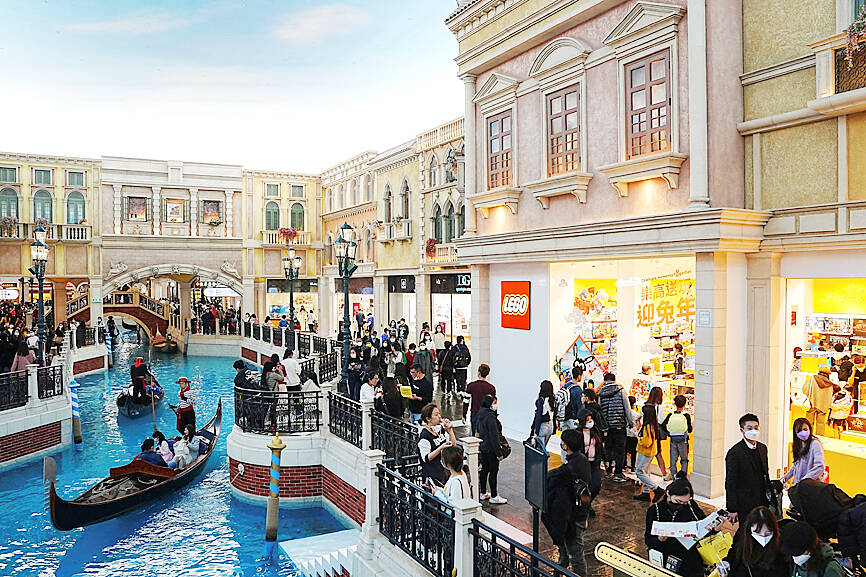 Visitors shop at the Grand Canal shop inside the Venetian Macao hotel in Macau on Tuesday.
Photo: REUTERS
The amendments to the national security law led to concern over the human rights situation in Macau from the EU and the US, which added the territory to the human trafficking blacklist, it said.
Beijing has sought to deepen economic ties with Macau and integrate the territory into the framework of Chinese trade laws, it said.
Citing an executive report by Macau Chief Executive Ho Iat Seng (賀一誠), the report said the Macau government's goals this year are to change election laws, and enhance the patriotism and national security education of public officials, which would include instating a loyalty oath.
Taiwan-Macau exchanges have cooled due to cross-strait tensions and the COVID-19 pandemic, it said.
About 55,000 Taiwanese visited Macau from January to October last year, down 5.6 percent from the same period in 2021, while 1,000 Macanese visited Taiwan in the same period last year, nearly unchanged from a year earlier, the report said.
Macanese exchange students in Taiwan declined from 722 people in 2021 to 522 last year, it said.
Trade relations between Taiwan and Macau showed signs of easing from the height of the pandemic, it said.
Taiwan-Macau trade was valued at US$108 million from January to November last year, an increase of 3.8 percent from the previous year, but the Macau government twice rejected Taiwanese mango imports due to COVID-19 restrictions last year.
Comments will be moderated. Keep comments relevant to the article. Remarks containing abusive and obscene language, personal attacks of any kind or promotion will be removed and the user banned. Final decision will be at the discretion of the Taipei Times.