Theater announces spring rebrand
ARTISTIC FLAIR: National Taichung Theater aims to revamp its upcoming season with plays, musicals and dances by Taiwanese and international performers
National Taichung Theater (NTT), which opened in 2016, is rebranding its spring season this year in a bid to encourage audiences to explore new and unknown territory in the performing arts, the venue said.
The theater's spring series, "NTT Arts NOVA," is to be themed "Ask Now."
It is to include programs that encourage audiences to "embrace" new things, NTT general and artistic director Joyce Chiou (邱瑗) said in a statement late last year.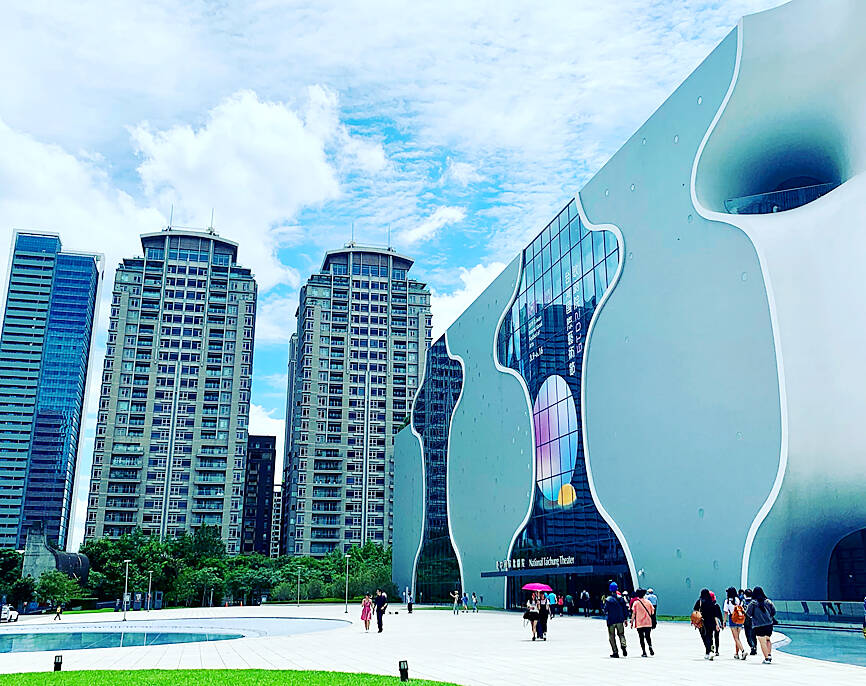 The National Taichung Theater is pictured on May 16, 2021.
Photo: CNA
"Trends in this age have shifted in a new direction, and we cannot ignore that," she said.
Over the past six spring seasons from 2017 to last year, the Taichung theater programmed the Taiwan International Festival of Arts and co-presented some productions with the National Theater and Concert Hall in Taipei, the statement said.
The annual festival was first launched in Taipei in 2009.
The Taichung theater is scheduled to open its spring season with Portuguese director Tiago Rodrigues' 2021 production of Anton Chekhov's La Cerisaie from March 10 to March 12, headlined by French actress Isabelle Huppert, the statement said.
Rodrigues is also scheduled to stage his Dans la mesure de l'impossible, a play based on first-hand stories of humanitarian aid workers, at the National Theater in Taipei.
The Taipei theater had planned to showcase two of his other works in 2021, but had to cancel them due to COVID-19.
The Taichung theater's spring season would also see the return of director Robert Lepage and the creative team Ex Machina, with the staging of Courville, a story set in the 1970s about a young man called Simon.
For this theater production, Lepage uses a Japanese ancestral puppetry technique called Bunraku, the theater said.
Three performances of Courville are scheduled to be staged from March 31 to April 2.
After performing the first part of the musical trilogy BOOM at the Taichung theater in 2021, Rick Miller is to showcase his BOOM X and BOOM YZ solo shows that use songs to observe three generations over the past 50 years.
Two performances of each show are scheduled on April 28 to April 30.
Compagnie Louis Brouillard, which has staged its fairytale trilogy in Taiwan over the past few years, is to present three performances of Contes et legendes from May 26 to May 28, exploring young people's construction of identity in a future world where humans coexist with artificial life forms, the theater said.
Another program is to explore the relationship between humans and machines with the production of Keep Breathing at Zero by Hong Kong media artist GayBird (梁基爵).
The production is expected to turn the stage into "a big percussion instrument" with sound installations, robotic arms and moving images, the theater said.
The 11 programs for the Taichung theater's spring season would also cover several dance works, including Cloud Gate Dance Theatre's (雲門舞集) 50th anniversary production of the group's 1978 piece Legacy from May 5 to May 7, and the premiere of choreographer Huang Yi's (黃翊) Ink, which is based on works of modern calligrapher Tong Yang-tze (董陽孜), from June 2 to June 4, it said.
The theater is also to present the Bulareyaung Dance Company's tiaen tiamen Episode 1 by choreographer Bulareyaung Pagarlava from March 24 to March 26.
Tiaen tiamen means "me and us" in the Paiwan language, andBulareyaung would be joined by singer-songwriter Abao (阿爆) and visual artist Reretan pavavaljung for the new work.
GoteborgsOperans Danskompani from Sweden is to make its debut in Taiwan from May 19 to May 21 with two pieces — Skid by Damien Jalet and SAABA by Sharon Eyal.
The Anarchy Dance Theatre (安娜琪舞蹈劇場) is also scheduled to perform choreographer Hsieh Chieh-hua's (謝杰樺) new work CyborgEros from April 22 to April 23, the theater said.
Comments will be moderated. Keep comments relevant to the article. Remarks containing abusive and obscene language, personal attacks of any kind or promotion will be removed and the user banned. Final decision will be at the discretion of the Taipei Times.