Too early to weigh in on Chen Chien-jen, Ko says
TOUGH YEAR AHEAD: As premier, Chen would have to immediately deal with a tax rebate, global economic issues and high tensions with China, a legislator said
It is uncertain whether Chen Chien-jen (陳建仁) would perform well as premier, Taiwan People's Party (TPP) Chairman Ko Wen-je (柯文哲) said yesterday, as politicians weighed in after the Presidential Office confirmed that the former vice president would succeed Premier Su Tseng-chang (蘇貞昌).
The Chinese-language Liberty Times (the Taipei Times' sister newspaper) yesterday reported that Chen accepted President Tsai Ing-wen's (蔡英文) request that he be nominated to become the new premier after they spoke during the Lunar New Year holiday.
The report came after Premier Su Tseng-chang (蘇貞昌) on Thursday last week announced that he and his Cabinet had submitted their resignation to Tsai.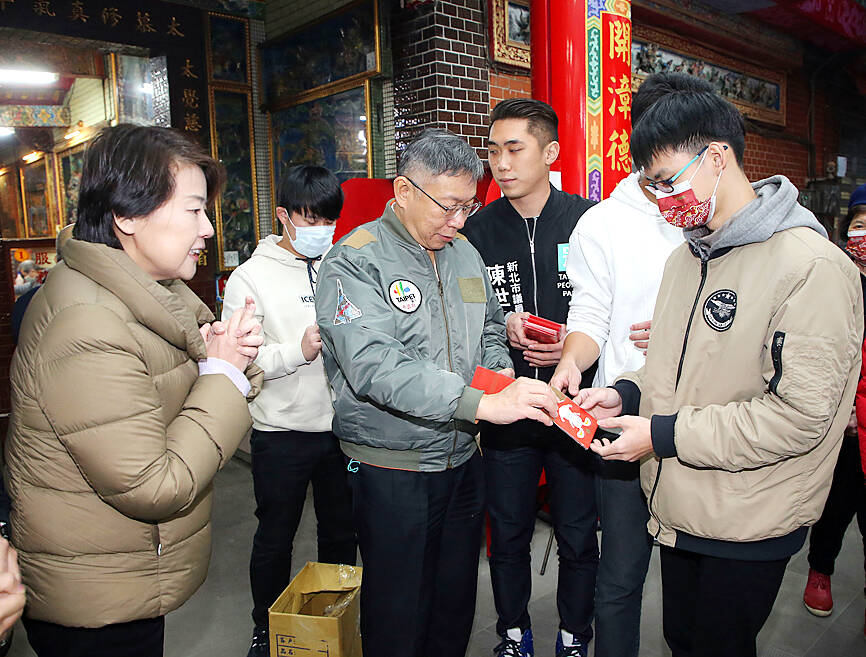 Taiwan People's Party Chairman Ko Wen-je, third left, hands a red envelope to a man at a Lunar New Year event in Taipei on Tuesday.
Photo: CNA
Noting that Chen's nomination must be approved by the legislature, Ko said that Chen has a good relationship with people and is polite.
Regarding whether Chen would do a better job than Su as premier, Ko said that whether Chen can do the job well is yet to be seen, and it is too early to evaluate him.
Former Taoyuan mayor Cheng Wen-tsan (鄭文燦) said that Chen has the quality of a clergyman and the rationality of a scientist, and a Cabinet led by him could usher Taiwan into a new era.
He also said that he hopes Chen could appoint his Cabinet heads according to their expertise and based on the principle of meritocracy.
Chen and his Cabinet would first need to deal with the government's proposed NT$6,000 cash rebate from last year's surplus tax revenue, Democratic Progressive Party Legislator Wang Ting-yu (王定宇) said.
There are also many challenges in the new lunar year, including global economic issues, Taiwan's international relationships and heightened threats from China, he said.
Chen's qualities of being reliable and cordial would likely help him lead a Cabinet that is friendly, but has strength and is willing to fight for the nation and promote unity, Wang said.
Comments will be moderated. Keep comments relevant to the article. Remarks containing abusive and obscene language, personal attacks of any kind or promotion will be removed and the user banned. Final decision will be at the discretion of the Taipei Times.