FEATURE: Accommodations, incentives to play key role in attracting female reservists
Finding proper accommodations and offering more incentives for discharged female military officers would be key to the success of the new reservist training program, military personnel said, as the Ministry of National Defense is in April to include female reservists in the program for the first time.
The military unit where training is to take place would need a separate dormitory to accommodate female reservists, as the ministry does not allow mixed accommodation, said a female military officer, who spoke on condition of anonymity.
Accommodation for female reservists must be equipped with surveillance systems and other security systems, she said, citing ministry regulations.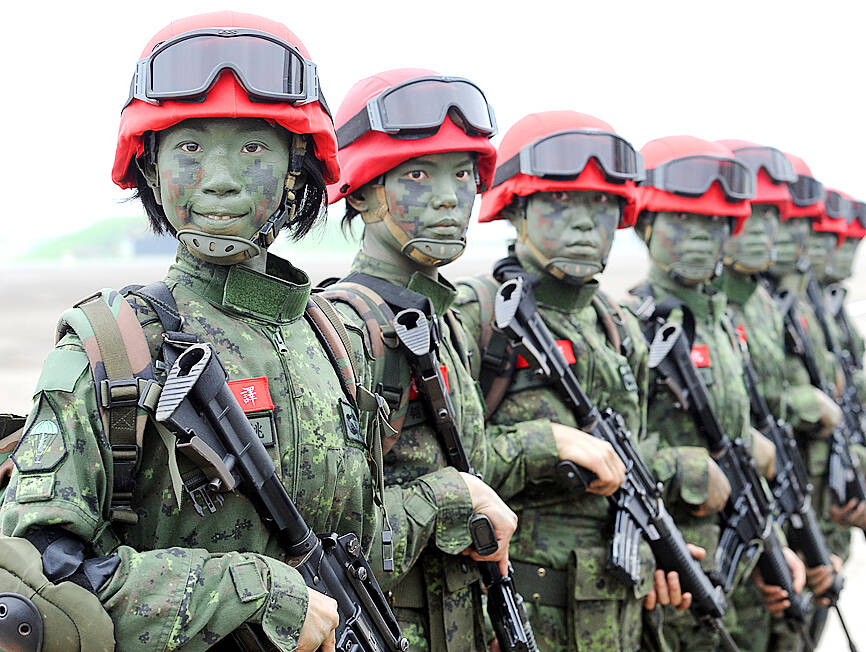 Female paratroopers pose after participating in the Han Kuang military exercises at Hsinchu Air Force Base on April 19, 2012.
Photo: Fang Pin-chao, Taipei Times
Having trained male reservists herself, she said female reservists in general have better attitudes, particularly those who voluntarily joined the military after they had worked in other jobs or graduated from non-military schools.
"They are more attentive to detail. Some of them joined the military with an ambition to achieve great things and like to compare their performance to that of the men," she said.
"Their performance in the annual Yushan war simulation was extraordinary and could be better than the men's," she said, adding that adjusting the training program for females would not be necessary.
However, few female officers would voluntarily become reservists after they leave the military, she said.
"During the training period, your freedom is restricted and you are only allowed to use mobile phones two hours per day," she said.
"When you tell your boss that you are recalled for reservist training for seven days or two weeks, they might not say anything, but you can tell that it will be a hassle for them. Not to mention those with families or young children, who would face greater challenges joining reservist training," she added.
Kao Tzu-yu (高慈妤), Taiwan' first female fighter jet pilot who graduated from a full-term class at the Air Force Academy, told a media interview in 2021 that she had considered taking maternity leave after giving birth.
Fortunately, she was able to continue her career in the air force after her mother volunteered to take care of her child, who she saw every two weeks in Taipei, she said.
Kao said she did not face any gender-based discrimination in the air force.
However, she said female pilots must eventually choose between family and career, adding that she might consider switching to ground crew work if she wants to spend more time with her family.
As of 2021, the number of female military personnel in Taiwan had exceeded 26,000, accounting for 15.6 percent of the total. The number of female reservists had topped 9,000.
According to the ministry's proposed amendment to Article 12 of the Act of Military Service for Officers and Non-commissioned Officers of the Armed Forces (陸海空軍軍官士官服役條例), all officers and non-commissioned officers — men and women — would be required to undergo reservist training following a suspension or retirement.
The proposed amendment is not retroactive.
Female military officers can choose whether they want to be listed as reservists after they are discharged or retire.
While female soldiers are automatically listed as reservists following their discharge, according to the Act of Military Service for Volunteer Enlisted Soldiers (志願士兵服役條例), the ministry has never called up female reservists for training.
Of the 8,915 female reservists listed in the ministry database in 2021, 478 were military officers, 2,608 were non-commissioned officers and 5,829 were soldiers.
"Compared with European countries that require mandatory military service, Taiwan has a larger source of troops," said Su Tzu-yun (蘇紫雲), a research fellow at the Institute of National Defense and Security Research.
"Sweden has a population of about 10 million and Norway has 5 million people, but Taiwan has a population of 23.5 million. Therefore, drafting male conscripts was deemed sufficient in the past," Su said.
However, the rising military threat from China caused the ministry to implement a new reservist program that includes women, Su said.
"The proposed amendment to the Act of Military Service for Officers and Non-commissioned Officers of the Armed Forces is a critical first step in the national defense reform. It shows that the ministry is adapting the armed forces to modern warfare, and taking stable and steady steps to shatter the glass ceiling for women in the military," he said.
The All-Out Defense Mobilization Agency yesterday said that it plans to recall 400 to 500 male reservists and 200 female reservists for training this year, starting in the second quarter.
Female reservists are to form Taiwan's first all-female military unit, the ministry said.
Some critics said training female reservists is merely a symbolic gesture for gender equality and does little to bolster the military's combat capabilities.
Su disagreed, saying it was a "sexist comment."
"From the experience of other countries, we see that women are resilient on battlefields and are sometimes even calmer than men. They help bolster defenses and make the deployment of armed forces more flexible," he said.
The first batch of female reservists should be considered "a seed troop," allowing the ministry to make adjustments before gradually integrating female reservists into mixed-gender armed forces, he said.
The ministry should offer greater incentives to encourage more female reservists to return to barracks for training, he added.
"Retired female military personnel might need to take care of their children and must often consider reactions from other family members. If all of them are to become reservists in the future, offering an appropriate amount of financial compensation will greatly help reduce the drag hindering them from returning for training," Su said. "The new policy needs support from the whole of society to succeed."
Volunteer reservists in the new program can choose between one or two-week training, the ministry said, adding that those who pick the latter would be considered having undergone two rounds of training.
Employers may not deduct salaries for the days employees spend in reservist training. In addition, each reservist is to receive a daily allowance of at least NT$1,050, depending on the military rank from which they retired or discharged.
To encourage reservists who have already undergone mandatory training four times in eight years to join the new program, a one-time NT$5,000 bonus would be granted to those who join the seven-day training for the fifth time, the ministry said.
The bonus for those joining the 14-day training for the fifth time would be NT$10,000, it said.
In 1997, the Chenggongling Recruit Training Command Center in Taichung accommodated for the first time 210 college-age women who joined a summer military training program as part of a Ministry of Education initiative. The event quickly became a popular topic and inspired the movie Trust me, You Can Make It (報告班長5:女兵報到).
However, the unprecedented move turned out to be a flash in the pan, as the program ended after only one summer.
Comments will be moderated. Keep comments relevant to the article. Remarks containing abusive and obscene language, personal attacks of any kind or promotion will be removed and the user banned. Final decision will be at the discretion of the Taipei Times.