Exports of pet food reach record US$17.66 million
NICHE SEGMENT: Local firms making functional pet foods, which contain added supplements, have made inroads into Hong Kong, Malaysia and elsewhere
The nation's exports of pet food last year rose 44 percent from 2021 to a record 1,922 tonnes, the Council of Agriculture has said.
The value of dog and cat food exports reached US$17.66 million, compared with US$12.2 million in 2021 and increasing 377 percent from 2016.
Pet food can be categorized into daily meals and nutritional supplements, Department of Animal Industry Deputy Director Chiang Wen-chuan (江文全) said.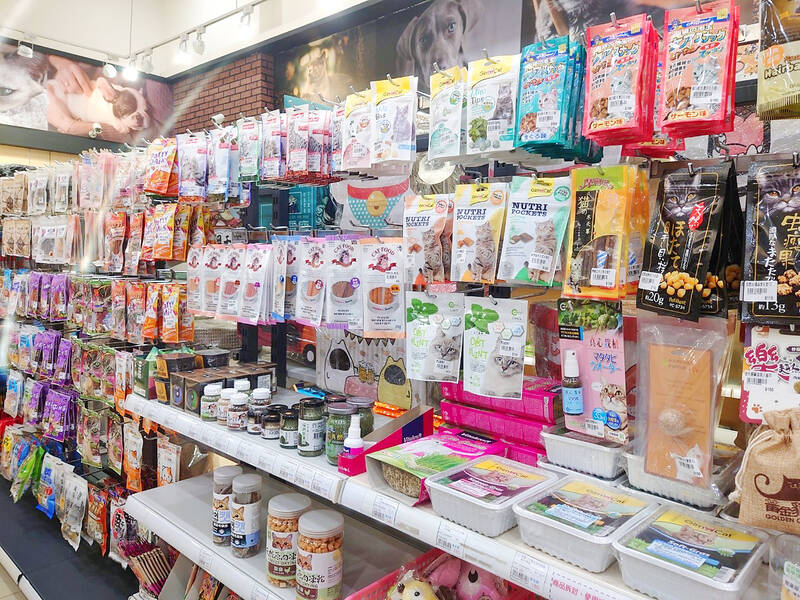 Pet food is displayed on shelves at a pet store in New Taipei City in an undated photograph.
Photo courtesy of the New Taipei City Animal Protection and Health Inspection Office
Taiwan generally relies on imports to meet demand for dog and cat food, but the diverse supplement market is becoming a focus for domestic producers, Chiang said.
Domestic consumers prefer locally made products for functional pet foods, which contain added supplements, he said.
The segment has become local producers' most successful export item, making significant inroads into Hong Kong, Malaysia, the Philippines, South Korea and elsewhere, he added.
Supplements include treats, dental bones and functional foods for aging pets, Chiang said.
Domestic producers make them out of animal byproducts, ensuring that nothing goes to waste, he added.
A long-time dog owner surnamed Cho (卓) said they always choose local products, as they are cheaper and of higher quality than imports.
Cho added that many of their fellow dog owners do not have children, so they have more money to spend on their pets, especially on nutritional supplements that could improve their health.
Meanwhile, a biennial council survey showed that pet ownership has declined in the past few years.
In 2021, there were 2.1 million pet dogs and cats in Taiwan, down from 2.51 million in 2017.
The overall decline was due to falling dog ownership, with the number of pet dogs falling from 1.78 million in 2017 to 1.24 million in 2021.
The number of pet cats increased over the period from 733,000 to 870,000.
The changing trend is likely due to lifestyle, as dogs require more space and attention than cats, Chiang said.
As dogs also tend to be noisier and more active, they can cause issues with neighbors or housemates living in small apartment buildings, he added.
As opposed to dog owners who typically only raise one animal, cat owners often have multiple felines, Chiang said.
Cats also do well in vertical spaces, meaning they are easier to keep in small apartments, he said.
The survey also shows a trend toward ownership of more unusual pets, such as reptiles or insects, he added.
Comments will be moderated. Keep comments relevant to the article. Remarks containing abusive and obscene language, personal attacks of any kind or promotion will be removed and the user banned. Final decision will be at the discretion of the Taipei Times.