Group warns on leaving kids alone in cars, home
LOCKED IN: Parents should always make sure they have their keys with them when they step out of their home or car, leaving their children inside, a group said
Parents should never leave young children alone at home or in a car locked from the outside, putting them at serious risk in case of an emergency, a child welfare group said.
The Jing Chuan Child Safety Foundation said that such incidents tend to rise during the Lunar New Year holiday, when children are home from school or daycare, or when families spend more time on the road.
This year's Lunar New Year holiday runs from Friday to Sunday next week.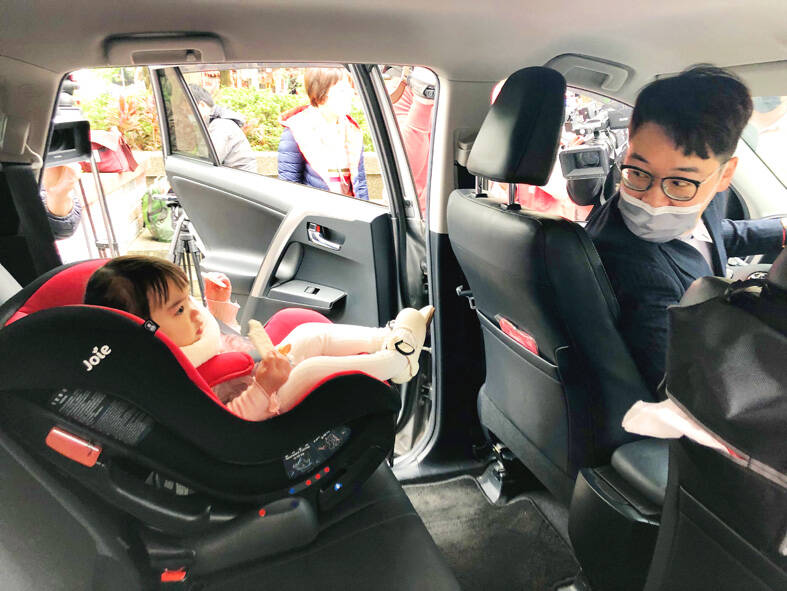 A man checks on a girl sitting in the backseat of a car during a news conference held by the Jing Chuan Child Safety Foundation in Taipei on Monday.
Photo: Rachel Lin, Taipei Times
The number of children left a home or locked in cars in Taiwan increased 4.1 times over the past year compared with the year before, the group said.
Statistics from the US National Safety Council showed that an average of 38 children under the age of 15 die in the US every year from being locked in vehicles, foundation chief executive officer Lin Yueh-chin (林月琴) said.
"We found that in many cases, children accidentally got locked in the car when parents left their keys in the ignition before taking the child out of the car seat," she said.
"In other cases, children get locked in homes when parents step out without the key and the door locks behind them, or they misplace keys before returning home," she said, urging parents to exercise caution.
Last year in Taiwan, 29 children were injured after being locked in a home or a vehicle — 4.1 times greater than the seven children injured in such incidents in 2021, she said.
Two of the dangers of locking a child in a car is the lack of oxygen when the windows are rolled up, which leads to suffocation, and the buildup of heat inside the car in summer, which leads to heatstroke, she said.
Citing an example, Lin said that a three-year-old girl died of heatstroke leading to cardiopulmonary arrest in Japan in September last year, after she was left in a childcare facility bus for three hours.
In a case in Taiwan, a man stepped outside his apartment to take the garbage out, leaving his daughter in the apartment. When he returned to his apartment he saw that the door — which automatically locks — had blown shut, and his keys were inside, she said.
"Always make sure your keys are with you when you step out of your car or home leaving your child inside, even for just a moment," she said.
Comments will be moderated. Keep comments relevant to the article. Remarks containing abusive and obscene language, personal attacks of any kind or promotion will be removed and the user banned. Final decision will be at the discretion of the Taipei Times.