Nearly 140,000 seek treatment for diarrhea
HYGIENE: As 44% of the clusters of diarrhea cases were caused by norovirus infection, the CDC urged people to keep their hands clean and maintain food safety practices
Nearly 140,000 people sought medical treatment for diarrhea last week, as 64 clusters of diarrhea cases were reported over the past four weeks, the Centers for Disease Control (CDC) said in a news release on Monday, advising people to maintain good hand hygiene and food safety practices during the Lunar New Year holiday.
From Jan. 8 to Saturday last week, 139,728 people went to see a doctor for diarrhea — higher than the 104,114 and 116,497 cases reported in the same period last year and in 2021 respectively, the CDC's surveillance data showed.
A total of 64 clusters of diarrhea cases were also reported in the past four weeks, higher than the 54 clusters reported in the same period last year, it said.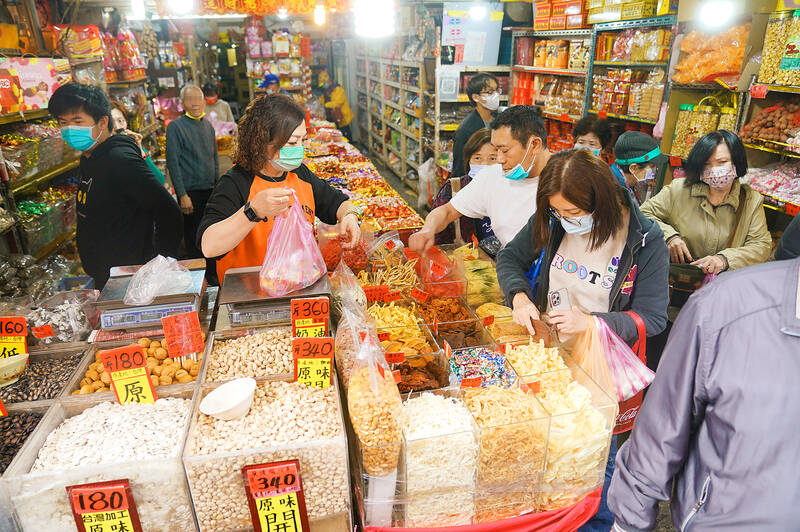 People buy products for the Lunar New Year at Rongbin Market in Taipei yesterday.
Photo: CNA
Twenty-eight of the clusters, or 44 percent, were caused by norovirus infection, it added.
There are many types of noroviruses and people at any age can be infected by consuming contaminated food or water; by touching their mouth, nose, or eyes after having touched contaminated objects; or by direct and close contact with an infected person or inhaling the droplets of vomit or feces from an infected person, it said.
Symptoms usually begin one to three days after infection, it said.
Common symptoms include vomiting, diarrhea and stomach cramps, the CDC said.
Other symptoms include nausea, fever, headache, abdominal and muscle pain, which can last between one and 10 days, the center said.
To prevent norovirus infection, people should practice good hand hygiene and food safety — including handling and storing raw and cooked food separately, and avoiding raw or undercooked eggs, meat or seafood — when gathering for the holiday, it said.
It also urged people, especially food industry workers, who develop symptoms of norovirus infection to stay at home and rest, and only return to work or school 48 hours after their symptoms are relieved.
Separately, the Central Epidemic Command Center yesterday reported 19,658 new local COVID-19 infections, including 312 imported cases, and 30 deaths.
Comments will be moderated. Keep comments relevant to the article. Remarks containing abusive and obscene language, personal attacks of any kind or promotion will be removed and the user banned. Final decision will be at the discretion of the Taipei Times.