Legislature passes climate amendments
EYE ON 2050: The bill says all levels of government should work with civil groups, citizens and businesses to reduce emissions and promote international cooperation
The legislature yesterday passed amendments to climate change laws, officially setting 2050 as the deadline to achieve carbon neutrality and establish a carbon pricing system.
The Executive Yuan in April last year proposed the amendments to the Greenhouse Gas Reduction and Management Act (溫室氣體減量及管理法), which among other changes renames it the Climate Change Adaptation Act (氣候變遷因應法).
Since then, the bill has gone through committee and cross-party negotiations at the legislature, but consensus remained elusive on provisions such as the 2050 goal, oversight and carbon pricing.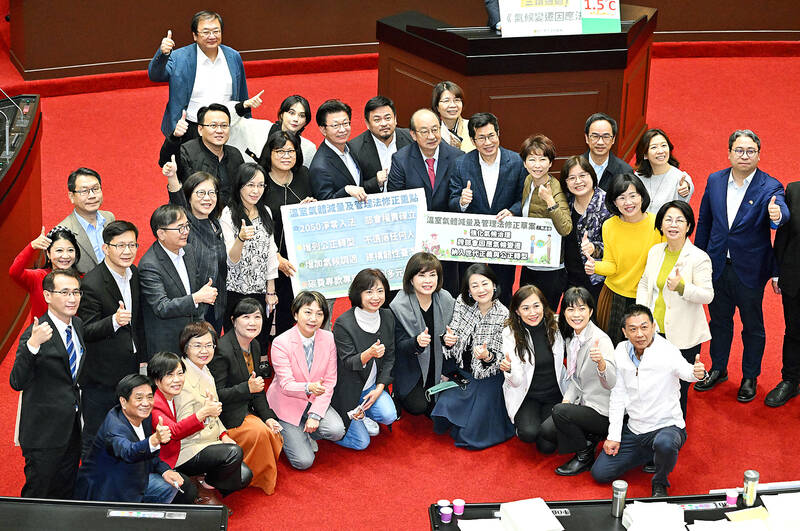 Lawmakers gesture at the Legislative Yuan in Taipei after passing amendments to the Climate Change Adaptation Act yesterday.
Photo: Liao Chen-huei, Taipei Times
The legislature yesterday voted on the remaining provisions and the Democratic Progressive Party's versions passed due to its majority.
If approved by the Executive Yuan, the bill would establish a national goal of achieving carbon neutrality by 2050.
To achieve this, it instructs all levels of government to work with citizens, businesses and civil groups to reduce emissions, as well as promote negative emissions technologies and international cooperation.
It would task the Executive Yuan's National Council of Sustainable Development with negotiating, delegating and coordinating national responses to climate change, while the central government would be ordered to develop an action plan that is reviewed at least once every four years.
Local governments would work with experts and civil groups to form an implementation strategy that meets the requirements of the national action plan, which would be sent to a dedicated committee to execute, the bill says.
For economic incentives, the final version establishes a carbon taxing mechanism, with the central government as the sole collector.
If a payer is able to meet carbon reduction goals by converting to low or zero-carbon fuel, adopting negative emissions technology, improving energy efficiency or improving manufacturing, they would be eligible for a preferential rate.
Entities that intentionally report false information or alter data would be subject to a doubled fee plus interest.
Importers would be required to declare emissions linked to their products and pay accordingly.
All proceeds must be allocated to a climate change response fund, which is to be used for emissions source inspections, national and local carbon reduction efforts, subsidies and rewards for businesses working on greenhouse gas reduction technologies, transitional justice and other related matters, the bill says.
A public report detailing allocation of the funds and results must be made every two years, it says.
It also bolsters provisions for training, and promoting research into carbon technologies, and adds mechanisms to improve transparency and promote public participation.
The Environmental Protection Administration is to work out details of the carbon pricing scheme, which is to be implemented next year at the earliest.
The first stage of the rollout would target about 287 companies that emit at least 25,000 tonnes of carbon annually, comprising nearly 80 percent of the nation's emissions.
Comments will be moderated. Keep comments relevant to the article. Remarks containing abusive and obscene language, personal attacks of any kind or promotion will be removed and the user banned. Final decision will be at the discretion of the Taipei Times.