Bail ruling in high-profile China spy case criticized
Prosecutors yesterday criticized a decision on Thursday to grant bail to former legislator Lo Chih-ming (羅志明) and retired navy major general Hsia Fu-hsiang (夏復翔) after they were questioned in relation to allegations that they had recruited retired military personnel to travel on hosted trips to China.
Chinese-language media on Wednesday reported that the Kaohsiung branch of the High Prosecutors' Office a day earlier carried out searches and questioned seven people over suspected contraventions of the National Security Act (國家安全法).
The office suspects that a retired air force colonel surnamed Liu (劉) recruited at least six military officers over eight years to take part in unspecified espionage activities on behalf of China.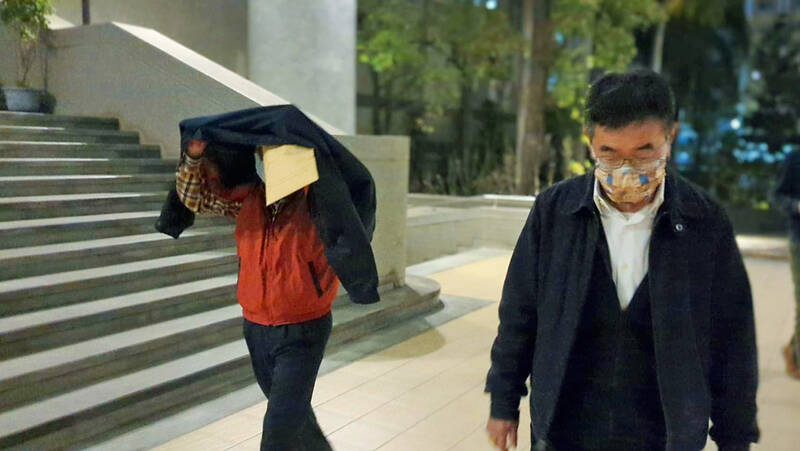 Former legislator Lo Chih-ming, right, and retired navy major general Hsia Fu-hsiang walk past reporters at the Kaohsiung District Court on Thursday.
Photo: Huang Chia-lin, Taipei Times
Prosecutors were on Wednesday granted requests to detain Liu and three active-duty air force and navy officers, while three other active military officers were released after each posting bail of NT$100,000 to NT$200,000.
As part of the probe, Kaohsiung prosecutors are investigating whether Lo recruited Hsia for the espionage ring.
Prosecutors said the two had subsequently used their connections to recruit retired military personnel to travel to China to be "entertained" by officials there, with the purpose of helping Beijing develop a network of spies in Taiwan.
Investigators questioned more than 10 additional individuals in relation to the case.
Several of them said they went on hosted trips to China, but did not know the purpose of the activities.
Lo and Hsia denied helping China develop an espionage ring, but prosecutors filed a motion to detain them, citing the risk of collusion.
Late on Thursday, the Kaohsiung District Court set bail for Lo and Hsia at NT$200,000 and NT$150,000 respectively.
Prosecutors yesterday filed a protest against the ruling, expressing concern that if released, Lo and Hsia could collude to alter evidence.
Lo, 65, from 2002 to 2008 served as a Taiwan Solidarity Union legislator and later as chairman of a Xiamen, China-based subsidiary of Taiyen Biotech. He currently heads a real-estate development company.
Hsia, among other positions, served as commander of the destroyer ROCS Yue-Yang and deputy director of the Navy Command Headquarters' Political Warfare Department.
Additional reporting by Huang Chia-lin
Comments will be moderated. Keep comments relevant to the article. Remarks containing abusive and obscene language, personal attacks of any kind or promotion will be removed and the user banned. Final decision will be at the discretion of the Taipei Times.