Joe Biden signs bill that has provisions for loans to Taiwan
US President Joe Biden on Thursday signed into law a US government funding bill for next year that includes provisions to authorize US$2 billion in loans to Taiwan to buy weapons from the US.
Biden, who is on vacation, finalized the US$1.65 trillion Omnibus Consolidated Appropriations Act covering funding for fiscal 2023.
In a news release, the White House said that the "Consolidated Appropriations Act, 2023" makes consolidated appropriations for the fiscal year ending on Sept. 30, 2023, to provide emergency assistance for the situation in Ukraine and for other purposes.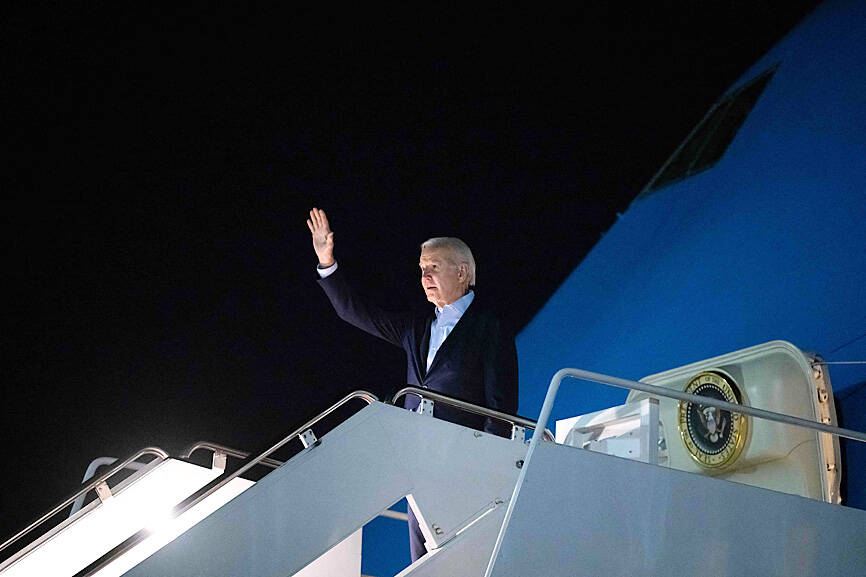 US President Joe Biden boards Air Force One at Joint Base Andrews in Maryland on Tuesday.
Photo: AFP
The bill, which cleared the US Congress on Dec. 23, provides a record US$858 billion in defense funding — a 10 percent increase over the funding for fiscal 2022 — and US$772 billion in non-defense funding.
In its provisions regarding Taiwan, the act allows up to US$2 billion in direct loans to Taiwan for military purposes under the "Foreign Military Financing Program."
Taiwan would be required to pay off such loans within 12 years.
However, the bill does not include provisions to provide US$10 billion of grants — US$2 billion over the next five years — for Taiwan to buy US-made weapons, as authorized in the National Defense Authorization Act (NDAA) for Fiscal Year 2023.
The NDAA was signed into law by Biden on Friday last week, but for its funding provisions to be carried out, they must still be approved in the general appropriations act.
The appropriations bill also authorizes funding from the American Institute of Taiwan's (AIT) budget to support a fellowship program that offers the opportunity for US federal government employees to live and work in Taiwan for two years.
The act states that after consulting with the AIT director, the US secretary of state is required to present an executive plan for the fellowship program to the Committee on Appropriations.
The funds made available by the act are not allowed to "be used to create, procure or display any map that inaccurately depicts the territory and social and economic system of Taiwan and the islands or island groups administered by Taiwan authorities."
Comments will be moderated. Keep comments relevant to the article. Remarks containing abusive and obscene language, personal attacks of any kind or promotion will be removed and the user banned. Final decision will be at the discretion of the Taipei Times.