TPP caucus weighs in on FTX fallout
'NEW RULES NEEDED': A lawmaker said Taipei 'did nothing' after the cryptoexchange went bankrupt, even though Taiwan was among the most severely affected nations
The Taiwan People's Party (TPP) caucus yesterday called for better financial education and oversight measures, as the nation was hit particularly hard by the fall of cryptocurrency exchange FTX last month.
Potentially billions of US dollars in value were lost after FTX experienced mass withdrawals following reports of financial mismanagement and a failed rescue deal, leading to a bankruptcy filing on Nov. 11 and the arrest of its founder.
Local cryptoexperts have estimated that more than 300,000 Taiwanese were affected by the collapse, with losses totaling more than NT$15 billion (US$488.1 million).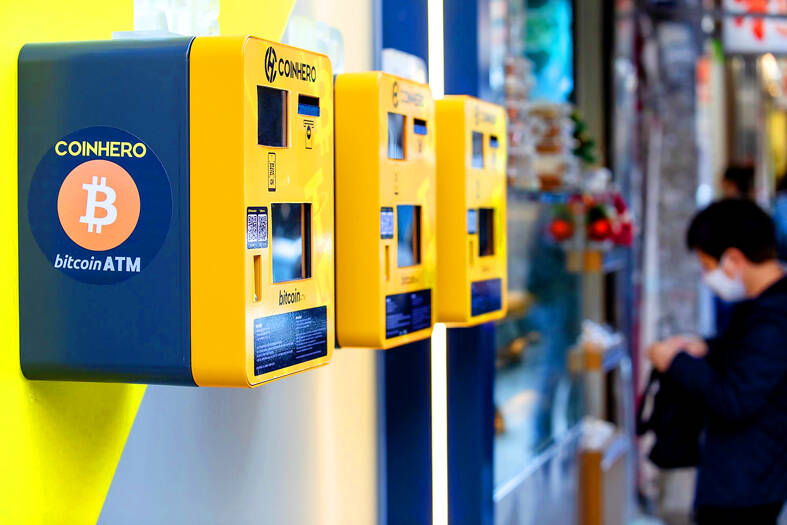 Bitcoin ATMs are pictured in Hong Kong on Wednesday.
Photo: Bloomberg
This would make Taiwan the fifth-most affected country, excluding tax havens.
Considering its effect on Taiwan, the TPP caucus yesterday held a news conference at the legislature to call for better financial literacy.
Awareness of the risks of investing in the cryptocurrency market is insufficient among Taiwanese, TPP Legislator Jang Chyi-lu (張其祿) said.
At a G20 summit in Indonesia last month, world leaders called for an international framework for cryptomanagement based on the principle of "same activity, same risk, same regulation," he said.
However, Taiwan's only law governing cryptocurrency trading is the Regulations Governing Anti-Money Laundering and Countering the Financing of Terrorism for Enterprises Handling Virtual Currency Platform or Transaction (虛擬通貨平台及交易業務事業防制洗錢及打擊資恐辦法), which was passed last year, he said.
For transactions outside of Taiwan, traders can only be advised to exercise caution, he said, urging the government to draft new regulations.
He also called for the creation of a central bank digital currency to provide a more secure and stable option for traders.
Most Taiwanese affected by the FTX collapse were students and people with limited funds, TPP Legislator Cynthia Wu (吳欣盈) said, citing a local self-help association.
This year's Taiwan Financial Lives Survey by the Taiwan Academy of Banking and Finance showed a decline in financial resilience and literacy among young people compared with two years ago, she added.
"People in the younger generation do not have high incomes and believe that investing is the fastest way to earn more money," Wu quoted the report as saying. "They therefore prioritize investing when they have some extra cash."
Young people often overlook the dangers of investing, she said, adding that the effects of the FTX collapse prove the importance of financial education.
Apart from business programs, the national curriculum for high-school students only covers economic theory with virtually no practical advice on personal finances or retirement planning, she said.
Especially considering the low incomes earned by recent graduates, many young people are drawn to investing to grow their wealth, leaving them vulnerable to traps, she said.
The Ministry of Education and the Financial Supervisory Commission should work together to draft a compulsory financial literacy curriculum to keep Taiwanese from falling victim in the next FTX-like incident, Wu said.
TPP Legislator Chen Wan-hui (陳琬惠) accused the Ministry of Digital Affairs of "doing nothing" in response to the FTX collapse, despite regulation of the digital economy falling under its purview.
The ministry should "fulfill its duty" and contribute to the development of the nation's digital economy, Chen added.
Comments will be moderated. Keep comments relevant to the article. Remarks containing abusive and obscene language, personal attacks of any kind or promotion will be removed and the user banned. Final decision will be at the discretion of the Taipei Times.