KMT accuses government of 'gifting' TSMC to US, warns of economic doom
Chinese Nationalist Party (KMT) lawmakers on Monday accused the government of "ruining" Taiwan Semiconductor Manufacturing Co (TSMC) by "gifting" it to the US due to pressure from Washington, adding that the move would hollow out Taiwan's economy.
"It is the KMT that cultivated TSMC and turned it into a leader of the semiconductor industry, but now the Democratic Progressive Party [DPP] government is giving it away. TSMC will surely become 'USMC' in the future," KMT caucus convener Tseng Ming-chung (曾銘宗) told a news conference at the legislature.
KMT caucus deputy secretary Wu I-ding (吳怡玎) said that "the DPP government is not only pressuring it [TSMC] to set up plants abroad, it is also giving away gifts, such as Taiwanese experience and talent in chip production, to other countries," Tseng said.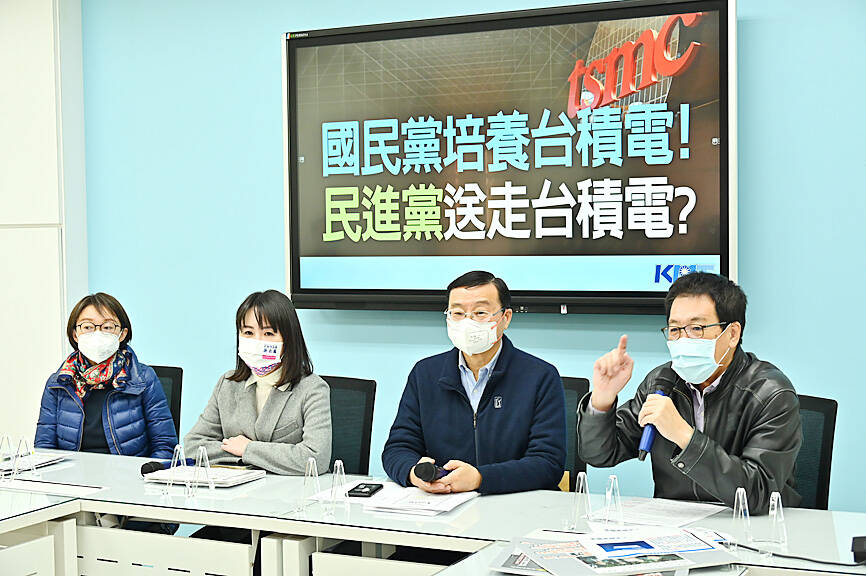 From left, Chinese Nationalist Party (KMT) legislators Wu I-ding, Hsieh Yi-fong, William Tseng and Alex Fai hold a news conference at the legislature in Taipei on Monday.
Photo: Tu Chien-jung, Taipei Times
"In doing so, the DPP has ruined TSMC as well as Taiwan's economy," he added.
TSMC had total capital expenditure of about NT$1.8 trillion (US$58.65 billion at the current exchange rate) from 2019 to last year, which is equivalent to about 12 percent of overall domestic capital expenditure in Taiwan, Tseng said.
"It [TSMC] is an important leader of the nation's economy, and has supply chain and industry clusters in Taiwan, as well as a vital role in the global economy," he said.
"TSMC is now building a plant in Arizona with initial investment of US$12 billion. The 4-nanometer chip facility is due to start production in 2024. It is also planning a 3-nanometer plant with US$40 billion investment," he added.
"Meanwhile, its main competitor, Intel, also has a plant in Arizona for 4-nanometer and 3-nanometer chips, only an hour's drive away from TSMC's plant," Tseng said.
"Industry executives and experts have said Intel would be the winner by taking new technology from TSMC and improving its production yield rate," he said.
"Intel offers salaries three to five times higher those offered by TSMC... It is tantamount to TSMC training engineers and technicians for Intel," he added.
"We demand that the administration of President Tsai Ing-wen (蔡英文) provide the support needed to come up with concrete policies to keep the 'Silicon Shield' in Taiwan," Tseng said.
KMT Legislator Alex Fai (費鴻泰) said the domestic semiconductor industry accounts for about 20 percent of Taiwan's GDP and about one-third of the nation's exports.
"TSMC has already sent 1,000 engineers to Arizona and the number is expected to reach 2,000 by the end of next year," he said.
"When 3-nanometer chip production begins in 2026, it [TSMC] will have to poach engineers from Taiwan's other semiconductor firms," he added.
"The brain drain of Taiwan's semiconductor professionals to the US would escalate in the coming years. Then what will Taiwan be left with?" Fai asked.
"TSMC is in its 35th year, but since President Tsai assumed office, she has caved in to pressure from the US government on the pretext that TSMC's cutting-edge technology for producing advanced chips must not fall under China's control," he said.
KMT lawmakers also reiterated their version of TSMC's establishment.
Fai said Taiwan had two outstanding figures — Sun Yun-suan (孫運璿), who served as economics minister and premier from the 1960s to the early 1980s, and economist Lee Kuo-ting (李國鼎), who served as finance and economics ministers, as well as a Cabinet adviser, from the 1960s to the 1980s.
"When Sun took charge as premier, he asked Lee to convince [TSMC founder] Morris Chang (張忠謀), who was then working at Texas Instruments in the US, to move to Taiwan by offering a higher salary and other promises," he said.
"Chang then headed up the Industrial Technology Research Institute, then he founded TSMC in 1987," he added.
Comments will be moderated. Keep comments relevant to the article. Remarks containing abusive and obscene language, personal attacks of any kind or promotion will be removed and the user banned. Final decision will be at the discretion of the Taipei Times.