BioNTech to work with Terry Gou's Yonglin on cancer
The Yonglin Healthcare Foundation is to partner with BioNTech to develop mRNA-based cancer immunotherapies, said Terry Gou (郭台銘), founder of the foundation and manufacturing giant Hon Hai Precision Industry.
BioNTech is also planning to set up a clinical trial hub in Taiwan for mRNA-based cancer immunotherapies as part of its Asia-Pacific expansion, Gou wrote on Facebook on Friday.
The German biotech firm, which developed a widely used mRNA COVID-19 vaccine, said in a separate statement that it would collaborate with Yonglin after signing a memorandum of understanding with Retain Biotech Corp.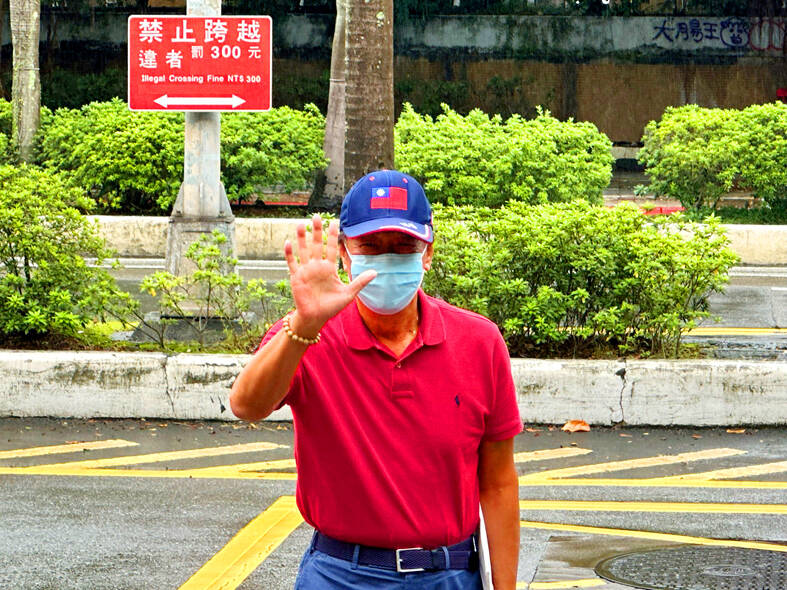 Hon Hai Precision Industry founder Terry Gou waves to reporters in Taipei on Nov. 26.
Photo: CNA
Retain Biotech, a Taiwan-based company sponsored by the foundation, is engaged in precision and genomic medicine and cell therapy for treating cancers, BioNTech said.
Gou said the German company has set up an office in Taiwan to perform an initial assessment of its cancer product candidate, BNT113, which is targeted at treating head and neck cancers.
Taiwan is expected to participate in BioNTech's mRNA-based cancer immunotherapy development, he said.
BioNTech said that BNT113 is expected to be the first of several novel cancer immunotherapies that it anticipates assessing in the region.
Under the memorandum of understanding, Retain is expected to support the clinical evaluation of BNT113 in a randomized phase two clinical trial across the region, BioNTech said.
"BioNTech's mRNA technology has not only saved the world from the COVID-19 pandemic, but also raised hopes that the technology will help medical circles take a leap in cancer treatment," Gou said.
"That has been the intention of BioNTech founder and CEO Ugur Sahin, and it is the first time that he believes his wish to beat cancer could come true," he said.
At Gou's invitation, BioNTech executives in January visited the National Taiwan University Cancer Center to better understand Taiwan's cancer treatment environment, its medical equipment and achievements in the biotech field.
While in Taiwan, the executives evaluated Taiwan's needs in the hopes of creating a blueprint for treating cancer in the country, Gou said.
In July, he led a delegation to BioNTech's headquarters in Germany to brief Sabin on Taiwan's plans to work with the company on head and neck cancer, breast cancer and leukemia.
In the Facebook post, Gou praised the partnership, saying that Taiwan could not afford to be left behind in the battle against cancer.
BioNTech chief business officer Sean Marett said his company's goal with the Retain agreement was to accelerate the development of innovative therapies to help address cancers, which have been highly prevalent in the region.
BioNTech said it planned to evaluate BNT113 in the broader Asia-Pacific region starting with clinical trials in Taiwan and in Australia's Victoria state.
It will also assess the expansion of clinical activities to Japan, South Korea, Singapore and other economies in the region for cancer-related therapies, which already encompasses 18 product candidates in 23 ongoing clinical trials.
Comments will be moderated. Keep comments relevant to the article. Remarks containing abusive and obscene language, personal attacks of any kind or promotion will be removed and the user banned. Final decision will be at the discretion of the Taipei Times.