Ex-CSIST boss tells behind-the-scenes story of missile development projects
Former Chungshan Institute of Science and Technology (CSIST) president Kung Chia-cheng (龔家政) made known some behind-the-scenes details of the nation's missile development in a memoir published by Academia Sinica's Institute of Modern History last month.
Speaking about the supersonic cruise missile developed by the Yun Feng (雲峰, Cloud Peak) project, Kung said the missile could exceed Mach 3 and had excellent penetration, as it comes down on its target vertically.
The missile's speed ensures that it is not easily intercepted, and at the time of the missile's development, under former president Lee Teng-hui (李登輝), only the US and Russia were developing similar kinds of missiles, Kung said.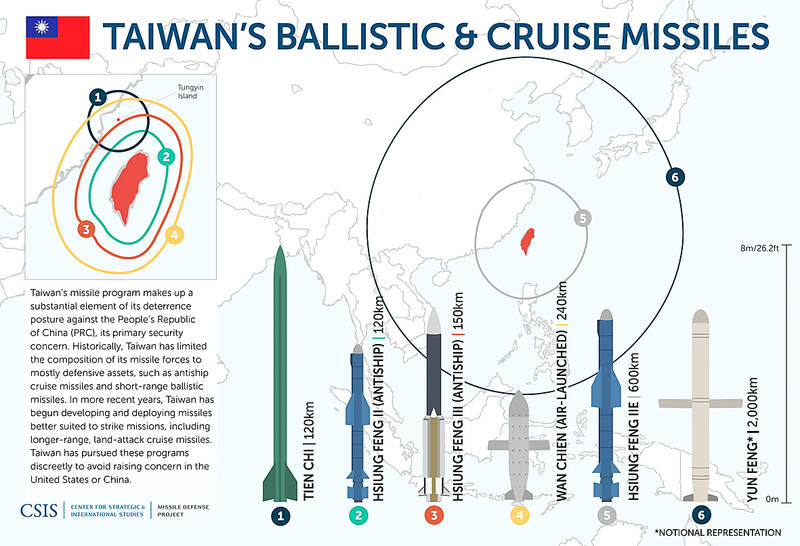 A screen grab taken from the Washington-based Center for Strategic and International Studies' (CSIS) Web site shows an array of Taiwan's missiles.
Photo: screen grab from CSIS Web site
The Ministry of National Defense had nearly axed the project as it thought the missile would have a high possibility of failing its trial launch, he said.
Fortunately, former president Chen Shui-bian (陳水扁) had conducted an inspection of CSIST during his presidency, and the institute briefed the president and received support to continue the project, he added.
Nearly 400 CSIST members worked on a secret project to develop ballistic missile capabilities under the overarching "Tien Kung" project. It was the first time that Taiwan developed a missile that was 1m in diameter and 10m in height, Kung said, adding that Chen was impressed when he inspected the missile at Pingtung County's Jiupengwan (九鵬灣) missile test base.
The American Institute in Taiwan met with Chen soon after the trial launch of the missile, he said, adding that the institute issued a memorandum of understanding stating that we "were not allowed to have carried out the trial launch."
Kung said that even if the project had been successful, it would simply have been a demonstration that the CSIST could make ballistic missiles, and it would have taken more trials for the project to produce combat-ready weapons.
Kung also spoke about the Hsiung Feng II-E missile, which has two variants: type A, which has a range of 500km, and type B, which has a range of 1,000km.
Officials had been pleased with the successful results of the Hsiung Feng II-E type B simulation, he said.
Comments will be moderated. Keep comments relevant to the article. Remarks containing abusive and obscene language, personal attacks of any kind or promotion will be removed and the user banned. Final decision will be at the discretion of the Taipei Times.