DPP calls Beijing's food import bans 'bullying'
DISCLOSURE: DPP legislators said that firms were essentially asked to hand over trade secrets to authorities, but KMT officials said Taiwanese firms were not being singled out
Democratic Progressive Party (DPP) legislators yesterday called China's recent ban on certain food and beverage imports from Taiwan "bullying through economic sanctions."
Beijing last week unilaterally targeted Taiwanese seafood, alcohol and beverage exporters by imposing unreasonable conditions, in contravention of WTO rules, DPP legislative caucus secretary-general Kuo Kuo-wen (郭國文) said.
"Only Taiwanese businesses were targeted, and required to submit hard copies of registration documents to Chinese authorities by June 30, while other countries could do so online and have one more year to register," he said.
From left, Democratic Progressive Party legislators Lin Ching-yi, Kuo Kuo-wen and Huang Shih-chieh hold a news conference at the legislature in Taipei yesterday.
Photo: Lo Pei-te, Taipei Times
"China also demanded that Taiwanese firms list ingredients and production processes, which are trade secrets, so they could not comply with its new registration system," he added.
Since October last year, the government has helped 3,232 producers submit their registration applications, but 2,409 were not approved without any explanation from Chinese customs authorities, a government official said on Sunday.
"It is China putting up trade barriers, for unfair treatment against Taiwan, in direct contravention of WTO rules," Kuo said.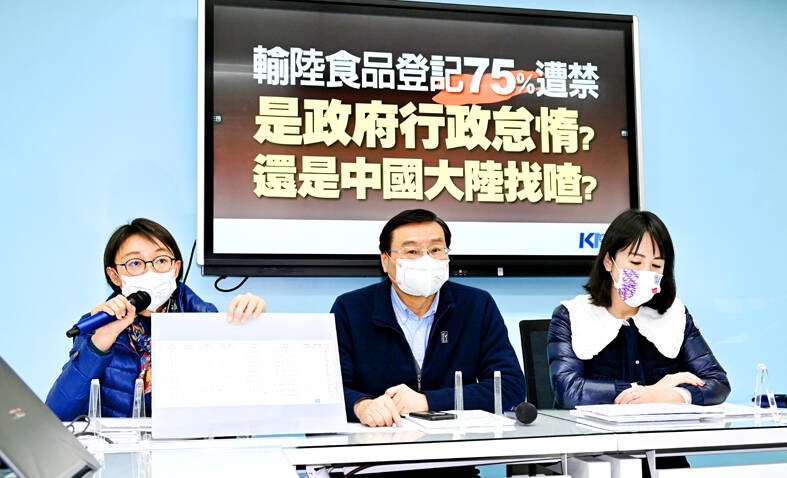 From left, Chinese Nationalist Party (KMT) legislators Wu I-ding, William Tseng and Hsieh Yi-fong hold a news conference at the legislature in Taipei yesterday.
Photo: Lo Pei-te, Taipei Times
DPP Legislator Huang Shih-chieh (黃世杰) said that Chinese customs demanded that Taipei-based Chia Te Bakery list ingredients and their origins, and recipes for its pineapple cakes and other products.
"China requested confidential information about the bakery's trade secrets, so Chia Te executives could not comply, and their registration did not go through," Huang said.
He said that King Car Food Industrial Co and state-owned Taiwan Tobacco and Liquor Corp received a qualification code from Chinese authorities in December last year and January respectively for alcoholic beverage products
"Then, without warning, Chinese authorities demanded more documents," he said. "Their codes were invalidated on Friday, even though they provided additional information to meet the new requirements."
Instead of calling out China's unilateral bans, Chinese Nationalist Party (KMT) officials are pandering to the Chinese government, DPP legislators said of a news conference the KMT caucus held earlier in the day.
KMT legislators said the bans were a result of the inaction and negligence of officials at government agencies, including at the Food and Drug Administration and the Council of Agriculture.
KMT Legislator Wu I-ding (吳怡玎) said that China announced its new regulations for food imports in April last year.
"They are not targeting Taiwan... It is because of inaction and delay by our government officials that China has halted imports of Taiwanese products in the past few days," she said.
"China did not impose a total ban," she added. "There is still one Taiwanese seafood company with effective registration and qualification code that can export products to China. This shows that the problem lies in the documentation process for registration."
Comments will be moderated. Keep comments relevant to the article. Remarks containing abusive and obscene language, personal attacks of any kind or promotion will be removed and the user banned. Final decision will be at the discretion of the Taipei Times.