KMT delegation heads to China to discuss imports
'SMALL THREE LINKS': KMT Legislator Jessica Chen said she feared that a Chinese ban on Kinmen kaoliang would devastate the county after years of strict travel restrictions
A group of Chinese Nationalist Party (KMT) lawmakers and newly elected county commissioners yesterday arrived in Xiamen to meet with Chinese officials, days after Beijing extended effective bans on Taiwanese exports to include liquor and more types of seafood.
Chen Fu-hai (陳福海) and Wang Chung-ming (王忠銘), who are to take office as Kinmen and Lienchiang county commissioners respectively on Dec. 25, arrived in China's Fujian Province yesterday afternoon.
They were joined by KMT legislators Jessica Chen (陳玉珍) from Kinmen and Chen Hsuen-sheng (陳雪生) from Lienchiang County, and Lienchiang County Council Speaker Chang Yuan-chiang (張永江).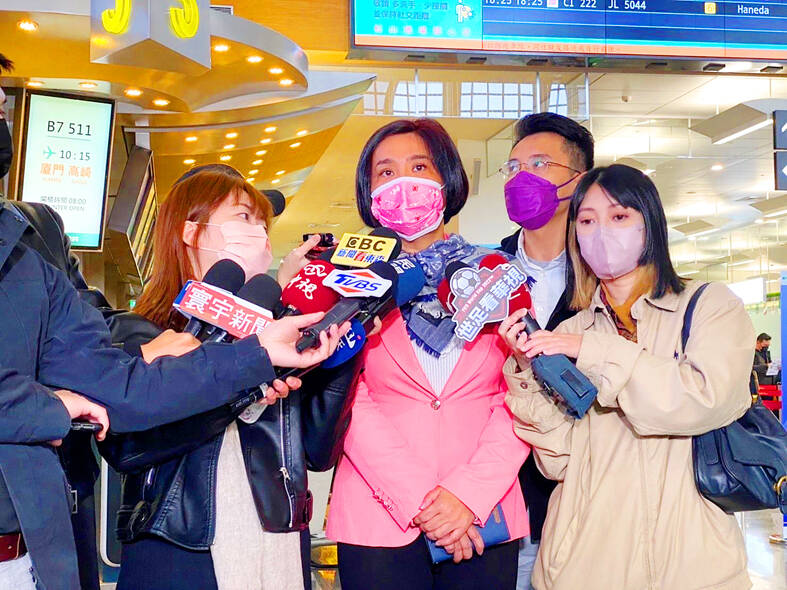 Chinese Nationalist Party (KMT) Legislator Jessica Chen, center, speaks to reporters at Kinmen Airport yesterday.
Photo courtesy of Chen's office
They were reportedly given special permission to forgo COVID-19 quarantine for their two-day trip, and are to return at 6pm today.
Jessica Chen told reporters at Kinmen Airport that the group was invited to discuss the recent suspensions of Taiwanese imports and the resumption of the "small three links" with officials responsible for Taiwan affairs.
Travel between the counties and China's Fujian Province has been difficult since the links were suspended on Feb. 10, 2020, due to the COVID-19 pandemic.
Now that pandemic-related border restrictions have been eased for the rest of the country, county residents are calling for the restoration of the small three links, which allow for direct transportation, postal services and trade with China.
With the small three links suspended, it has been difficult to develop Kinmen's economy, Jessica Chen said.
With exports of Kinmen Kaoliang Liquor Inc to China suspended, she said she fears another large blow to the county's economy and tax revenue.
During their visit, she said that representatives are to discuss the reasons behind the suspensions, as well as protocols for Taiwanese traveling to China once the small three links are reinstated.
She said that in December last year, she invited Cabinet officials to the legislature to respond to concerns about the new Chinese import registration rules and the effect it might have on liquor exports.
A decision was reached at that meeting to seek an explanation from Beijing and to assist Kinmen Kaoliang with any needed documentation, but a year later, the issue remains unresolved, she said.
The delegation is traveling to China to better understand the problem to help stakeholders in Taiwan, she said.
In response to questions about the trip, Presidential Office spokesman Xavier Chang (張惇涵) yesterday reiterated a comment from President Tsai Ing-wen's (蔡英文) Double Ten National Day speech, in which she said she "looks forward to the gradual resumption of healthy and orderly cross-strait people-to-people exchanges."
However, any decision regarding the small three links depends on developments in the pandemic and the overall cross-strait situation, he added.
Premier Su Tseng-chang (蘇貞昌) raised concern over the rise in COVID-19 cases in China, saying that it could harm the health of Taiwanese if the nation opens its borders.
Additional reporting by Chen Yun and Hsu Tzu-ling
Comments will be moderated. Keep comments relevant to the article. Remarks containing abusive and obscene language, personal attacks of any kind or promotion will be removed and the user banned. Final decision will be at the discretion of the Taipei Times.