Mental health of 4.43m hit by pandemic: survey
FIGHTING LONELINESS: Regardless of finances, people can achieve a high mental health score with a sense of belonging, a Mental Health Foundation official said
The mental health of about 4.43 million adults in Taiwan this year has been affected by the COVID-19 pandemic, the Mental Health Foundation said yesterday, citing its nationwide mental health survey.
The average overall mental health score of respondents, adults aged 20 or older, was 82.4, higher than the "pass" score of 80, which is a good sign, the foundation said.
However, 27.7 percent of respondents scored lower than 80, implying that an estimated 4.43 million adults have relatively poor mental health, the survey showed.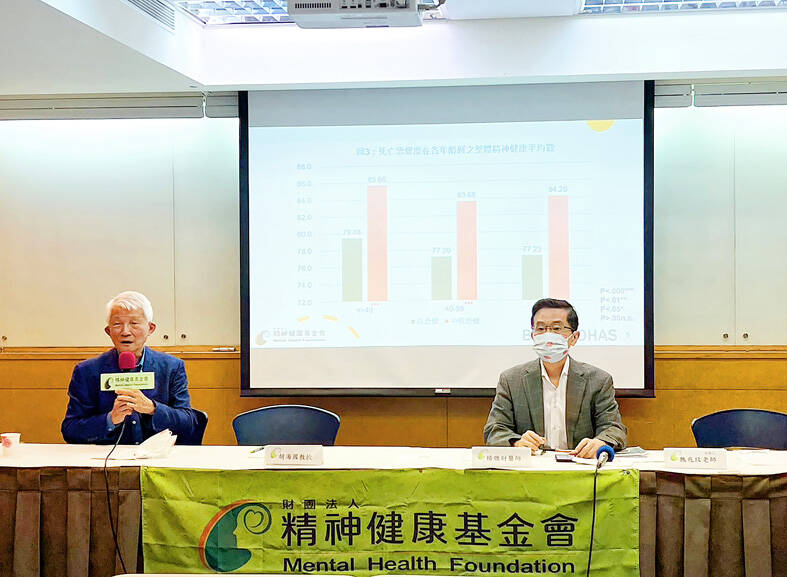 National Taiwan University professor emeritus of psychiatry Hwu Hai-gwo, left, chairman of the Mental Health Foundation, speaks at a news conference in Taipei yesterday as psychiatrist Yang Tsung-tsair, convener of the foundation's mental health index division, looks on
.Photo: CNA
Psychiatrist Yang Tsung-tsair (楊聰財), convener of the foundation's mental health index division, said that in the "physical and mental health" aspect of the survey, record-high percentages reported three symptoms — poor sleep quality (40.2 percent), anxiety (41.1 percent) and poor memory (40.2 percent).
In the "life control" aspect, 36.6 percent of respondents felt that they "lacked a sense of belonging" and 22.2 percent felt that "the future would not get better," Yang said, adding that lacking a sense of belonging can lead to feelings of loneliness or depression.
Questions about attitudes toward death were added to the foundation's annual survey this year, he said, adding that results from such questions suggest that an estimated 2.17 million adults have a high level of fear of death.
The average mental health score among such respondents was 77.8, he said.
National Taiwan University professor emeritus of psychiatry Hwu Hai-gwo (胡海國), the foundation's chairman, said that the pandemic has affected attitudes toward death, with those whose livelihoods were seriously affected likely feeling a greater sense of fear.
Having a positive attitude toward death can improve mental strength, but it is lacking in Taiwan's society, so people are encouraged to receive more death education and learn to improve the stability of their living environment to avoid anxiety and poor mental health, Hwu said.
People under 40 are generally more mentally resilient and capable of finding resources to solve problems, but elderly people tend to be less resilient, so they should be treated with extra care to help them maintain their quality of life, he said.
While Taiwan is entering a post-pandemic era, people with greater sensitivity might still feel anxious and afraid to go out, so society should be tolerant of such people and help them return to a normal life, he said.
Even if people have financial difficulties, they can still have a high mental health score if they feel a sense of belonging, which can be achieved through family or social interaction with non-family members, so friends who show support can help reduce feelings of loneliness, Hwu said.
The foundation suggests that people relieve anxiety by performing abdominal breathing to relax the body, exercising to increase dopamine, endorphins and serotonin, maintaining a regular sleeping pattern, and writing a gratitude or happiness journal before going to bed, Yang said.
Comments will be moderated. Keep comments relevant to the article. Remarks containing abusive and obscene language, personal attacks of any kind or promotion will be removed and the user banned. Final decision will be at the discretion of the Taipei Times.