DPP's Enoch Wu starts 'clean campaign' amid attacks
Enoch Wu (吳怡農), the Democratic Progressive Party's (DPP) candidate in a legislative by-election in Taipei, yesterday urged his opponents to center their campaigns on policies instead of on defamation.
Wu said he wants to run a clean election campaign and would not engage in personal attacks, adding that he is also not planning on putting up large billboards to convince voters.
Wu is running for the legislative seat that Taipei mayor-elect Chiang Wan-an (蔣萬安) of the Chinese Nationalist Party (KMT) vacated ahead of the local elections on Saturday last week. His competitors in the by-election in Zhongshan District (中山) and part of Songshan District (松山) are Taipei City Councilor Wang Hung-wei (王鴻薇) of the KMT and independent candidate Hsiao Ho-lin (蕭赫麟).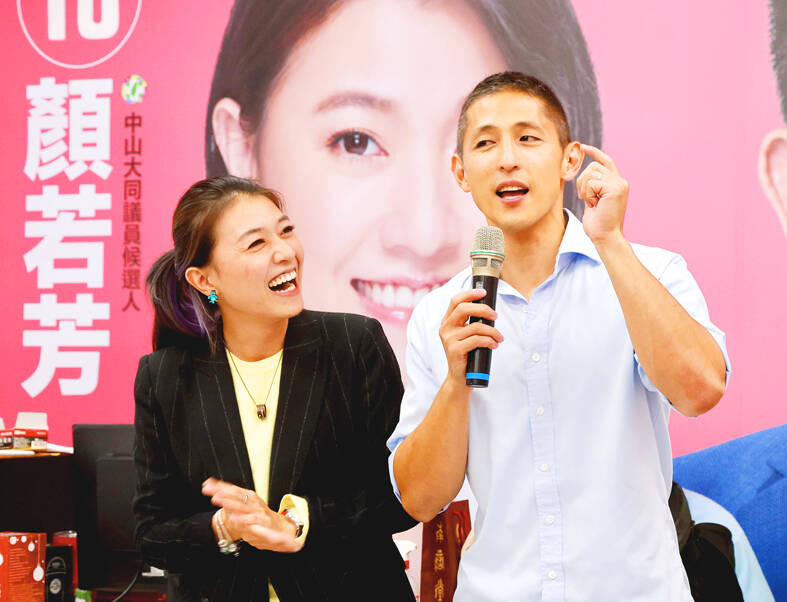 Democratic Progressive Party (DPP) legislative candidate Enoch Wu, right, and DPP Taipei City Councilor Yen Juo-fang speak at a campaign event for Wu in the city yesterday.
Photo: CNA
Wu is director of the Forward Alliance, which offers civil defense training programs.
At a campaign event yesterday, the KMT accused the DPP and its candidate of having links to organized crime.
Wang said that Wu had enjoyed "special treatment" from DPP leaders while being director of the DPP's Taipei chapter from February last year to May.
"Wu was merely a puppet," Wang said, adding that he rose suspiciously quickly within the party's ranks.
Wu denied that the DPP had organized crime ties, saying that Chao Chieh-yu (趙介佑), an alleged gang member who was convicted of drug-related offenses, was last year expelled from the party, despite being the son of a long-time DPP member.
Wu said that the DPP after that started to "clean up" its ranks and expelled many other members who it suspected of corruption and other misconduct.
"It is regrettable that the opposition tries to manipulate the public by saying that the DPP has gangsters among its members," Wu said.
During a visit to a DPP councilor's office in Zhongshan District, a woman asked Wu to take a stronger stance against the opposition's attacks.
Other people told Wu that it is "useless to promise a clean campaign" and ask voters to ignore the attacks.
"You cannot run this campaign by just talking about love and tolerance," another person said, adding that the KMT is "the biggest fraud criminal group."
However, Wu said that he would not go to such a "low level of campaigning."
Not engaging in personal attacks does not mean he is "doing nothing. I just insist on doing the right thing," Wu said.
Separately, Taipei City Councilor Miao Po-ya (苗博雅) of the Social Democratic Party said she worries about Wu's strategy.
Without active campaigning, billboards and banners, he would have a great disadvantage, Miao said.
"It is difficult to spread your message at the neighborhood level," she said, adding that giving interviews and trying to reach voters through the media would not be enough.
Comments will be moderated. Keep comments relevant to the article. Remarks containing abusive and obscene language, personal attacks of any kind or promotion will be removed and the user banned. Final decision will be at the discretion of the Taipei Times.