Conference builds international ties among hiking trails
Attendees at the fourth annual Asia Trails Conference on Friday exchanged their experiences with building and maintaining sustainable hiking and walking trails, highlighting the importance of international cooperation and community participation.
The five-day conference in Taipei, which celebrates the world's greenways and the pairing of hiking trails in Taiwan with those from around the world, underscores ways to make the routes more resilient and accessible, particularly in the face of challenges such as global warming and pandemics.
It is crucial to solicit community input for trail operations, allowing residents to have a say in planning trail services that can boost the local economy, Forestry Bureau Director-General Lin Hwa-ching (林華慶) told the conference.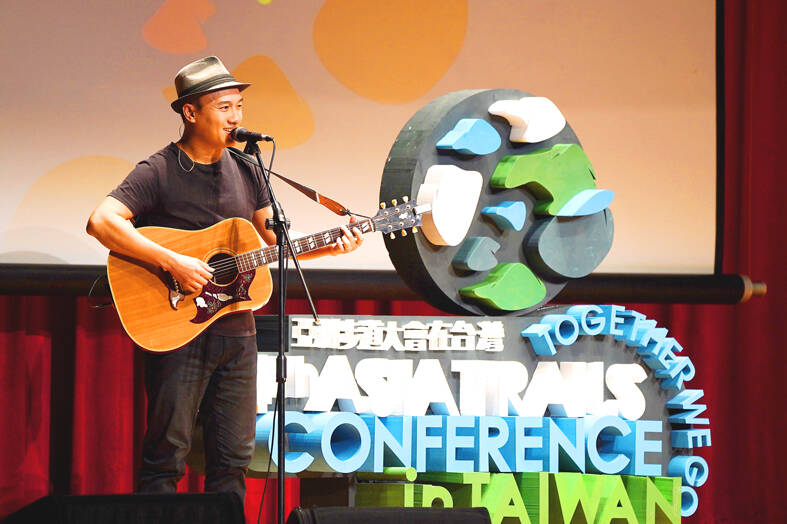 Singer Wu Zulin performs at the Asia Trails Conference in Taipei yesterday.
Photo: CNA
A good example is the contribution made by the Tsou people to the Mountains to Sea National Greenway, which was established in 2018 and connects the central mountain range with coastal areas in Tainan, Lin said.
During the conference — which was attended by 84 international experts from nine countries and regions — an agreement was signed between the bureau and the Bruce Trail Conservancy in Canada to establish that route as a sister trail with the Mountains to Sea National Greenway.
Attendees also paid tribute to 100 years of trail history since the establishment of the Appalachian Trail in the eastern US in 1921.
The 3,500km trail, an initiative led by forest conservationist Benton MacKaye, helped develop a legacy of long-distance hiking and became an inspiration for wilderness protection, said Laura Belleville, vice president of the Appalachian Trail Conservancy's Conservation and Policy Division.
Attendees of the conference planned to experience some of Taiwan's most popular trails after the symposium ended yesterday, the Taiwan Thousand Miles Trail Association said.
The association is an organizer of the conference.
Masafumi Saito, a long-distance hiker and writer from Japan, is to make a foot journey along the Tamsui-Kavalan Trails, the Mountains to Sea National Greenway and the Raknus Selu Trail before returning to Japan on Jan. 13.
The Thousand Miles association and the trails conference are part of the Asia Trails Network, the regional body of the World Trails Network, which connects and advocates for hiking and scenic trail experiences internationally.
Comments will be moderated. Keep comments relevant to the article. Remarks containing abusive and obscene language, personal attacks of any kind or promotion will be removed and the user banned. Final decision will be at the discretion of the Taipei Times.