FEATURE: 'Lucky' cap wearer a celebrity in Taiwan
HONORARY CITIZEN: The triathlete, who visited Taiwan this week, said everyone has luck within themselves, but they just need something to help draw it out of them
When Norwegian triathlete Gustav Iden was crowned 2019 Ironman 70.3 world champion in Nice, the last thing he could have imagined was becoming a household name in Taiwan.
Most Taiwanese cared little about Ironman events or even knew what they involved, and it made no difference to them that with his win in France at the age of 23, he became the youngest-ever Ironman world champion.
However, what did catch their attention was the baseball cap he wore as he crossed the finish line in Nice. It showed the name of a Taoist temple in Changhua County in Chinese characters, making him a local star and the cap from Puyan Shunze Temple (埔鹽順澤宮) a must-have.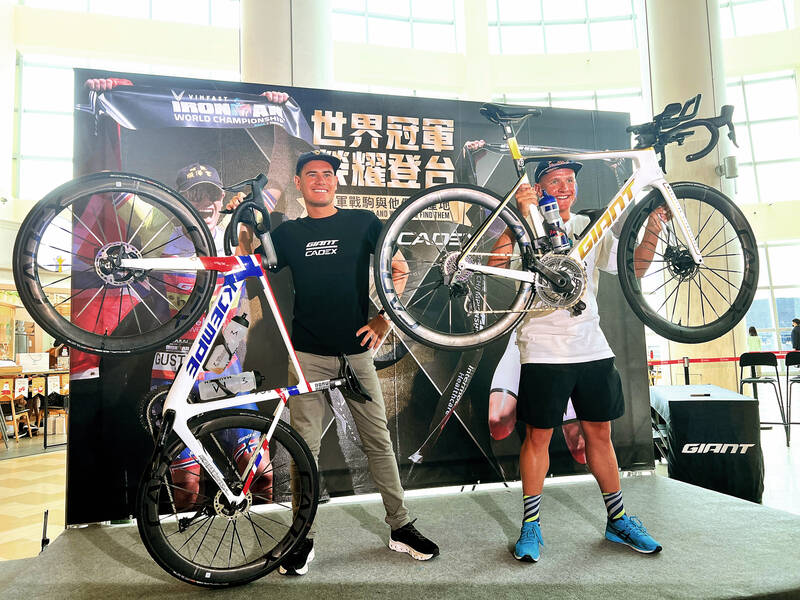 Norwegian triathlete Gustav Iden, left, and his training partner Kristian Blummenfelt pose for a photograph on Wednesday.
Photo: CNA
The temple, which honors Xuantian Shangdi (玄天上帝, Emperor of the Mysterious Heaven), one of the higher-ranking Taoist deities, made only 500 caps to give to worshipers for free in 2019, but had to make 370,000 more to meet demand since Iden was seen wearing it in Nice in September 2019.
Iden said he found the cap on the ground in Japan before the Tokyo Olympics test event earlier in 2019.
"Just thought it looked cool, so I cleaned it up and started to use it," he said in an interview after winning the race in France.
However, what has prompted the craze for the temple cap in Taiwan goes beyond what it looks like or that a foreign athlete wore it; it is in high demand because of the supposed luck it brought the Norwegian ironman.
Including his breakout win in Nice, Iden has won all 10 races in which he wore the temple's cap.
His latest win while wearing the cap came in the Ironman World Championship in Hawaii in October — a 225km journey comprised of a 3.8km swim, a 180km bike ride and a 42km run — that Iden completed in a record time of 7 hours, 40 minutes and 24 seconds.
At the Tokyo Olympics triathlon, a shorter race with a 1.5km swim, a 40km cycle and a 10km run, Iden was not wearing the hat and he finished eighth.
Coincidence? Who is to say, but giving the Puyan Shunze Temple gods all the credit for Iden's exploits might be stretching it.
Leading up to the Nice win in 2019, Iden had World Cup wins in Lausanne and Weihai, a second-place finish at an Ironman 70.3 event in Bahrain in 2018 and high finishes at triathlon events in 2019, so he was an ascending athlete in the sport.
However, many Taiwanese have embraced the story of the good-luck cap, and when Iden was invited by Changhua County to visit the temple later in 2019, he was greeted like a rock star.
He was also named an honorary citizen of Changhua during that trip for bringing the county international attention.
Recalling that visit, Iden, who is in Taiwan for the week, said on Friday that the experience was "overwhelming."
"We visited a town hall where I saw way, way, more people than I thought was going to be there. Just the whole experience, the first time was like a hurricane."
Iden and his training partner Kristian Blummenfelt, who won Olympic gold in the Tokyo triathlon, are visiting Taiwan at the invitation of Iden's sponsor, Taiwan-based bicycle designer and maker Giant Manufacturing.
During their stay, the two visited Pingtung as special guests for an Ironman race before a visit to the Puyan Shunze Temple today, and are to leave Taiwan tomorrow.
Born in Bergen, Norway, in 1996, Iden has had tremendous success in the sport over the past three years, with Ironman 70.3 world titles in 2019 and last year, and the Ironman world title this year.
However, his first taste of real fame came in Taiwan thanks to the lucky cap, he said.
"Actually, back home, I feel like people don't really know who I am, but here, I have more fans than in Norway," he said.
When he was in a taxi on Friday, his Taiwanese helpers told the driver that Iden was the man famous for wearing the Changhua temple cap, and the driver immediately responded by saying they knew who he was, Iden said.
His fame has reached other parts of the world. During the October race in Hawaii, Iden said he saw many others in the race wearing the same cap, and it made him happy to see that his story was uniting people.
"For me, it's like a symbol of tribes, and it's reaching all around the world," he said.
The lucky cap also gave him the chance to sign with Giant.
"Ever since I learned that the cap was from Taiwan, I thought it was so natural for me to sign with Giant. It's been a fairy tale and, yeah, we've grown so much together since."
Although it seems the cap has given him so much, Iden said he did not believe in an outside supernatural power.
"It is crazy how I never lost with it, but I think the superpower kind of comes from believing in yourself," he said.
He said he feels that everyone has that power within themselves, and they just need something extra to help draw it out of them, "whether it comes from a lucky hat or a bracelet or whatever."
"I hope my hat can bring some superpowers from within to many people," he said.
Comments will be moderated. Keep comments relevant to the article. Remarks containing abusive and obscene language, personal attacks of any kind or promotion will be removed and the user banned. Final decision will be at the discretion of the Taipei Times.