2022 ELECTIONS: ANALYSIS: Voters reject lower voting age to 'punish' DPP
One spillover effect of voters using ballots to punish the ruling party — the Democratic Progressive Party (DPP) — was the failure to pass a proposed constitutional amendment to grant Taiwanese aged 18 years or older the right to vote and the right to run for public office, academics said yesterday.
The referendum needed 9,619,697 "yes" votes to pass, but the Central Election Committee (CEC) data showed that the voter turnout was 58.97 percent, with 5,647,102 voting "yes" and 5,016,427 voting "no" for the proposal.
The data showed that in all six special municipalities, the "yes" side won over the "no" side in votes, but only by a slight margin.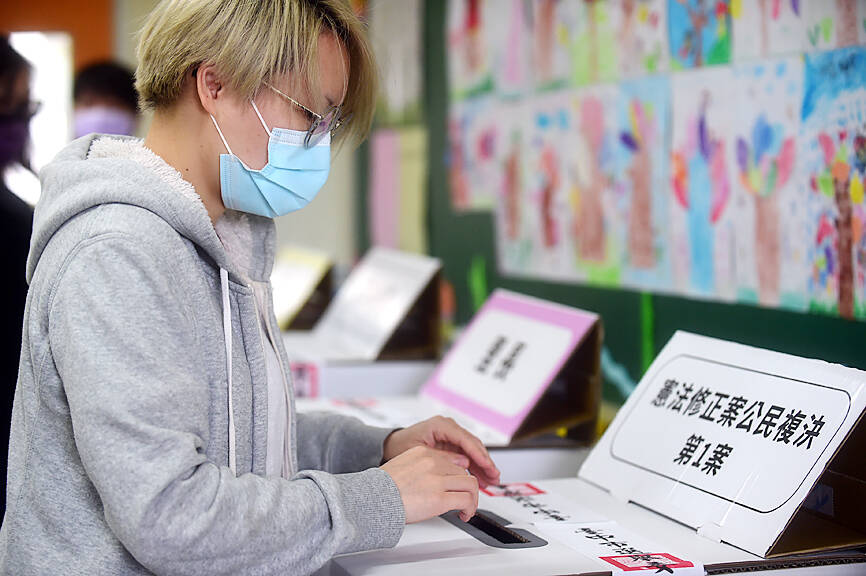 A voter places their ballot into a ballot box during a referendum on a proposed constitutional amendment on lowering the voting age in Taipei on Saturday.
Photo: Liao Yao-tung, Taipei Times
There were more "yes" votes than "no" votes in eight cities and counties, including Hsinchu County, Miaoli County, Nantou County, Hualien County, Taitung County, Kinmen County, Lienchiang County and Keelung.
In the five cities and counties where the DPP won in the race for mayor or commissioner — Chiayi County, Tainan, Kaohsiung, Pingtung County and Penghu County — the "yes" votes exceeded the "no" votes.
The cities or counties with the highest percentage of "yes" votes among eligible voters were Chiayi County (33.84 percent), Pingtung County (33.78 percent), Taipei (32.48 percent), Yilan County (32.45 percent) and Yunlin County (32.42 percent).
The other approval rates in other cities and counties ranged from 20 to 30 percent, with the exception of Kinmen County, which was only 10.65 percent.
The proposed voting age amendment was supported by legislators across party lines, but it failed to pass the national referendum.
Soochow University law professor Hu Po-yen (胡博硯) said a possible reason is that many traditional pan-blue camp voters believe young people mostly support the DPP, so they are concerned about losing support by allowing 18-year-olds vote.
Also, some voters appeared to use their ballots to punish the DPP, so they might have voted against the DPP's preference in the referendum, he said.
As each political party had supported the referendum and there was no opposition, the issue failed to create public discussion, Hu added.
Chu Chao-hsiang (曲兆祥), a professor at National Taiwan Normal University's Graduate Institute of Political Science, said although the "yes" votes exceeded the "no" votes, it could be misleading, as voters who were against the proposal could have refused to receive their referendum ballot.
There are also some people — in pan-blue and pan-green camps, mostly elderly people — who are concerned that 18-year-olds are not mature enough to vote or run for elected positions, Chu said.
More than 10 million people voted in the referendum, but the result indicated that Taiwanese society is still undecided on the issue, DPP Legislator Lo Chih-cheng (羅致政) said.
The threshold for the constitutional amendment is very high and difficult to pass, he added.
Chinese Nationalist Party (KMT) caucus whip William Tseng (曾銘宗) said granting voting and civil rights to 18-year-olds is a global norm, and the referendum proposal was supported by legislators across party lines, but there were many "no" votes on Saturday, implying that society does not have a consensus on the issue.
DPP Legislator Chao Tien-lin (趙天麟), who lobbied for the amendment, said that although most democratic countries grant 18-year-olds suffrage, Taiwan's democracy is relatively young, having endured for only about 30 years.
However, having more "yes" than "no" votes can be considered progress, Chao added.
Asked if the proposal could be introduced again, Lo said it could be difficult to gain enough support in a short time, and Tseng said it must be pushed for again, but more planning and communication with residents would be needed.
Comments will be moderated. Keep comments relevant to the article. Remarks containing abusive and obscene language, personal attacks of any kind or promotion will be removed and the user banned. Final decision will be at the discretion of the Taipei Times.