2022 ELECTIONS: Hou You-yi wins a second term in New Taipei City
New Taipei City Mayor Hou You-yi (侯友宜) of the Chinese Nationalist Party (KMT) yesterday won a second term after gaining a decisive lead over former Taichung mayor Lin Chia-lung (林佳龍), the Democratic Progressive Party's (DPP) candidate.
Hou declared victory before the Central Election Commission had finished counting the votes.
In his victory speech, Hou thanked the city's 4 million residents for their tolerance, care and patriotism, saying that solidarity in Taiwan had improved as a result.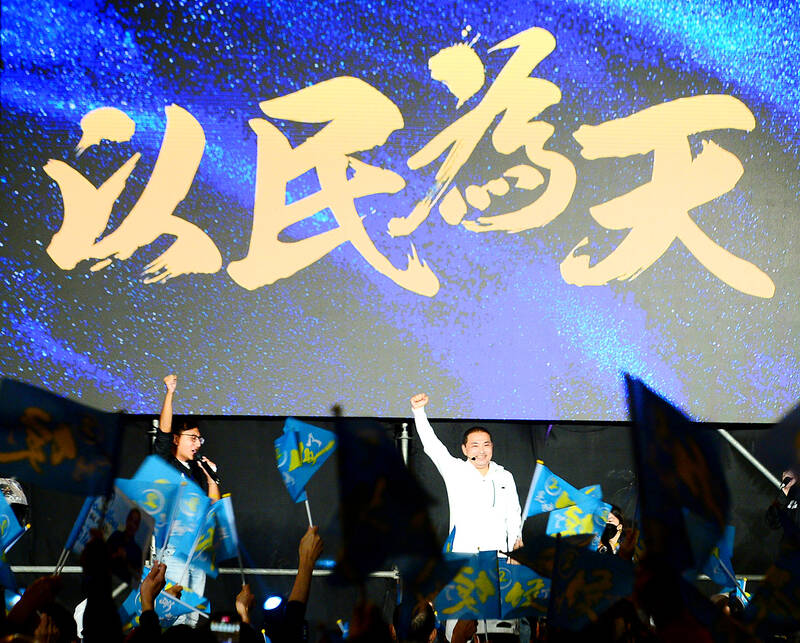 New Taipei City Mayor Hou You-yi, right, who was seeking re-election for the Chinese Nationalist Party (KMT), gestures during a speech at the city's Banciao Stadium yesterday.
Photo: Wang Yi-sung, Taipei Times
He and Lin had remained friends throughout the campaign, and the two had talked earlier in the evening to share ideas about the city, Hou said.
His administration would consider good policy proposals from Lin's camp and implement them within reason, he said.
"Democratic elections are ephemeral, and the important thing is that a democratic attitude has been maintained throughout the process," he said.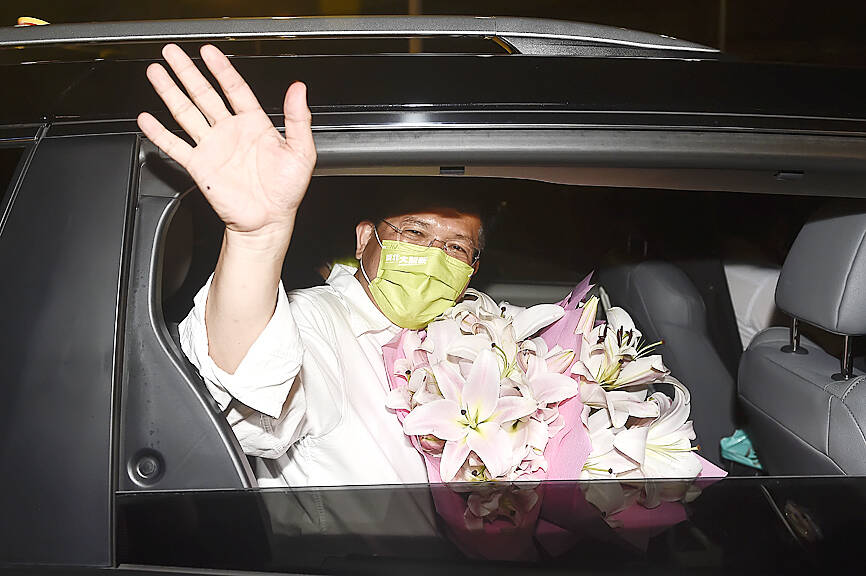 Former Taichung mayor Lin Chia-lung, the Democratic Progressive Party's candidate for New Taipei City mayor, waves to supporters from a vehicle in front of his campaign headquarters in the city yesterday after issuing a statement acknowledging defeat.
Photo: CNA
Hou won the mayoral post for the first time in 2018 after securing 1,165,130 votes, or about 57.2 percent of the ballots cast.
Premier Su Tseng-chang (蘇貞昌), Hou's challenger at the time, won 873,692 votes, or about 42.9 percent.
Last night, Hou improved his margin of victory amid a sharply lower voter turnout for the DPP.
In his concession speech, Lin said he had called Hou to congratulate him and express the hope that he would take good care of the city's residents.
Lin thanked his supporters for their trust and apologized for falling short of their expectations.
The DPP did not encourage its support base to go to polling stations amid flagging voter enthusiasm, and the record-low turnout in New Taipei City is a warning to the party, he said.
"The people have expressed their will via the result of this election," he said. "We should deeply examine ourselves in order to go forward."
Comments will be moderated. Keep comments relevant to the article. Remarks containing abusive and obscene language, personal attacks of any kind or promotion will be removed and the user banned. Final decision will be at the discretion of the Taipei Times.