Prosecutorial head vows all-out effort to stop vote-buying
Prosecutor-General Hsing Tai-chao (邢泰釗) yesterday vowed an all-out effort by local prosecutors and police to foil vote- buying as he headed to Taitung County to oversee an investigation into allegations of election breaches.
Taitung County prosecutors said that since last month, they have received more than 200 reports and complaints of vote-buying by candidates, as well as other election offenses, and have gathered evidence for 21 cases to go to court.
Among the 21 cases, six people have been detained and 21 released on bail, Taitung County Chief Prosecutor Chen Hsiao-chian (陳筱茜) said, adding that police have seized NT$530,000 in cash allegedly for use to buy votes.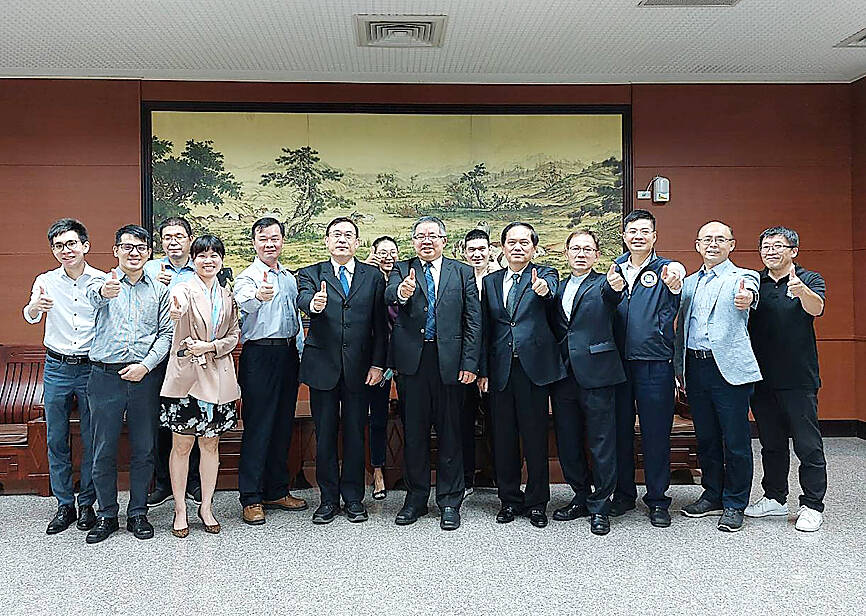 Prosecutor-General Hsing Tai-chao, front row fourth left, visits the Taitung County Prosecutors' Office yesterday to oversee efforts to combat vote buying.
Photo courtesy of the Taitung County Prosecutors' Office
Hsing, head of the Supreme Prosecutors' Office, on Nov. 13 went to Taitung City to convene a working meeting and preside over a ceremony on combating vote-buying and other offenses.
Hsing for the past month has traveled across the nation to reinforce the judiciary's message and commitment to ensuring fair elections.
Since Nov. 13, Taitung prosecutors have searched 126 locations after receiving tipoffs or reports of vote-buying, and taken in more than 100 people for questioning.
Hsing told prosecutors to thoroughly investigate each case and press for the indictment of candidates suspected of buying votes or other election offenses.
He warned that while some candidates might win in the elections, they can still be removed from office.
Separately, prosecutors in Yilan County questioned Lin Le-tzu (林樂賜), an independent candidate running for Toucheng Township (頭城) mayor. Lin was released yesterday after posting bail of NT$300,000.
Prosecutors said they had uncovered evidence that Lin had given cash to four "vote brokers" and allegedly instructed them to distribute NT$500 or NT$1,000 bills to residents to persuade them to vote for him.
Law enforcement officials on Thursday searched Lin's residence, confiscated NT$153,000 in cash and took 20 people in for questioning.
The suspected vote brokers were released yesterday after posting bail of NT$5,000 to NT$200,000.
In another alleged vote-buying incident, local authorities yesterday searched a campaign office in Pingtung County's Hengchun Township (恆春) and summoned 20 people for questioning.
Local police said that after being tipped off last month, they started surveillance and took action after verifying that cash was being used to buy votes.
They said the case involved several township representatives and one county councilor candidate.
Elsewhere, prosecutors carried out a preliminary investigation to gather evidence and take statements from witnesses on allegations of vote-buying in the past two days in Taichung, Kaohsiung, Kinmen County, Chiayi County, Yunlin County and several other jurisdictions.
Such incidents have also been reported in other cities and counties, as judiciary officials and police units are on a strict watch to clamp down on these illegal activities.
Comments will be moderated. Keep comments relevant to the article. Remarks containing abusive and obscene language, personal attacks of any kind or promotion will be removed and the user banned. Final decision will be at the discretion of the Taipei Times.