Chinese spy case revives calls to allow military trials
Academics and lawmakers on Tuesday said the government should consider reinstating military trials during peacetime or amending laws to better deter military espionage after an army colonel was indicted for working for China.
The Kaohsiung District Prosecutors' Office on Tuesday charged former army colonel Hsiang Te-en (向德恩) with corruption, accusing him of pledging allegiance to China and receiving payment from Chinese operatives to work as a spy, but said there was insufficient evidence to charge him with espionage.
Su Tzu-yun (蘇紫雲), a research fellow at the Institute of National Defense and Security Research, said that military espionage poses a serious threat to national security.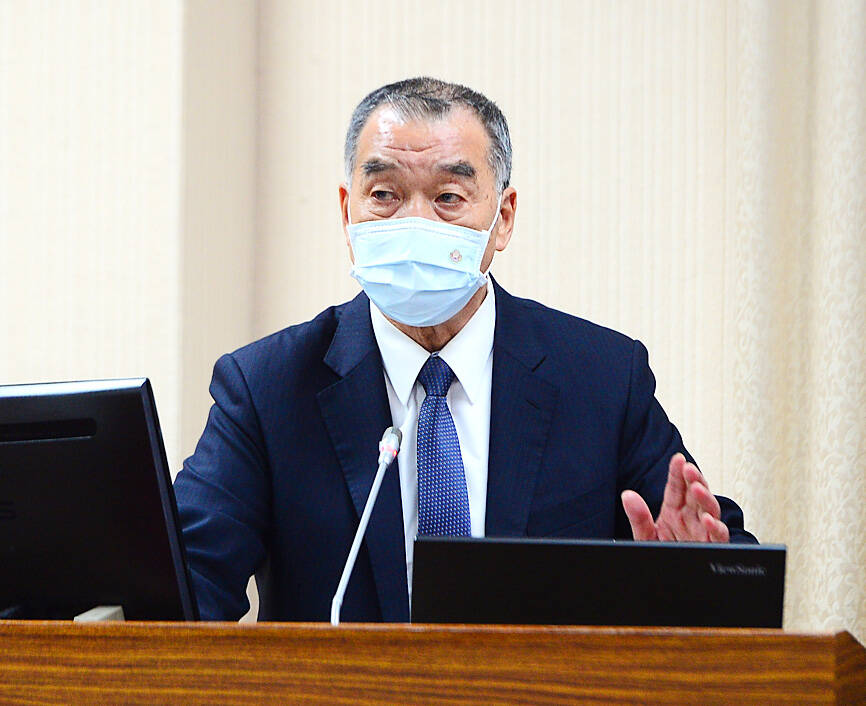 Minister of National Defense Chiu Kuo-chung speaks at a news conference in Taipei on Nov. 9.
Photo: Wang Yi-sung, Taipei Times
The Code of Court Martial Procedure (軍事審判法) only applies to active military personnel who commit crimes under the Criminal Code of the Armed Forces (陸海空軍刑法) during wartime. During peacetime, military personnel are tried in civilian courts and serve sentences in civilian prisons.
Su urged the government to thoroughly review the reinstatement of military trials or at least invite military prosecutors to participate in espionage investigations.
Reinstating military trials during peacetime for active personnel would improve troop discipline and combat readiness, and deter espionage, he said.
Hsiang, a 49-year-old former head of the Kaohsiung-based Army Infantry Training Command's Operations Research and Development Division, allegedly received NT$40,000 per month from Oct. 31, 2019, to January to work as a spy, prosecutors said.
Former reporter Shao Wei-chiang (邵維強) allegedly paid Hsiang NT$560,000 for information, they said.
At Shao's direction, Hsiang in January 2020 posed for a photograph wearing his military uniform while holding a handwritten note pledging his allegiance to China, prosecutors said.
The note read: "I, Hsiang Te-en, hereby pledge to support cross-strait peaceful unification. I will do my best at my current post to fulfill the glorious task of pushing for peaceful unification for the motherland."
Democratic Progressive Party Legislator Lo Chih-cheng (羅致政) said the case exposed major negligence in the military's internal espionage prevention and detection system.
While Lo did not explicitly call for the resumption of military trials, he did say that laws should be updated to encourage loyalty in the military and ensure that spies could be charged with treason and face tougher penalties.
On Nov. 9, Minister of National Defense Chiu Kuo-cheng (邱國正) told legislators in a question-and-answer session that he "personally agreed" with reinstating military trials, but said it was up to legislators to do so.
At the session, Chinese Nationalist Party (KMT) Legislator Wu Sz-Huai (吳斯懷) said that Ministry of National Defense data showed that about 29 of 32 crimes committed by active-duty military personnel brought to trial over the past five years did not result in convictions by civilian courts.
Wu said that this has led to a decline in discipline, morale and leadership in the military.
The ministry late on Tuesday said that Hsiang had been suspended from duty, pending his trial.
Hsiang has been held in custody since his arrest on Sept. 26.
Shao, who is also a retired army lieutenant, had been a Kinmen correspondent for Taipei-based China Television from 1993 to July 2019.
On Oct. 7, Kinmen County prosecutors indicted Shao for bribery and contravening the National Security Act (國家安全法). He is being held in Kinmen.
The Code of Court Martial Procedure was amended to end military trials of officers in peacetime following the death of Hung Chung-chiu (洪仲丘) in July 2013.
Hung was found dead while in detention in the army's 269th Mechanized Infantry Brigade barracks under suspicious circumstances.
The military investigation led to the arrest and questioning of several officials. A court subsequently found 13 officials guilty of various charges and handed down prison sentences of up to eight months.
The sentences were seen as too lenient, leading for calls that such cases be tried in civilian courts.
Hung's death sparked the resignation of then-minister of national defense Kao Hua-chu (高華柱), an apology from then-president Ma Ying-jeou (馬英九) and public protests, followed by subsequent reforms that sought more transparency from the armed forces.
Comments will be moderated. Keep comments relevant to the article. Remarks containing abusive and obscene language, personal attacks of any kind or promotion will be removed and the user banned. Final decision will be at the discretion of the Taipei Times.