Tsai tells voters to 'stand up for Taiwan'
COUNTDOWN TO SATURDAY: DPP Secretary-General Lin Hsi-yao said supporters must 'fight back' against disinformation and rumors, and report any attempts at vote-buying
President Tsai Ing-wen (蔡英文) yesterday urged voters to "stand up for Taiwan" by supporting Democratic Progressive Party (DPP) candidates in Saturday's elections.
With Taiwan under the international spotlight, the DPP needs wins to defend freedom and democracy, and give her a mandate to safeguard Taiwan, she told a news conference at the party's headquarters in Taipei.
Vote for DPP candidates "so that I can take charge for Taiwan to stand firm on the world stage, and maintain peace and stability in the Taiwan Strait," she said. "The whole world is watching Taiwan, because it is not just about the local elections. It [the election outcomes] will decide what kind of message we send to the world," she said.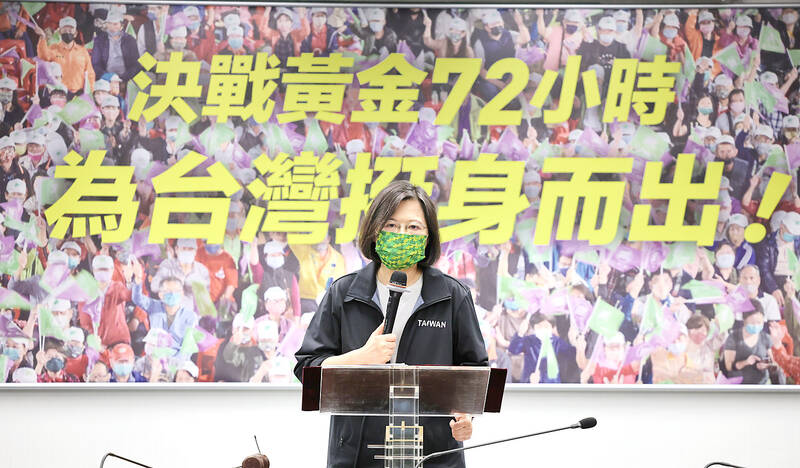 President Tsai Ing-wen, who is also Democratic Progressive Party (DPP) chairperson, yesterday speaks about Saturday's elections at the DPP headquarters in Taipei.
"So I call on people to vote for DPP candidates for city mayors and county commissioners, on Saturday, to stand up for Taiwan," she said.
DPP Secretary-General Lin Hsi-yao (林錫耀) joined Tsai for the "golden 72-hour countdown to election day" news conference ahead of the party's Central Executive Committee meeting to finalize details of major campaign rallies before Saturday.
Lin said that opposition parties were allegedly buying votes, spreading disinformation and launching personal attacks on the DPP's candidates, which amounted to "sowing division and hatred in society."
"We must fight back. Report to the authorities instances of vote-buying, and refute rumors and misinformation being circulated on social media," he said.
He said that a rumor being spread on the Line messaging app says that the DPP had legalized the possession of up to 5g of narcotics and that pensions would be cut off for people aged 80 and older.
Tsai said it was heartwarming to see crowds of parents with children and young people supporting DPP Taipei mayoral candidate Chen Shih-chung (陳時中) at a rally and parade in Taipei on Saturday.
"We can see that everyone has great expectations to improve Taipei," she said. "It is not just Taipei residents, but everyone who wants to see progress in cities and counties across Taiwan."
"Only DPP candidates are presenting long-term visions and policies to improve the lives of Taiwanese," she said. "Our party firmly believes in unity, and not division in the society ... for people to come together and strive forward as a nation."
She also talked about plans from DPP mayoral candidates Chen, Lin Chia-lung (林佳龍) for New Taipei City and Tsai Shih-ying (蔡適應) for Keelung to integrate the cities' transportation networks to enable economic growth and freedom of movement.
She said that with many technology firms, including much of the semiconductor industry, based in Taoyuan, and Hsinchu and Miaoli counties, DPP candidates were needed to protect the "mountain peaks of the silicone shield," urging support for Taoyuan mayoral candidate Cheng Yun-peng (鄭運鵬), Hsinchu mayoral candidate Shen Hui-hung (沈慧虹), Hsinchu County commissioner candidate Chou Chiang-chieh (周江杰) and Miaoli County commissioner candidate Hsu Ting-chen (徐定禎).
The elections are also an opportunity to end "black gold" dynasties, she said, referring to the involvement of criminals and ill-gotten wealth in local politics. She called on voters to support DPP Taichung mayoral candidate Tsai Chi-chang (蔡其昌), Changhua County commissioner candidate Huang Shiou-fang (黃秀芳) and Nantou County commissioner candidate Tsai Pei-hui (蔡培慧).
"East Taiwan also needs more national attention, with regional family dynasties with close links to local politics in Yilan, Hualien and Taitung counties in stagnation," the president said.
"This is the time to change the east for the better," she said, calling for support for DPP county commissioner candidates Kolas Yotaka for Hualien County, Chiang Tsung-yuan (江聰淵) for Yilan County and Liu Chao-hao (劉櫂豪) for Taitung County.
She also urged people to vote for DPP county commissioner candidates Cheng Kuang-fu (陳光復) for Penghu County and Lii Wen (李問) for Lienchiang County, "as they are at the front line in defense of Taiwan, so we need them to safeguard our nation's freedom and democracy."
Comments will be moderated. Keep comments relevant to the article. Remarks containing abusive and obscene language, personal attacks of any kind or promotion will be removed and the user banned. Final decision will be at the discretion of the Taipei Times.