Huang Kuo-chang supporting Vivian Huang bodes ill for NPP, pundit says
Former New Power Party (NPP) legislator Huang Kuo-chang's (黃國昌) official endorsement of independent Taipei mayoral candidate Vivian Huang (黃珊珊) could hurt the chances of NPP Taipei city councilor candidates in Saturday's local elections, a political commentator said yesterday.
Huang Kuo-chang, a leader of the Sunflower Movement in 2014, attended Vivian Huang's campaign rally in Taipei on Sunday night and announced that he has joined her campaign team.
"He [Huang Kuo-chang] said at the rally that a great citizen should not choose between the pan-blue and pan-green camps, but they should choose between moving forward and moving backward. However, he ended his address by saying: 'Taipei needs Vivian Huang and her team,'" said Shen Jung-chin (沈榮欽), an associate professor at the School of Administrative Studies at York University, Canada.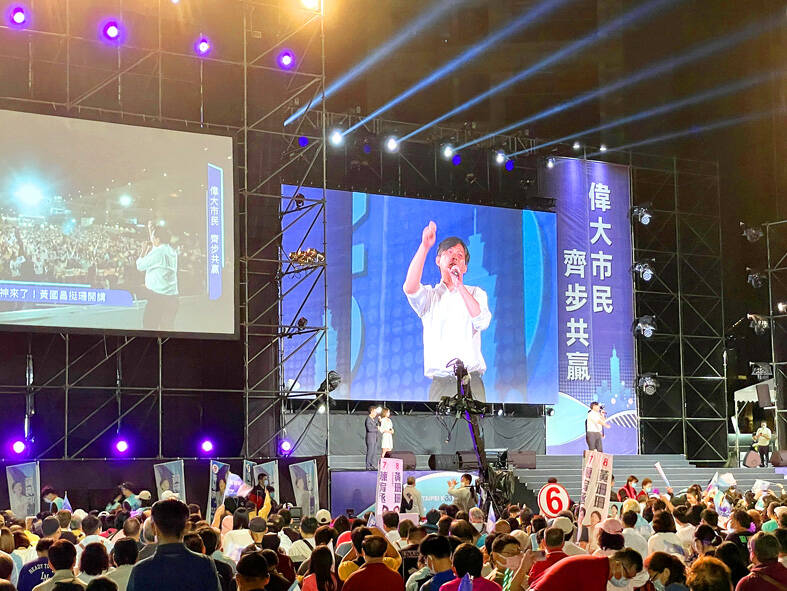 Former New Power Party legislator Huang Kuo-chang, on stage, stumps for independent Taipei mayoral candidate Vivian Huang at a rally in Taipei on Sunday.
Photo: Cheng Ming-hsiang, Taipei Times
"He did not make the speech only to campaign for Vivian Huang; it was a declaration of his wish to join her governing team should she get elected," Shen said.
While Vivian Huang is running as an independent, she has the backing of Taipei Mayor and Taiwan People's Party Chairman Ko Wen-je (柯文哲).
"Four years ago, Huang Kuo-chang said that he strongly opposed Ko's statement," said Cheng, referring to Ko's remarks in 2018 that "the two sides of the Taiwan Strait belong to one family."
"But he stood on stage with Ko at Sunday night's rally and campaigned for the candidate they both supported," Cheng said, adding that the move would undoubtedly hurt NPP candidates running for Taipei city councilors.
"Huang Kuo-chang said last month at the campaign office of NPP Taipei city councilor candidate Chen Chih-ming (陳志明) that he supports Vivian Huang's mayoral bid, which at the time elicited a rather weak response from NPP Chairwoman Chen Jiau-hua (陳椒華). The party only has itself to blame for letting the endorsement hurt the chances of its own candidates," Cheng said.
The NPP and Huang Kuo-chang yesterday did not comment on the endorsement.
"Our party has three new political goals: First, we aim to enhance the quality of Taiwan's democratic system and ensure that the system functions normally. Second, we should ensure that social resources are distributed fairly and justly, and third, we should ensure that Taiwan will operate as a normal country and is separate from China," Chen said.
"We have 59 candidates running in the nine-in-one elections in 16 cities and counties: three mayors and county commissioners, 46 city and county councilors, seven township representatives and three borough wardens," NPP secretary-general Christy Pai (白卿芬) said. "They are professionals from various disciplines who have neither political connections nor criminal records."
Huang Kuo-chang said in a video that he was mostly concerned about the referendum on lowering the voting age to 18 from 20.
"Any political party can lose in the nine-in-one elections, but we cannot let young people lose faith in Taiwan's democratic system," he said, adding that young people should be given the full rights of citizenship.
Comments will be moderated. Keep comments relevant to the article. Remarks containing abusive and obscene language, personal attacks of any kind or promotion will be removed and the user banned. Final decision will be at the discretion of the Taipei Times.