2022 Elections: Taichung's Lu planning 'Han gambit,' DPP candidate says
Democratic Progressive Party (DPP) Taichung mayoral candidate Tsai Chi-chang (蔡其昌) yesterday said that Taichung Mayor Lu Shiow-yen (盧秀燕) of the Chinese Nationalist Party (KMT), who is seeking re-election, is planning to run for president, taking a page from former Kaohsiung mayor Han Kuo-yu (韓國瑜).
Tsai said if Lu wins the mayoral election on Saturday, she is planning a "Han Kuo-yu gambit," by using the momentum to try to obtain the KMT's nomination to run in the 2024 presidential election.
Han won the 2018 Kaohsiung mayoral election, but in June 2019 announced that he would enter the KMT's presidential primary, and the following month won the party's nomination for the January 2020 presidential election. He lost by a large margin to President Tsai Ing-wen (蔡英文).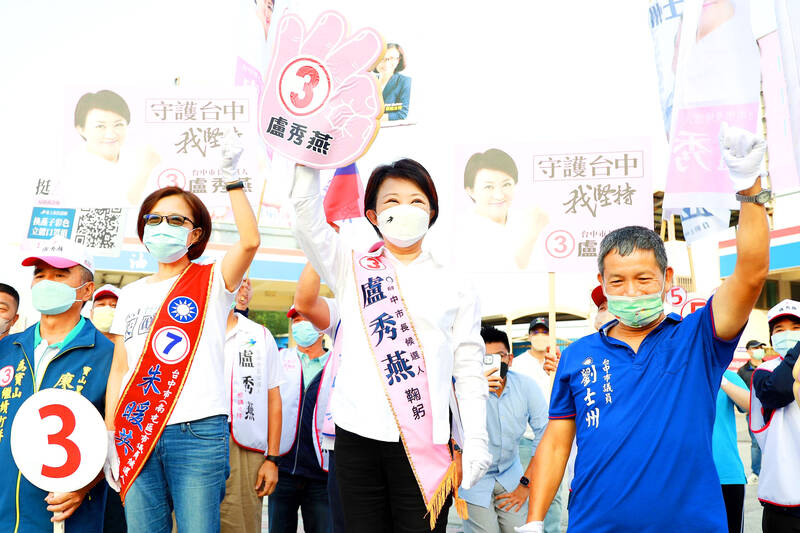 Taichung Mayor Lu Shiow-yen of the Chinese Nationalist Party (KMT), center, waves to supporters during a campaign event in Taichung yesterday.
Photo courtesy of Lu Shiow-yen's campaign office
In June 2020, Kaohsiung residents voted to remove him as mayor.
Lu on Sunday attended a banquet in Taichung, held by alumni of the Republic of China Military Academy.
"I will come back and meet you all again after my election victory... The KMT will win the 2022 elections, then we will win in 2024," she said at the event.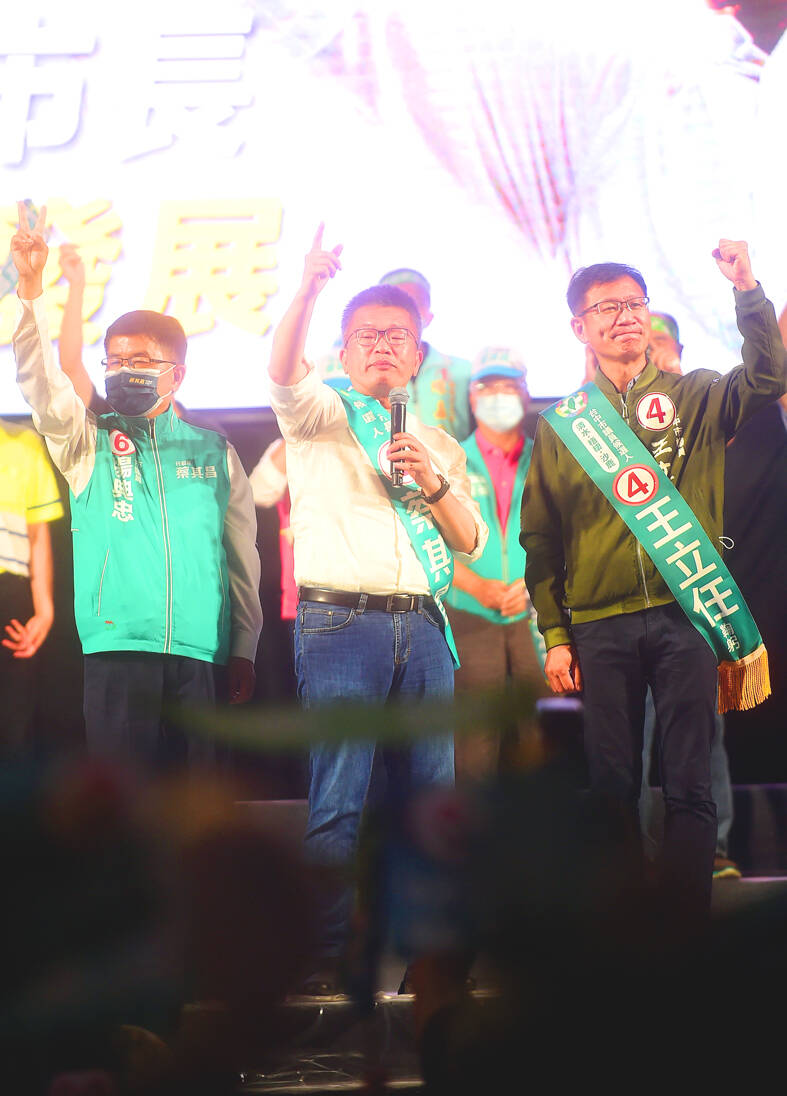 Democratic Progressive Party Taichung mayoral candidate Tsai Chi-chang, center, speaks at a campaign rally in Taichung on Sunday night.
Photo: Liao Yao-tung, Taipei Times
"Lu is dreaming of a presidential run ... but Taichung residents will not accept it, as she will abandon the city soon after winning the mayoral race. It is what Han did in Kaohsiung," Tsai Chi-chang said.
He urged Taichung residents to think clearly, and not vote for Lu, saying she aims to abandon the city.
"People can vote for me — someone who is committed to building up this city," Tsai Chi-chang said.
Lu later said she meant that "people must choose the right candidates, and the correct path [in 2022], so that we can have the opportunity for change in 2024."
Comments will be moderated. Keep comments relevant to the article. Remarks containing abusive and obscene language, personal attacks of any kind or promotion will be removed and the user banned. Final decision will be at the discretion of the Taipei Times.