Sleep disorders are not caused by witchcraft: doctor
Kicking, punching or physically acting out vivid dreams during sleep can be misunderstood by some people as "bewitchment," but it could be a sign of rapid eye movement (REM) sleep behavior disorder, a physician said yesterday.
Deng Hao-wen (鄧浩文), a neurologist at Cheng Ching Hospital's Chung Kang Branch in Taichung, yesterday discussed a case in a news release.
A healthy man in his 70s said he was unable to sleep well and would wake up easily — a condition understood to be normal in older people — so he did more physical activity during the day in the hope that it would help him sleep better at night.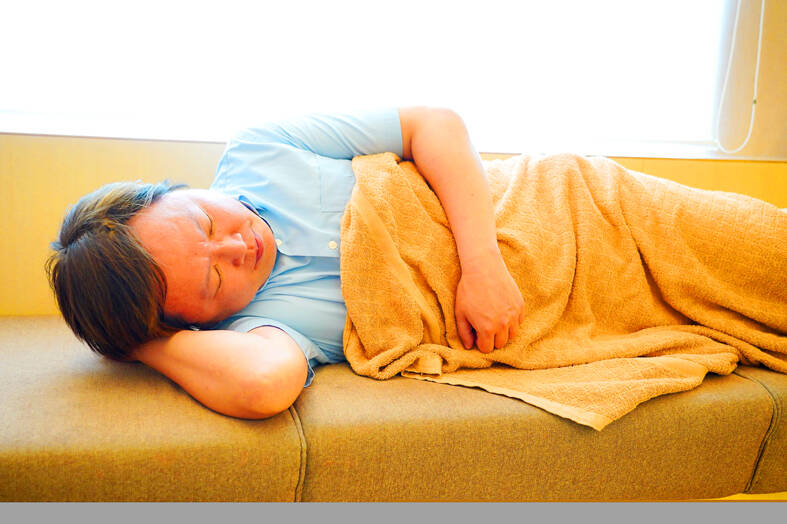 A man takes a nap on a sofa in an undated photograph.
Photo: Lee Jung-ping, Taipei Times
However, the man said his wife was often scared by his physical movement while asleep, which once even included falling out of bed, and that she thought he was bewitched so took him to a temple, but his condition did not improve.
Deng said the man stayed overnight at the sleep center for a polysomnography, and the sleep study found that the man's movements occurred during the REM cycle of sleep, and based on his clinical symptoms he was diagnosed with REM sleep behavior disorder.
After the man received medication for the condition, his symptoms lessened and he was able to sleep peacefully again.
REM sleep behavior disorder predominantly affects older adults and is most commonly reported in men over the age of 50, Deng said, adding that it can be an early sign of some neurodegenerative diseases, citing that 70 percent of people diagnosed with the sleep condition later develop diseases such as Parkinson's or dementia.
Polysomnography is the most important test to diagnose sleep disorders, as it monitors several factors that affect sleep patterns and can help doctors make precise diagnoses, such as REM sleep behavior disorder, periodic limb movement disorder, narcolepsy, nocturnal seizures and sleepwalking, he said.
Comments will be moderated. Keep comments relevant to the article. Remarks containing abusive and obscene language, personal attacks of any kind or promotion will be removed and the user banned. Final decision will be at the discretion of the Taipei Times.