HK film wins four awards at Golden Horse
VETERANS OF CINEMA: Hong Kong actor Anthony Wong won Best Leading Actor and Sylvia Chang won Best Leading Actress — her first win in the category since 1986
Hong Kong film Limbo (智齒) won four awards at the Golden Horse Awards ceremony in Taipei on Saturday night, including Best Adapted Screenplay by Au Kin-yee (歐健兒) and Shum Kwan-sin (岑君茜).
The film, which tells the story of a seasoned police officer and his rookie partner tracking down a serial killer, also won Best Cinematography, Best Art Direction and Best Visual Effects.
Hong Kong-based Malaysian director Lau Kok-rui (劉國瑞) won the Best New Director award with his film The Sunny Side of the Street (白日青春), which also won the Best Original Screenplay award.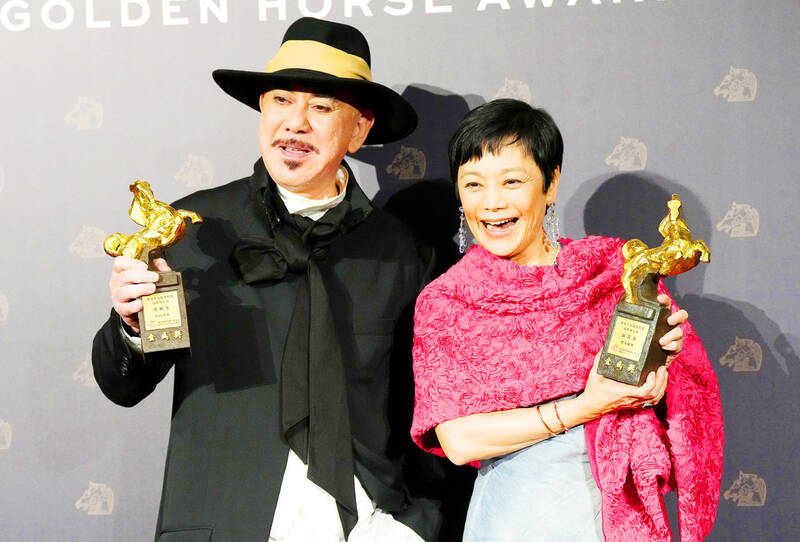 Hong Kong actor Anthony Wong, left, and Taiwanese actress Sylvia Chang hold their awards at the 59th Golden Horse Awards in Taipei on Saturday.
Photo: Billy Dai, AP
The Best Leading Actor award went to Hong Kong actor Anthony Wong (黃秋生) for his role in The Sunny Side of the Street, where he plays a taxi driver who had fled China in the 1970s. He meets a Hong Kong-born Pakistani child seeking refugee status in Canada.
Veteran actress Sylvia Chang (張艾嘉) won Best Actress with her role in Hong Kong director Anastasia Tsang's (曾憲寧) first feature film, A Light Never Goes Out (燈火闌珊). It was Chang's third award in the category and her first since 1986.
Taiwanese film Coo-Coo 043 (一家子兒咕咕叫) won the Best Narrative Feature Film Award and 24-year-old Hu Jhih-ciang (胡智強) won Best New Performer for his role in the production.
Wen Tien-hsiang (聞天祥), who headed the awards' executive committee, said there was no obvious winner among this year's nominees for Best Narrative Feature Film, but the judges eventually narrowed the choices down to Coo-Coo 043 and Limbo.
Coo-Coo 043, which tells the story of a struggling family that depends on pigeon racing to make a living, has realistic characters and does not go out of its way to please audiences with a positive narrative, Wen said.
Atayal director Laha Mebow won the Best Director award for the family drama Gaga (哈勇家).
Kagaw Piling, who made her acting debut at 74, won the Best Supporting Actress award for her role in the film.
Taiwanese horror film Incantation (咒), which received 13 nominations, took home the Best Sound Effects award, while director Kevin Ko (柯孟融) won the Best Film Editing award.
Berant Zhu (朱軒洋) won Best Supporting Actor for his performance in director Kai Ko's (柯震東) Bad Education (黑的教育). The film was nominated in four categories, including Best New Director.
Taiwanese director Tsai Tsung-lung's (蔡崇隆) And Miles to Go Before I Sleep (九槍) won the Best Documentary Feature award.
The film looks into the challenges facing migrant workers in Taiwan, following the death of undocumented Vietnamese migrant worker Nguyen Quoc Phi, who was shot by police in August 2017.
Nguyen's sister Ruan Jin Hoang appeared on stage to receive the award alongside the production team.
She said she hopes the documentary will prevent similar tragedies happening.
For the first time, the award for Best Makeup and Costume Design was awarded to glove puppet designers — Ken Fan (樊仕清) and Chen You-feng (陳有豐) for their work in Demigod: The Legend Begins (素還真), which was produced by glove puppetry studio Pili.
Pyrotechnician Chen Ming-ze (陳明澤), who passed away last summer due to cancer, was posthumously named the Outstanding Taiwanese Filmmaker of the Year.
Chen's widow, Yen Tung-wei (顏彤瑋), said she did not see the award as a late recognition, but an honor that her late husband deserved.
Director Chang Chao-tang (張照堂) and cinematographer Lai Cheng-ying (賴成英) each received a Golden Horse Lifetime Achievement Award for their contribution to the development of the film industry in Taiwan.
For the third time in five years, no films were nominated in the Best Animated Film category.
Additional reporting by AFP
Comments will be moderated. Keep comments relevant to the article. Remarks containing abusive and obscene language, personal attacks of any kind or promotion will be removed and the user banned. Final decision will be at the discretion of the Taipei Times.