Ceremony marks handover of new coast guard vessel
A 1,000-tonne patrol vessel christened the Changhua (彰化), built by domestic shipbuilder CSBC Corp, was officially handed over to the Coast Guard Administration at a ceremony at the company's shipyard in Keelung on Wednesday.
The frigate has a full-load displacement of 2,167 tonnes, a 98.5m hull length, a 13.2m width, a draft of 7.6m and maximum speed of 24 knots (44.5kph), CSBC said in a statement.
The vessel is the longest and largest in Taiwan's fleet, and can better handle large waves than earlier 1,000-tonne frigates, it said.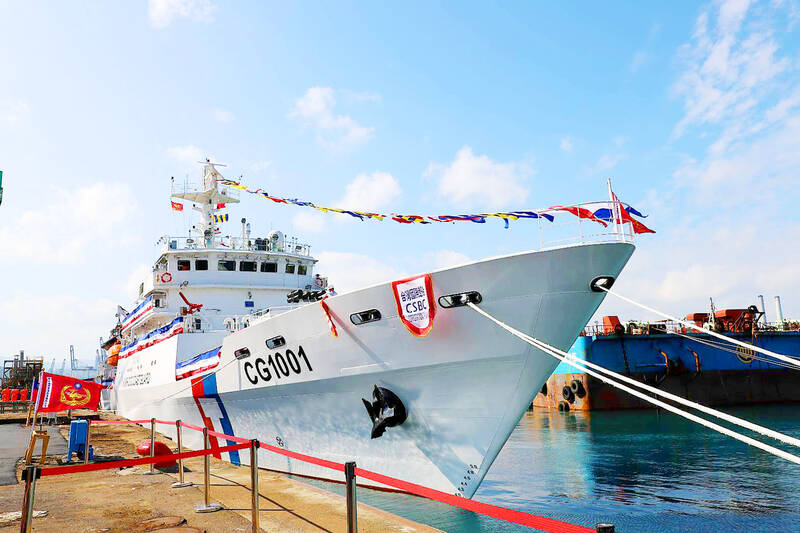 The 1,000-tonne coast guard patrol vessel Changhua is pictured in Kaohsiung on Wednesday.
Photo courtesy of CSBC Corp
The ship also has the ability to conduct nighttime search-and-rescue missions, and can accommodate emergency helicopter landings, CSBC said, adding that the frigate is equipped with a modern satellite broadband network system that improves inter-ship communication and land-based data exchange.
The vessel is equipped with the Zhenhai (鎮海) weapons system developed by the Chungshan Institute of Science and Technology, which replaces the Bofors 40mm L70 guns, the company said, adding that the 42-barrel Zhenhai rocket system, which employs 70mm rockets on the ship's bow, has a range of about 10km.
The new frigate is also equipped with four high-pressure water cannons with a horizontal range of 120m, enabling coast guard officers to repel vessels in rough waters during monsoons, CSBC said.
The vessel is also equipped with two security rescue boats with maximum speeds of 35 knots, which can be used to conduct rescue and anti-smuggling tasks, which improves the ability of crews to conduct law enforcement and rescue missions in Taiwan's waters, it said.
Comments will be moderated. Keep comments relevant to the article. Remarks containing abusive and obscene language, personal attacks of any kind or promotion will be removed and the user banned. Final decision will be at the discretion of the Taipei Times.