Secure drones need to be made locally: expert
UNCREWED CRAFT: A lack of domestic components and engine outsourcing show the need for Taiwan to develop a local drone supply chain, an analyst said
The development of a fully domestic drone manufacturing supply chain is crucial to Taiwan's ability to use the uncrewed aircraft effectively during wartime, a recent report from the Institute for National Defense and Security Research said.
Ukraine's experience in resisting Russia's invasion demonstrated that civilian drones can provide valuable intelligence during wartime, but they must be manufactured domestically to ensure that foreign component makers cannot take control of the devices, the report said.
In the report, institute researcher Chen Po-hung (陳柏宏) analyzed the security of Taiwan's drone supply chain.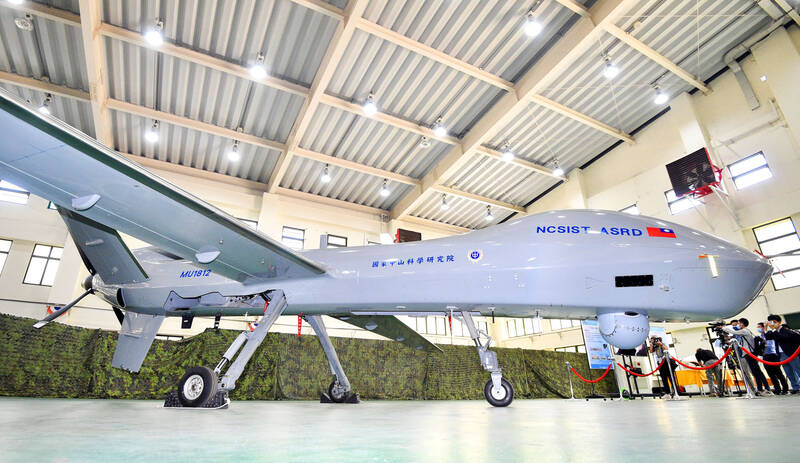 A Teng Yun uncrewed aerial vehicle is displayed at a Chungshan Institute of Science and Technology media event in Taichung yesterday.
Photo: Lo Pei-te, Taipei Times
Ukrainians have used civilian drones to locate Russian convoys and other targets, he said, adding that drones have also helped them document battlefield conditions and gather evidence of war crimes.
"There are 78,000 civilian drones registered in Taiwan. That can definitely be a defensive advantage, but it depends on where the drones and their components are manufactured," he said.
Citing an example of how China-made drones could be more of a bane than a boon on the battlefield, Chen said that drones made by Shenzhen DJI Sciences and Technologies Ltd and used by Ukrainian forces have allegedly been disabled by the company's AeroScope technology.
The drones' locations have also allegedly been shared with Russian forces to facilitate targeted bombardment of Ukrainian forces, he said.
The company has denied the allegations, saying that affected drones likely experienced signal issues, but doubts have remained, Chen said.
Taiwan's supply chain faces several problems, such as a lack of raw materials and a small market, requiring the outsourcing of engines and other major components, he said.
"There are other challenges, like scale of production, integration capabilities and a lack of some key technologies," Chen said. "There is a huge gap between civilian and military drones, and Taiwan is not able to compete on an international level in the drone industry, despite thriving domestic interest."
The government must find a way to ensure that it can fully produce civilian drones locally if they are to be used in wartime, he said.
Taiwan's state-run weapons developer last week said that it would complete the production of 104 domestically developed Chien Hsiang (劍翔) "suicide drones" by 2025.
An anti-radiation suicide drone — which targets enemy radar by detecting its electromagnetic emissions — has a maximum flight time of five hours and can strike targets 1,000km away, with an ability to target seaborne, coastal and inland Chinese radar systems, said Chi Li-ping (齊立平), head of the Chungshan Institute of Science and Technology's Aeronautical Systems Research Division.
The institute's Teng Yun (騰雲) drone is to enter mass production after it passes a combat readiness evaluation next year, Chi said.
The Teng Yun, which is to be used primarily for reconnaissance, comes with synthetic aperture radar and can be controlled via satellite, Chi said, adding that it has a maximum range of 1,100km and a 20-hour flight time.
Comments will be moderated. Keep comments relevant to the article. Remarks containing abusive and obscene language, personal attacks of any kind or promotion will be removed and the user banned. Final decision will be at the discretion of the Taipei Times.