Chiang's 'Silicon Valley' experience raises doubts
United Microelectronics Corp founder Robert Tsao (曹興誠) and US professor Chen Shih-fen (陳時奮) have raised concerns about Chinese Nationalist Party (KMT) Taipei mayoral candidate Chiang Wan-an's (蔣萬安) alleged business links to Chinese companies when he worked in corporate law and venture capital in the US about a decade ago.
At campaign events, Chiang has touted his "Silicon Valley" experience, saying that his knowledge in the legal field and familiarity with the entrepreneural spirit of tech start-ups would benefit businesses in Taipei and promote economic growth if he is elected mayor.
In his presentation and campaign literature, Chiang states that he obtained a law degree at the University of Pennsylvania in 2006, and worked for law firm Wilson Sonsini Goodrich & Rosati (WSGR) in Palo Alto, California, from 2006 to 2009.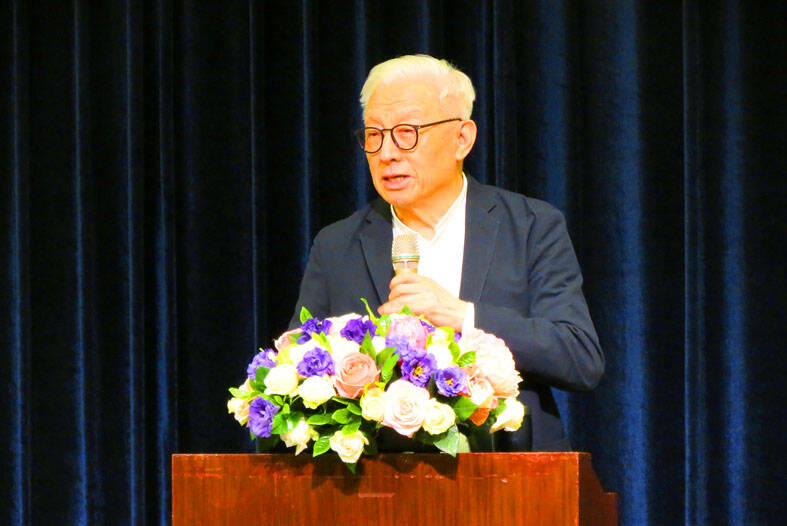 United Microelectronics Corp founder Robert Tsao gives a lecture in Taichung yesterday.
Photo: Su Chin-feng, Taipei Times
He moved to The Crone Law Group (CLG) in San Francisco from 2009 to 2011, focusing on venture capital financing and corporate and security law, and then started his own legal service company as a partner of CLG in February 2011, his campaign says.
However, Chen, a business professor at Western Washington University who goes by the pen name Tario Ong (翁達瑞), yesterday said that Chiang was suspended from practicing law three times in California and that he did not work for CLG, but its small local franchise called Crone Rozynko.
Chen said that he and other overseas Taiwanese in the US have obtained records and documents that show that when Chiang was working for Crone Rozynko, he mainly provided corporate legal services for China-based companies looking for US investors or to help them operate in the US.
Chiang's work covered at least 12 Chinese corporate clients: China North East Petroleum Holdings, China Natural Gas, China Pharma Holdings, Heilongjiang E-U-Kang Biotechnology, China Ritar Power Corp, Xingtai Iron and Steel Co, Qingdao Hongguan Shoes Industry, Universal Energy, China Kangtai Cactus Bio-Tech, China Industrial Waste Management Inc, Baosheng Steel Production Co and Xi'an Huifeng Biochemistry Corp.
At a recent public event, Tsao said that, based on his research and information from business associates, "Chiang was let go by WSGR in 2009, did not work for about one year, then joined Crone Rozynko in February 2010, which is a small law firm specializing in servicing China-based companies."
"Chiang did not stay for long, as he started his own legal service firm in 2011 ... and returned to Taiwan in 2013," Tsai said.
Chiang's business specializing in helping Chinese firms seek financing or listing in the US has raised concern in Taiwan about his ties to companies that have close links with the Chinese government.
"We have checked the records and found that most of these Chinese companies had questionable finances or were engaged in illegal corporate activities in China. Between 2009 and 2011, Crone Rozynko provided services to seven Chinese companies seeking US financing or listing on the NASDAQ. However, after a few years, these companies ran afoul of US laws and were either delisted from the NASDAQ or their US company registration was withdrawn," Democratic Progressive Party Taipei city councilor candidate Vincent Chao (趙怡翔) said.
Chiang has touted his "Silicon Valley" experience, "but it does not stand up to scrutiny," Chao said.
His three-time suspension from practicing law in the US also creates a credibility problem with Taipei voters, Chao said.
In response to the criticism, Chiang has said: "My work as a lawyer in the US conformed to US laws."
A group of KMT-supporting medical professionals yesterday defended Chiang, saying: "Chiang's 'Silicon Valley' experience is a good example of starting again after encountering failure. Through it, Chiang understands young people's difficulties in starting their own business."
Chiang "worked independently to start his own legal firm. He can offer Taipei the experience of how an advanced country can provide the services that its residents need," the group said.
Comments will be moderated. Keep comments relevant to the article. Remarks containing abusive and obscene language, personal attacks of any kind or promotion will be removed and the user banned. Final decision will be at the discretion of the Taipei Times.