Tsai delineates Taiwan's 'red line'
CHANGING ANALYSES: The top reason for the summit was probably to form 'guardrails' to avoid an accident that might lead to a China-US conflict, an expert said
President Tsai Ing-wen's (蔡英文) "four resolutions" are a red line for Taiwan that cannot and will not be crossed, the Mainland Affairs Council said in a statement yesterday, a day after US President Joe Biden and Chinese President Xi Jinping (習近平) met behind closed doors in Indonesia.
The resolutions — which Tsai coined in her Double Ten National Day speech on Oct. 10 last year — refer to supporting a free and democratic government; agreeing that Taiwan and the People's Republic of China do not belong to each other; defending Taiwan's sovereignty; and observing that the future of Taiwan must follow the will of its people.
The authorities in Beijing hold a view of cross-strait relations that is devoid of any legitimate or legal basis, and is contrary to the wishes of 23 million Taiwanese, the council said in the statement.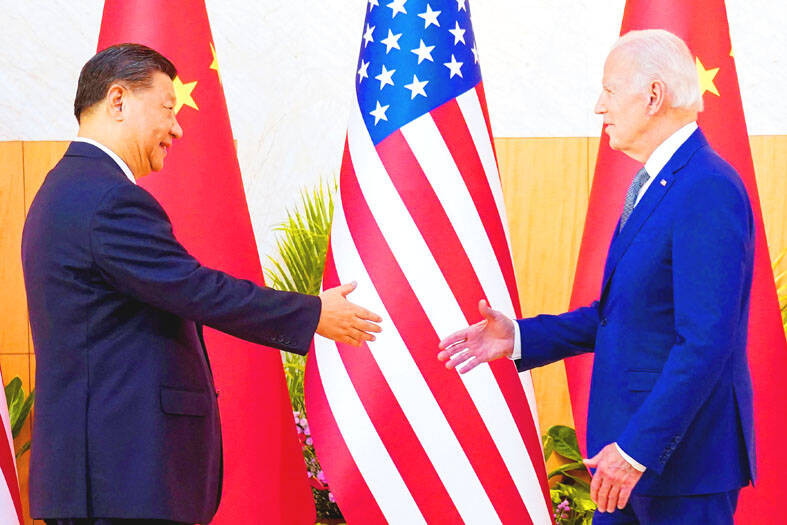 Chinese President Xi Jinping, left, and US President Joe Biden prepare to shake hands on the sidelines of the G20 leaders summit in Bali, Indonesia, on Monday.
Photo: Reuters
The nation thanks the US for again asserting its promises and commitment to a free and democratic Taiwan, and its condemnation of China's aggressive actions, which undermine the rules-based international order, it said.
Taipei is dedicated to maintaining peace and stability in the Taiwan Strait, which is a shared interest in the region, it said, urging the international community to continue to monitor the situation and deepen exchanges with Taiwan.
Ministry of Foreign Affairs spokeswoman Joanne Ou (歐江安) also thanked Biden for reaffirming Washington's "rock solid" support for Taiwan's security and for raising concerns about China's actions in the region.
As China has escalated its "unprovoked military actions in and around the Taiwan Strait," the Biden administration has shown high regard for peace and stability across the Taiwan Strait and a consistent commitment to maintaining the "status quo," Ou said.
Faced with China's military expansion and provocations, Taiwan would bolster its defense capabilities, deepen its security partnership with the US and boost cooperation with other like-minded nations to ensure security across the Taiwan Strait and a free, open, peaceful and stable Indo-Pacific region, she said.
Meanwhile, experts tempered their predictions following the meeting.
The US considers China a strategic competitor and the structural reasons underlying their rivalry are not likely to be changed by the meeting, National Cheng Kung University professor of political science Hung Chin-fu (洪敬富) said.
Biden's willingness to partially accommodate Beijing would not affect the decoupling of the US economy from China or commitment to safeguarding world peace, Hung said, adding that China risks paying a heavy price for continuing its intransigence.
Guarantees of peace from Xi during the meeting might explain Biden's post-meeting comment that the US is unlikely to go to war with China, but such guarantees should not be taken at face value, Hung said.
However, Ukraine's liberation of its Kherson region might have strengthened the US' hand as an example of what consequences await aggressors, he said.
Washington and Beijing might have reached an understanding that temperatures must cool without the latter explicitly stating a red line, he said.
The main purpose of the summit was probably to create a guardrail to avoid accidents that might trigger a US-China war, said Kuo Yu-jen (郭育仁), a professor at National Sun Yat-sen University's Institute of China and Asia-Pacific Studies.
The potential for military accidents has surged after China responded to a visit to Taiwan by US House of Representatives Speaker Nancy Pelosi by orchestrating movements of military aircraft and ships near Taiwan almost daily, Kuo said.
The meeting should reduce the chances of an accidental war or forceful changes to the "status quo," even if China most likely will continue to harry Taiwan, he said.
An easing of cross-strait tensions should be expected until the Chinese National People's Congress and the Chinese People's Political Consultative conference in March, he said.
Additional reporting by CNA
Comments will be moderated. Keep comments relevant to the article. Remarks containing abusive and obscene language, personal attacks of any kind or promotion will be removed and the user banned. Final decision will be at the discretion of the Taipei Times.