Ministry mum on coast guard confrontation
The Ministry of National Defense on Saturday declined to comment on the authenticity of an audio recording of an apparent confrontation between a Taiwanese navy vessel and a Chinese navy destroyer off eastern Taiwan.
In the recording, a person, allegedly an officer on the Chinese destroyer Xiamen, can be heard saying that there is no border of Taiwan's contiguous zone during a radio exchange with the guided-missile destroyer ROCS Ma Kong.
The recording, posted on social media, was allegedly made by the Marshall Islands-flagged bulk carrier Lady Neeti, which was sailing nearby when the exchange took place.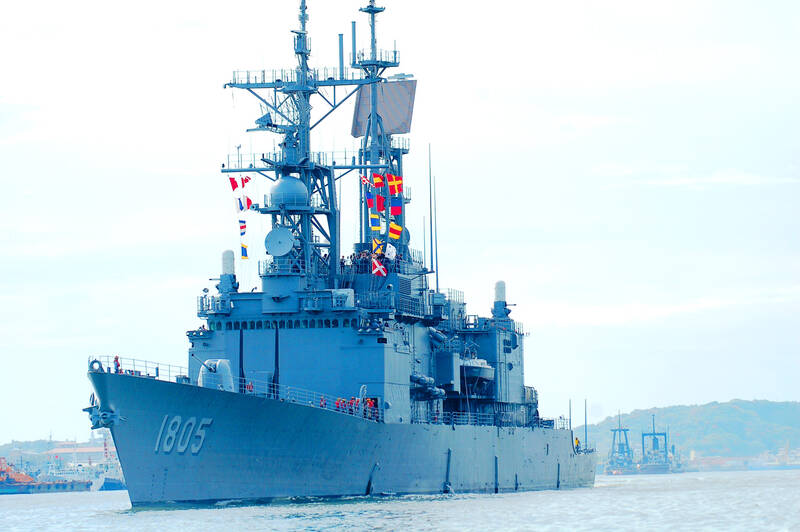 The guided-missile destroyer ROCS Ma Kong is pictured in an undated photograph.
Photo: Huang Liang-chieh, Taipei Times
In the recording, a man's voice can be heard identifying his vessel as the Ma Kong and warning another ship that it is approaching the outer edge of the nation's contiguous zone, 44.5km from the baseline.
Another man's voice replies: "Xiamen to Ma Kong, the so-called '24 nautical-mile [44.5km] baseline' does not exist. Please check your terminology. Our ship has the right to sail here. Please maintain a safe distance of at least 3 nautical miles."
"This is Ma Kong. We are currently sailing on a course of 230°. Please adjust your course as appropriate," the first voice is heard as saying, to which the second voice replies: "Xiamen copies."
The ministry declined to go into details about its military deployments, saying only that it had taken appropriate response measures to all incursions by Chinese military vessels.
Institute for National Defense and Security Research analyst Su Tzu-yun (蘇紫雲) said the best way to prepare Taiwanese mentally for Chinese military incursions is to make information about the incursions more transparent and accessible.
Since US House of Representatives Speaker Nancy Pelosi's visit to Taiwan in early August, Chinese warships have routinely carried out incursions past the median line of the Taiwan Strait and sailed in the waters off Taiwan's east coast in an attempt to create a new "status quo," Su said.
Taiwan could learn from Japan's model of issuing alerts whenever North Korea fires missiles toward it, he added.
Separately, the ministry said 10 Chinese fighter jets crossed the median line on Saturday.
They were among 36 Chinese aircraft detected near Taiwan that day, the ministry said, adding that three Chinese naval vessels had also been spotted in the area.
The ministry said that six Shenyang J-11 and four J-16 planes flew across the median line.
The military also spotted four Chengdu J-10 fighter jets, a Y-8 anti-submarine warfare plane, and three H-6 strategic bombers in Taiwan's southwestern air defense identification zone, the ministry said.
In addition, three Chinese uncrewed aerial vehicles — a Harbin BZK-005 high-altitude, long-range drone, a Guizhou BZK-007 and a CASC Rainbow CH-4 — were detected in the same area, it said.
The ministry said it scrambled combat air and naval patrols, and deployed defense missile systems to track the Chinese aircraft.
Comments will be moderated. Keep comments relevant to the article. Remarks containing abusive and obscene language, personal attacks of any kind or promotion will be removed and the user banned. Final decision will be at the discretion of the Taipei Times.