First Taiwan-made weather satellite may launch soon
Triton, Taiwan's first locally built weather satellite, is provisionally scheduled to launch on March 10 next year, National Space Organization (NSPO) Director Wu Jong-shinn (吳宗信) said on Monday.
Wu made the announcement during a visit to the NSPO's Hsinchu headquarters by Premier Su Tseng-chang (蘇貞昌), in which Su checked on progress on the satellite's construction.
The Triton, which is primarily to be used for sea surface observation, represents "a new milestone" in the development of Taiwan's space industry, Wu said.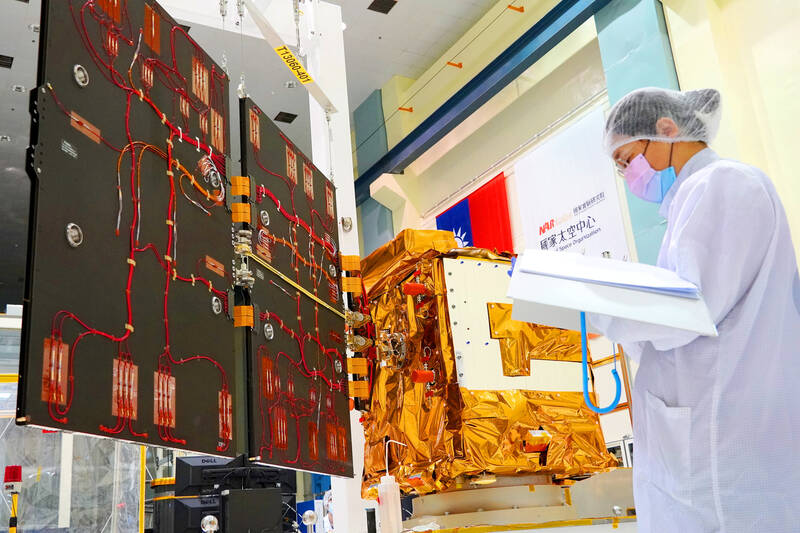 A National Space Organization researcher in an undated photograph performs final checks on Triton, the nation's first locally built weather satellite, ahead of its expected launch in March next year.
Photo courtesy of the National Applied Research Laboratories
"Eighty-two percent of the Triton satellite's parts and components were designed and manufactured locally, in a process that involved collaboration with more than 20 Taiwanese companies," Wu said.
After it is fully equipped, Triton — also known as "Wind Hunter" (獵風者) in Chinese — must undergo testing before its launch from the Guiana Space Centre in French Guiana, he said.
Su touted the government's efforts to develop the local space industry, saying that it would help Taiwan reach the goal of joining the nine nations able to independently launch spacecraft.
Taiwan already has many of the necessary capabilities to produce rockets and satellites, such as its advanced semiconductor, information and communications technology and precision machinery industries, he said.
"I hope that in the near future, Taiwan will be able to defend itself from space, and will have a seat at the table" among spacefaring nations, Su added.
There are nine countries and one international organization that can independently launch spacecraft into orbit: China, India, Iran, Israel, Japan, Russia, North Korea, South Korea, the US and the European Space Agency.
Triton would be Taiwan's first locally built weather satellite and its second indigenous satellite, after Earth observation satellite Formosat-5 was launched in 2017.
Comments will be moderated. Keep comments relevant to the article. Remarks containing abusive and obscene language, personal attacks of any kind or promotion will be removed and the user banned. Final decision will be at the discretion of the Taipei Times.