Taoyuan to host World Bamboo Congress in 2024
The Forestry Bureau is to host the 2024 World Bamboo Congress in Taoyuan, after the event was postponed and then canceled due to the COVID-19 pandemic, the Forestry Bureau said yesterday.
The nation's bid to host the conference is part of the bureau's bamboo industry revival program that is being implemented from this year to 2025, bureau Director Lin Hua-ching (林華慶) told an industry forum in Taipei.
The bureau expects more than 30 countries to participate in the conference, which focuses on market matters, he said.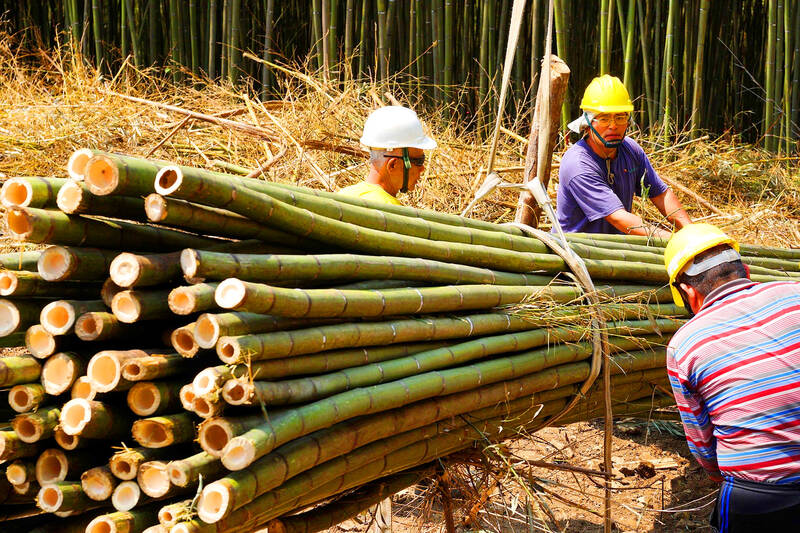 Workers harvest bamboo in an undated photograph.
Photo courtesy of the Forestry Bureau
The revival program aims to boost supply and reinvigorate bamboo plantations to create a stable foundation for growth, he said, adding that high-efficiency manufacturing equipment would also be acquired.
Under the plan, the government would resume a policy of directly controlling select plantations, while introducing measures to improve managerial efficiency at state and privately owned bamboo forests, he said.
The program is to expand logistics and stockpiles to ensure stability in the supply of raw materials and the integration of the industry chain between supply and sales, he said.
The efforts include building storage facilities in Taoyuan's Fusing Township (復興), Nantou County's Jhushan Township (竹山), Tainan's Longci District (龍崎) and Hualien County's Fuli Township (富里), and creating an information platform to cater to the industry's needs, he said.
Bamboo forests are powerful carbon sinks, and the bureau's plans would create the capability to remove 101,000 tonnes of carbon dioxide from the environment by 2025 and 610,000 tonnes by 2040, it said.
Taiwan used to harvest 2 million bamboo trees per year before costs soared in 2016, which brought annual production volumes to between 500,000 and 700,000 trees, the bureau said.
Plummeting production has led to a trade imbalance in the industry, with imported bamboo outstripping domestically grown trees, it said.
The bureau said it plans to clear unusable or dead bamboo from 5,000 hectares and introduce labor-saving equipment that would increase production efficiency by 30 percent and reduce transportation costs by 20 percent.
Comments will be moderated. Keep comments relevant to the article. Remarks containing abusive and obscene language, personal attacks of any kind or promotion will be removed and the user banned. Final decision will be at the discretion of the Taipei Times.