Applications for LEO satellites to begin next month
SECURITY CONCERNS: Companies with Chinese shareholders may not apply for a satellite license, as the technology could be used in national defense, an official said
Starting next month, companies can apply to deploy low-Earth-orbit (LEO) satellites using Taiwanese frequency bands on condition that they do not have any Chinese shareholders, the Ministry of Digital Affairs said on Saturday.
The ban on Chinese investors aims to ensure national security, as such satellites could serve as communication channels during wartime, said a ministry official, who spoke on condition of anonymity.
LEO satellites have also been used for reconnaissance, as evidenced by Ukraine's use of SpaceX's Starlink in its fight against Russian invaders, the official said.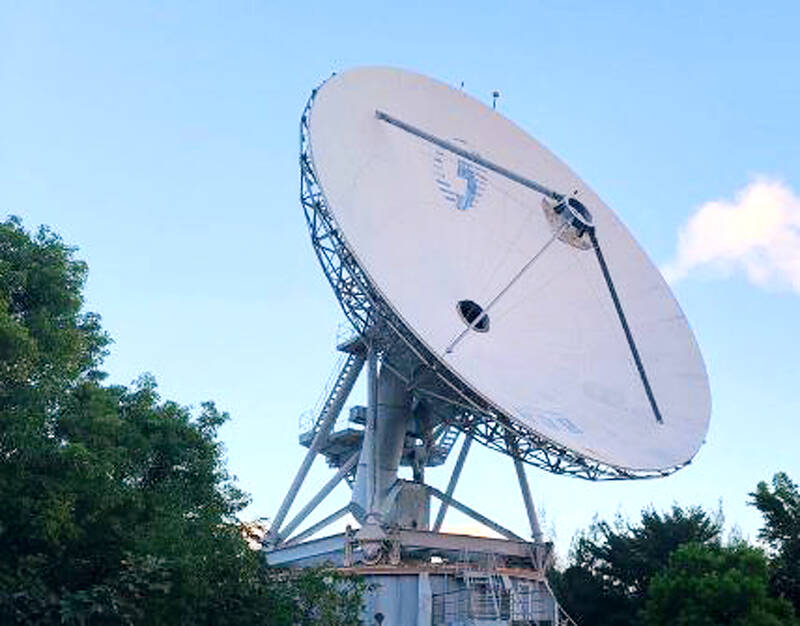 Chunghwa Telecom Co's Satellite Receiving Station in Pingtung County is pictured in an undated photograph.
Photo: CNA
Local and foreign companies that want to apply for an LEO satellite license first need to register a telecom in Taiwan whose chairs must be Taiwanese.
Any foreign shareholder in an applicant firm cannot directly own more than 49 percent of company shares, and their direct and indirect shares cannot exceed 60 percent.
Company management must sign a declaration about the firm's shareholder structure, express its willingness to comply with Taiwan's satellite communications regulations and guarantee that it would not engage in actions that could compromise Taiwan's national security while operating LEO satellites, the rules say.
Asked whether the limits on foreign investment could be relaxed, as some companies, such as SpaceX, want to create single-shareholder firms to oversee the operation of LEO satellites overseas, the source said that many countries do not allow the operation model proposed by SpaceX, adding that a rule change would require amendments to the Telecommunications Management Act (電信管理法).
Applicant firms must have paid-in capital of NT$300 million (US$9.32 million).
The original requirement set by the National Communications Commission (NCC) called for paid-in capital of NT$500 million, but it was lowered after a request by the representatives of some listed firms, the official said.
The capital threshold and the ban on Chinese investment were introduced by the ministry after it took over the task of managing LEO satellite operators from the NCC, the official added.
The draft regulations seek to establish four frequency bands for LEO satellite operators, they said, adding that licensing would be based on reviews of credentials rather than an auction.
A model for LEO satellite applications in Taiwan could involve local telecoms partnering with foreign companies to address the needs of customers in the private and public sectors, such as the government, which might want to prepare for emergency situations in which conventional means of communication fail, a telecom firm executive has said.
Another possible business model would be for local telecoms to utilize LEO satellite services by foreign companies to expand their coverage, they added.
However, an executive from another telecom expressed doubts over the profitability of LEO satellites in Taiwan.
While traditional satellites are deployed at altitudes of about 36,000km, LEO satellites are typically deployed at altitudes of 2,000km or lower, thus having wider coverage and less delay, effectively complementing the scope of traditional satellites in remote areas and confined spaces such as in mountains, deserts, oilfields, and for ships or aircraft, said the second executive, who also spoke on condition of anonymity.
People could use LEO satellites to stream videos or play online games, albeit at higher costs than Wi-Fi, whose affordable prices and high penetration rate in Taiwan mean that LEO satellites are not likely to receive an enthusiastic reception from the public, except for people who have to spend long hours on aircraft or ships, they said.
Comments will be moderated. Keep comments relevant to the article. Remarks containing abusive and obscene language, personal attacks of any kind or promotion will be removed and the user banned. Final decision will be at the discretion of the Taipei Times.