Locksmith cracks township office's century-old safe
A safe in Changhua County's Fenyuan Township (芬園) that had baffled locksmiths has been opened after the township office raised the reward for opening it from NT$5,000 to NT$10,000.
The safe was cracked by an 80-year-old locksmith from Taichung surnamed Wang (王), who used a skeleton key that he said he has been using for 30 years.
Sitting on a folding seat in front of the safe, Wang alternated between working the combination lock and tapping the safe in different areas with a mallet. He managed to open the safe after 40 minutes, but found it to be completely empty.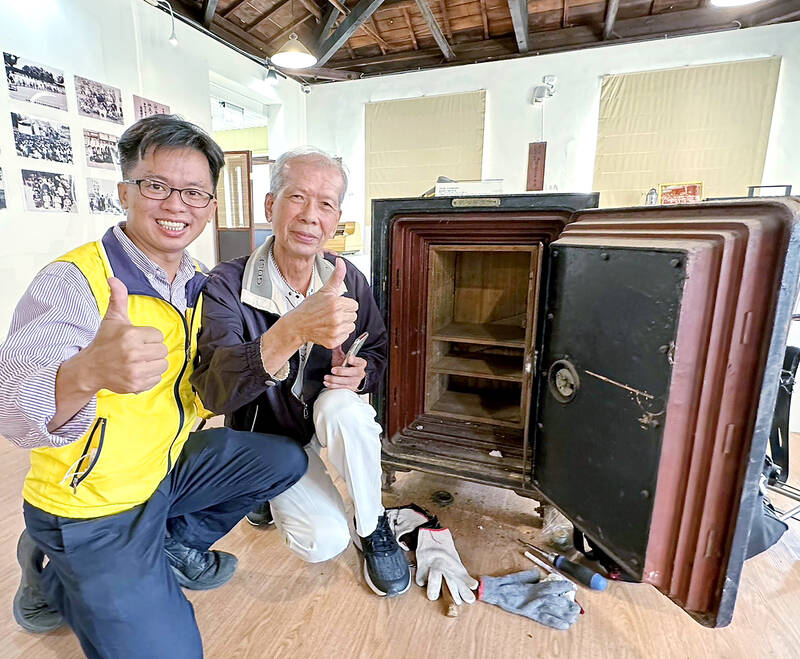 Fenyuan Township Mayor Lin Shih-ming, left, and a locksmith surnamed Wang pose for a picture after Wang cracked a 100-year-old safe on Friday.
Photo: Tang Shih-ming, Taipei Times
"There had been rumors in the township that the safe contained gold bars, so some people were quite disappointed that this was not the case," township Mayor Lin Shih-ming (林世明) said.
After the office doubled the reward, news spread fast.
Wang said that friends and relatives approached him, telling him to take on the challenge.
He said he expected it would be no easy task to open the century-old safe, and brought a variety of tools to try, including a file, needle oiler, a mallet and his skeleton key.
After getting the safe open, he immediately made a video call to his daughter to share the news, he added.
He has been working with locks and safes since he was 13 years old, and has unlocked many safes and ATMs, Wang said, adding that he has a safe at home similar to the one at the township office.
"Nearly 10 people tried to unlock this safe before Wang, but they all failed," Lin said. "Although people were disappointed that there was no gold or money in the safe, it was still a joy to see the inside of it after all these years."
The safe, which had been used by the township office during the Japanese colonial era, had been exhibited with other historical items used by the office.
Comments will be moderated. Keep comments relevant to the article. Remarks containing abusive and obscene language, personal attacks of any kind or promotion will be removed and the user banned. Final decision will be at the discretion of the Taipei Times.