Rap show wins big at Golden Bells
Taiwanese hip-hop talent show The Rappers (大嘻哈時代), the first local television program dedicated to the music genre, was the biggest winner of the 57th Golden Bell Awards Television Show category after it clinched the coveted Best Variety Show Award and two others on Friday night.
The show's producer, Tang Tsung-lin (湯宗霖), said he would like to dedicate the award to the production team and their families, while thanking the audience for its support, resulting in many "amazing moments" for the show.
The Rappers won the Best Lighting for a Television Show and Best Art and Design for a Television Show awards.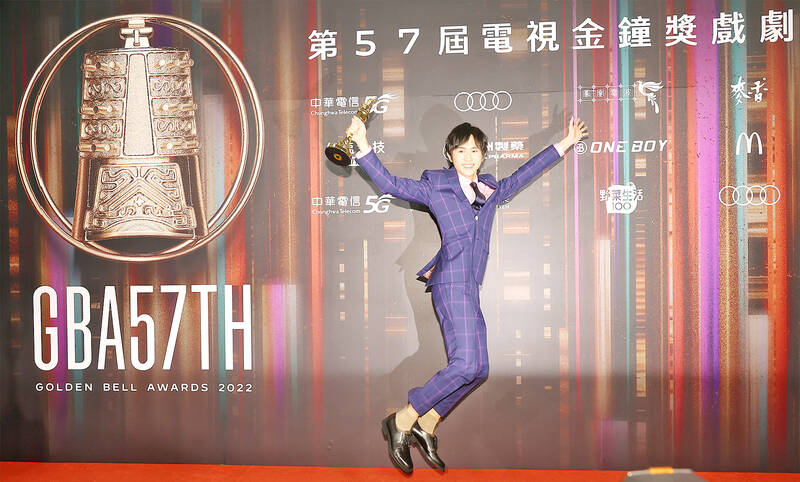 Actor Louis Chiang celebrates backstage at the 57th annual Golden Bell Awards yesterday after winning Best Newcomer in a Miniseries or Television Film for his performance in The Love's Outlet.
Photo: CNA
Season one of The Rappers, which ended in October last year, was an elimination tournament involving 66 aspiring hip-hop artists and a first-place prize of NT$1 million (US$31,067). The Ministry of Culture granted the show a subsidy during its planning stages.
The Best Host in a Variety Show award went to veteran host Mickey Huang (黃子佼) and his cohost Lulu Huang (黃路梓茵) for the music-themed reality show Wedding Singer (婚禮歌手).
Huang teared up with joy during her acceptance speech, saying that it was her first Golden Bell Award after being snubbed by the jury eight times.
Secrets of the Ocean Tribes (南島起源) won the Best Humanities Documentary Show and Best Host in a Natural Science and Humanities Documentary Show awards, while God Bless Baodao (寶島神很大) won the Best Lifestyle Show and the Best Host in a Lifestyle Show awards.
Follow Me Go (下課花路米-壯遊闖天下) won the Best Children's Show and Best Host in a Children's Show awards, while Theme Night Show (公視主題之夜 SHOW) and Your Island My Home (你的島嶼我的家) both won the Creative Award for a Television Show.
The winners for the Golden Bell Award Drama Series category were revealed after press time last night.
Comments will be moderated. Keep comments relevant to the article. Remarks containing abusive and obscene language, personal attacks of any kind or promotion will be removed and the user banned. Final decision will be at the discretion of the Taipei Times.