Foreign ministry slams Interpol snub
'DEEPLY REGRETTABLE': Interpol's secretary-general said Taiwan was not invited to the international group's general assembly because it 'recognizes Taiwan is part of China'
The Ministry of Foreign Affairs expressed "serious dissatisfaction" that Taiwan was not invited to the annual International Criminal Police Organization (Interpol) General Assembly, which opened in New Delhi yesterday.
"We find it deeply regrettable that Interpol has allowed political factors to override policing expertise by disregarding Taiwan's practical needs to meaningfully participate in the organization's meetings," ministry spokeswoman Joanne Ou (歐江安) told a news briefing.
The Republic of China (ROC) is a sovereign, independent democratic state and is not subordinate to the autocratic People's Republic of China (PRC), Ou said, using Taiwan's official name.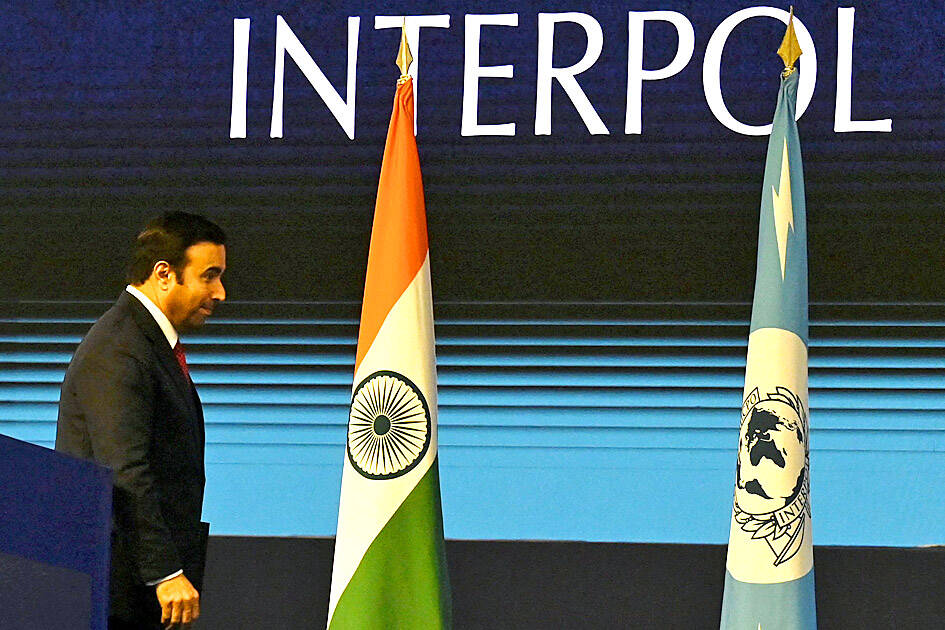 International Criminal Police Organization (Interpol) president Ahmed Naser Al-Raisi arrives at the opening ceremony of the 90th Interpol General Assembly in New Delhi yesterday.
Photo: AFP
Only the democratically elected government of Taiwan has the right to represent Taiwanese on the international stage, she said.
Interpol Secretary-General Jurgen Stock on Monday said that Interpol cannot grant observer status to Taiwan because it sees Taiwan as part of the PRC.
"In 1984, the Interpol General Assembly recognized the People's Republic of China as the sole representation of China," Stock told a press event.
"As such, Interpol recognizes Taiwan is part of China, and as China is a member of Interpol, Interpol cannot grant Taiwan observer status in the general assembly," he said.
"Arrangements were put in place" after 1984 to enable Interpol National Central Bureaus and the "China-Taiwan police administration" to exchange information through "Interpol channels," he said, without elaborating.
Ou yesterday said that Taiwan's police system has always operated independently and smoothly outside that of the PRC.
"As an important member of the international police community, Taiwan is highly willing to contribute to cross-border crime fighting, but cannot establish direct and real-time information sharing with Interpol simply due to China's obstruction," she said.
Taiwan would continue to ask its diplomatic allies and like-minded countries to support its bid to join Interpol, to ensure that no gaps exist in the global fight against cross-border crime, Ou said.
The 90th Interpol General Assembly is taking place in New Delhi until Friday, featuring chiefs of police and senior officials from its 195 members around the world to address global security issues.
The ROC joined Interpol in 1961, but was forced to withdraw in 1984 after the entry of the PRC. Its participation was blocked under a resolution passed at the 53rd Interpol General Assembly the same year.
Taiwan has sought to take part in the general assembly as an observer since 2016, but repeated attempts to secure an invitation have failed.
Comments will be moderated. Keep comments relevant to the article. Remarks containing abusive and obscene language, personal attacks of any kind or promotion will be removed and the user banned. Final decision will be at the discretion of the Taipei Times.